It has somehow become a tradition for me to go to the border areas between Czech Republic and Germany every autumn. Local mountains of Bohemian and neighbouring Bavarian Forest resemble more forested hills than real mountains which also brings certain worries every year that it will be wasted time and not a real mountain experience. This year it was even more pronounced as I returned from Tatras in Slovakia two weeks prior and still had vivid memory of Romanian Carpathians which I consider to be one of the most beautiful mountains I have ever been to.
And same as every year, these little forested hills persuaded me that it is not the height of the mountains but rather atmosphere it can cast upon you that makes the difference in experience.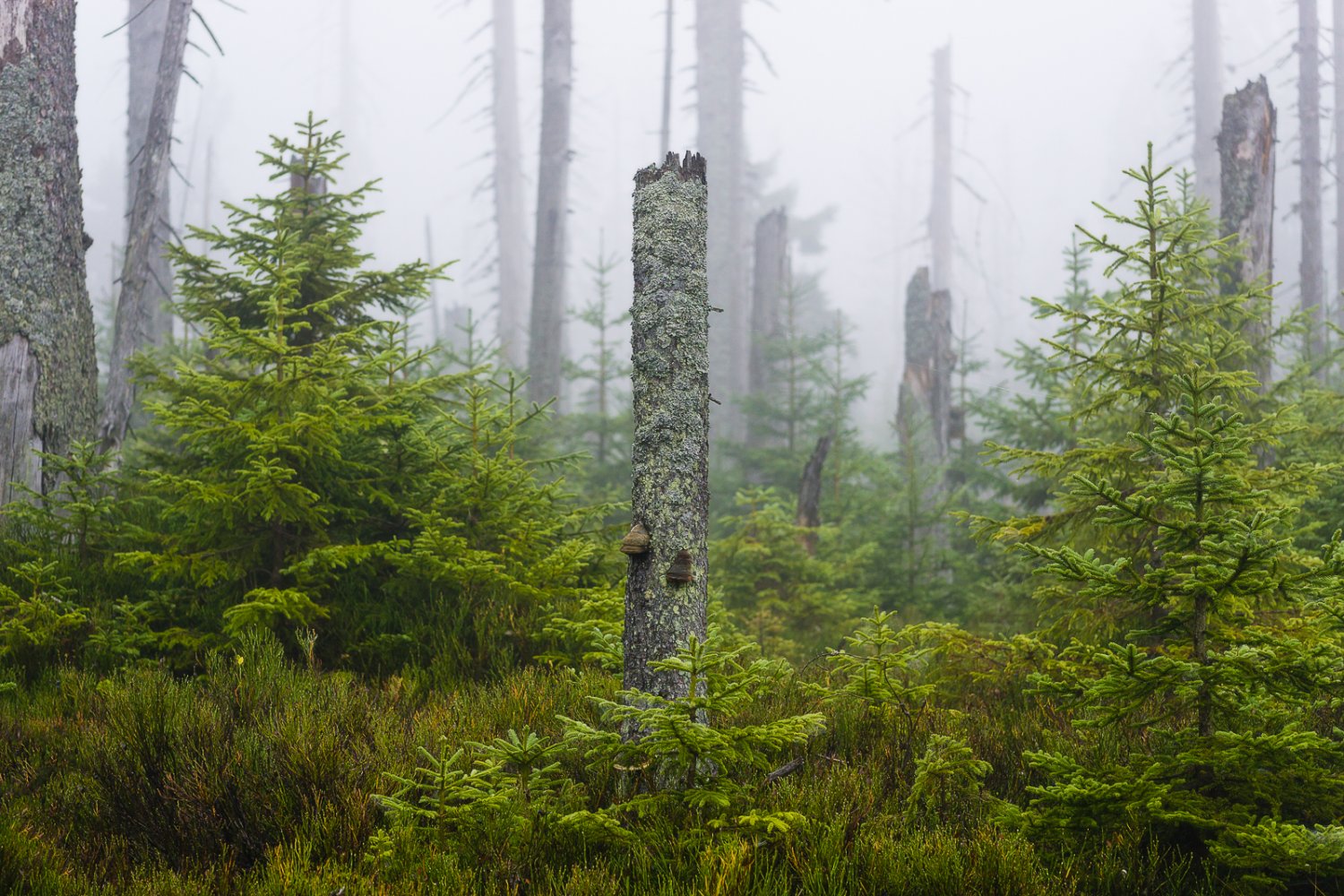 Renewal of old forests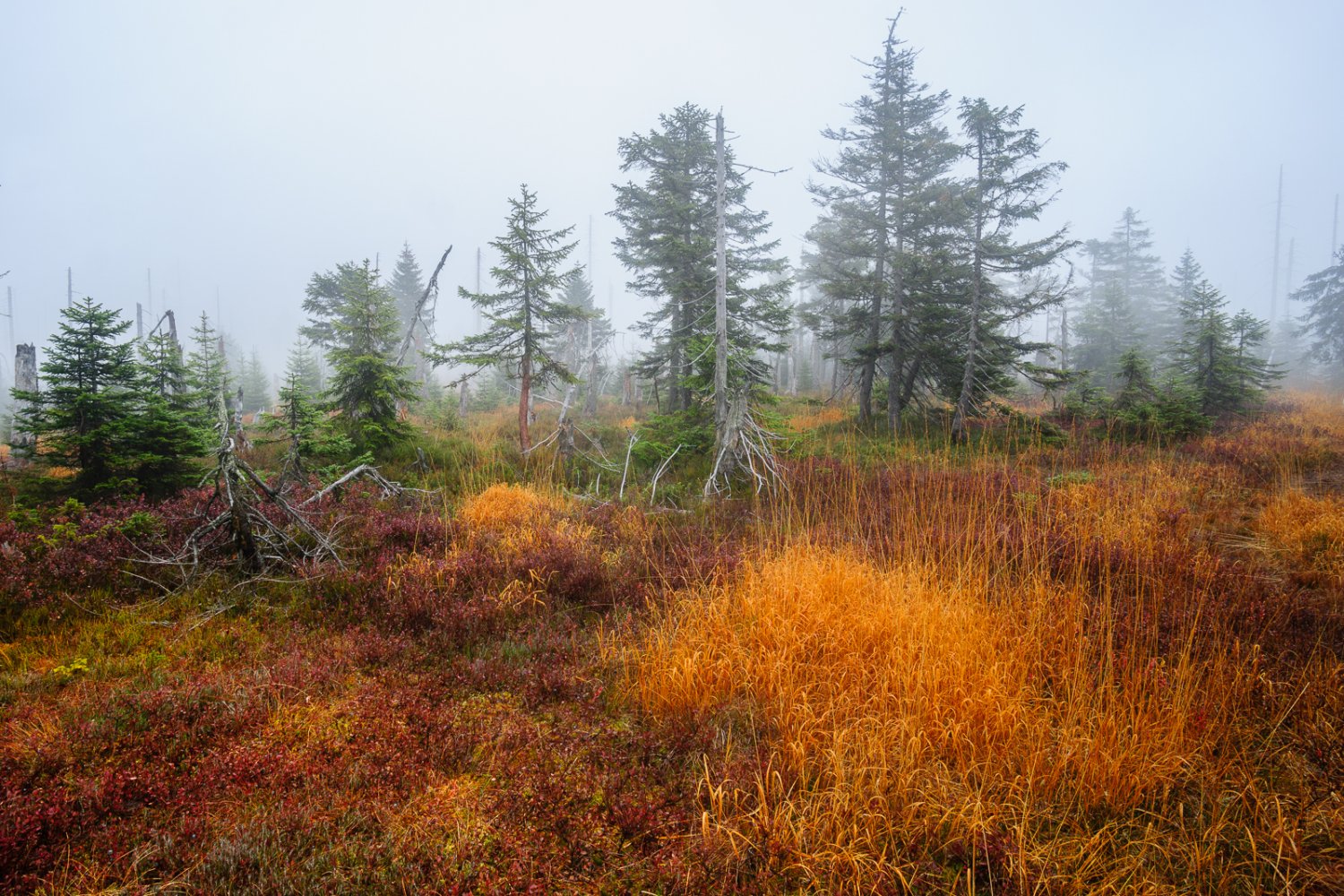 Colours of the bog
While I roamed these hills many times and know almost every stone there, one part remained unfamiliar to me - the area directly around border accessible by border trail called Grenzsteig in german. I intentionally present the german translation here as this unmarked border path is only accessible from Germany while from the czech side the access is somehow restricted by law (or at least was in the past, I am not sure about current situation. Like... I mean... for real?). For a long time it escaped my attention as there were other interesting places to visit so I decided to jump across this attention gap this year.
Path is not marked, not many people know about it and those who do may be discouraged by its length and terrain. It leads directly on the border between two countries, surrounded by national parks on both sides, through the most valuable parts of this central european wilderness. This whole area suffered from (or should I say was blessed by?) a bark beatle calamity and most of the old trees died. Border trail is ideal if you want to see natural renewal after such calamity with you own eyes. While those old trees remained as a silent memento of death, new generation rises from its roots in lush forms. To be honest, those skeletal old trees are probably the thing that makes me return to these woods as I find its strange and sometimes horror shapes quite interesting and even beautiful.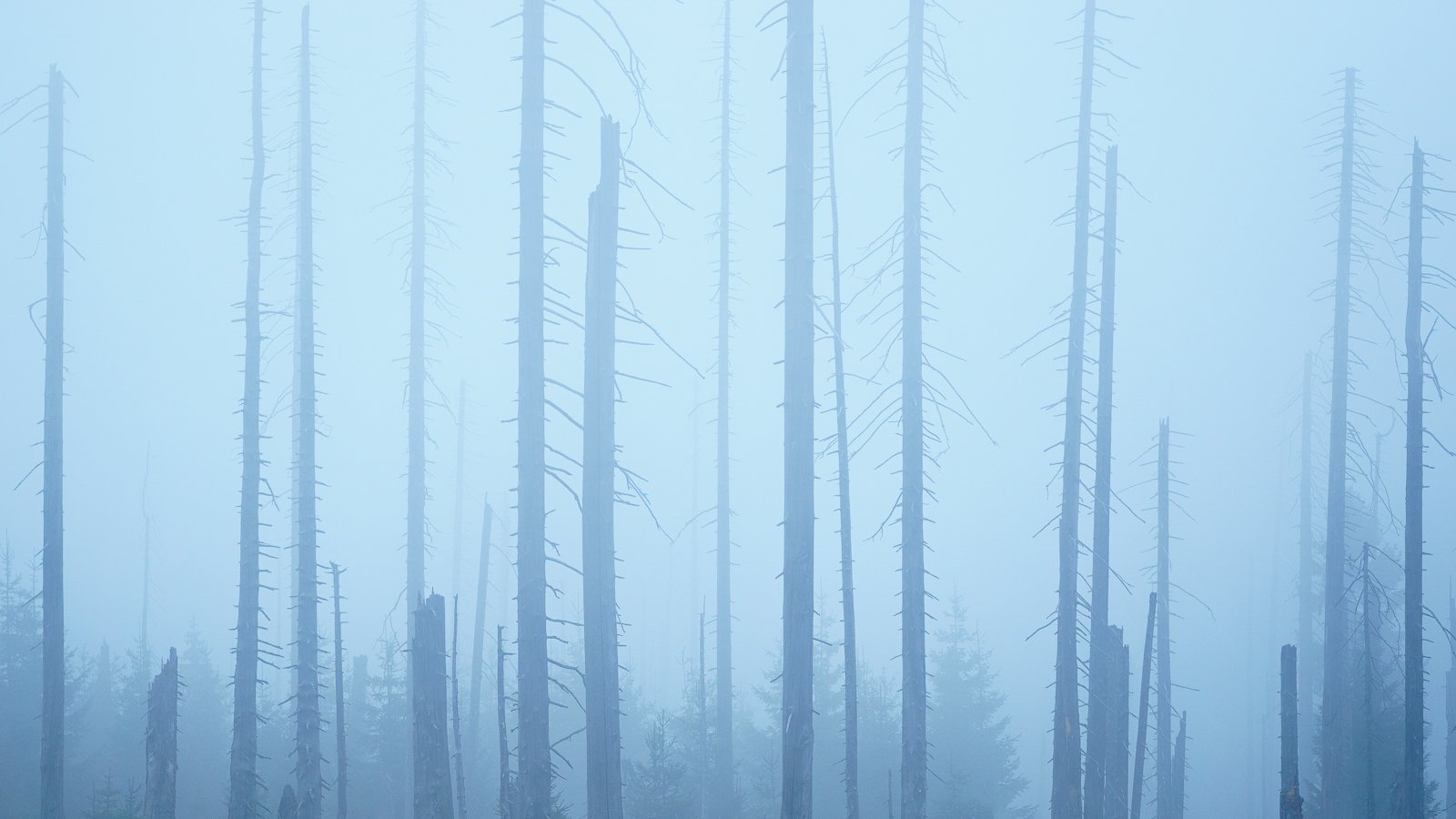 Spectres in the fog
When I reach the border on Hirschberg one October morning, the mountains are trapped in fog. It means many things. Firstly the path will be completely desolated for sure, secondly the atmosphere of the forests will be even better with all those shapes slowly fading from the distance. I quickly get past small meadow while the path plunges into part of thick forest. Border itself is marked here by bavarian white poles with blue stripe but the path is often invisible, leads through waist high blueberry bushes and I quickly regret not taking my shoe covers as water and blueberries get into my shoes.
Desolated bogs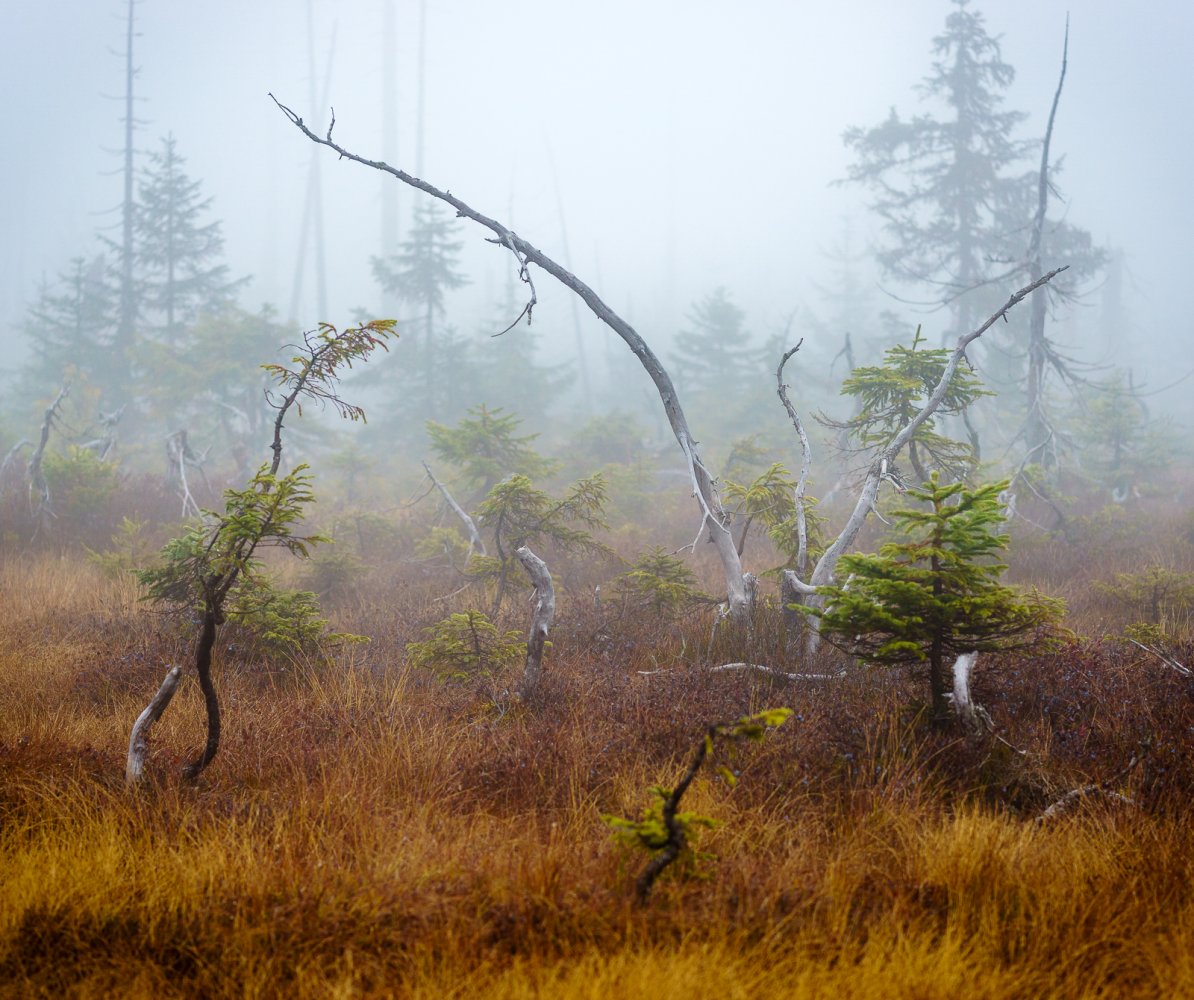 Crooked statues in the bogs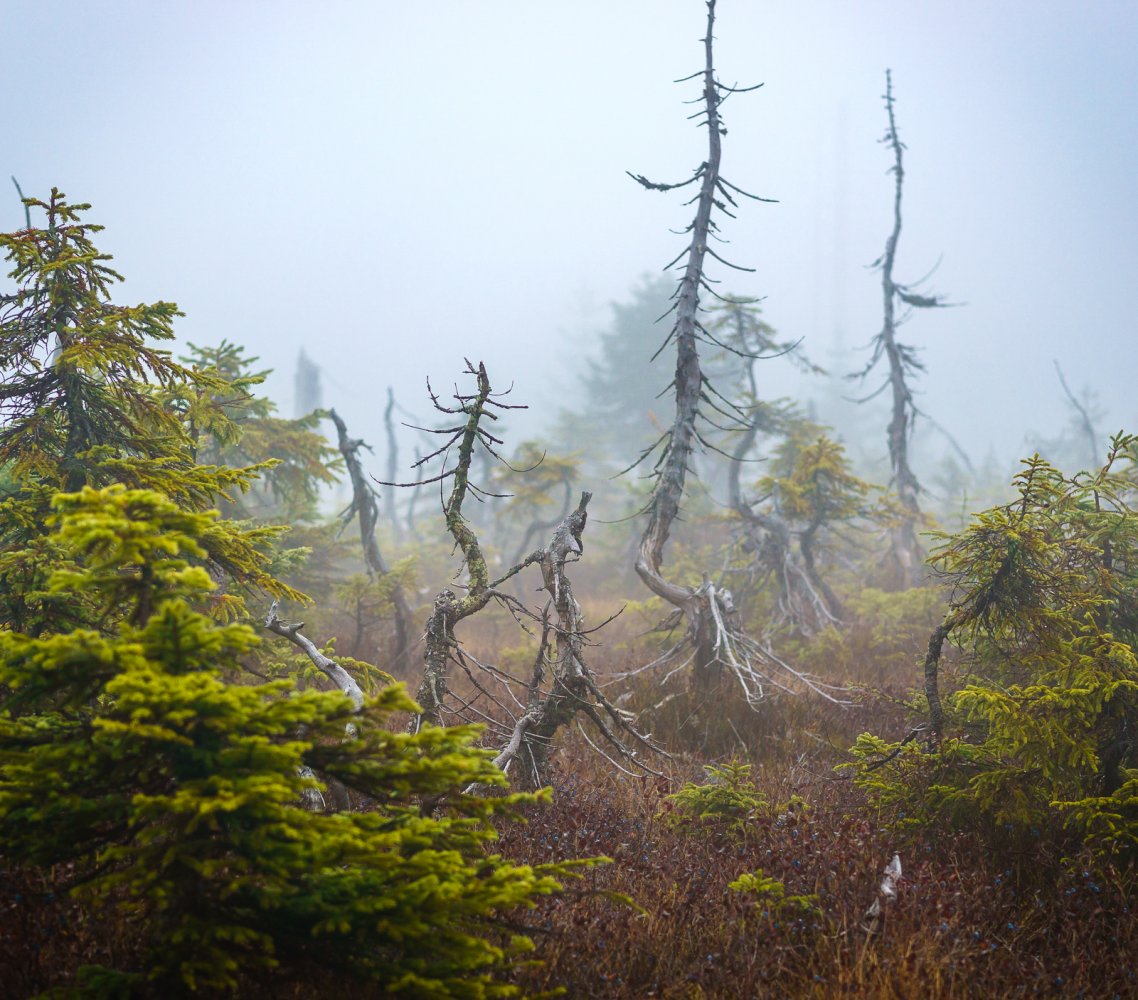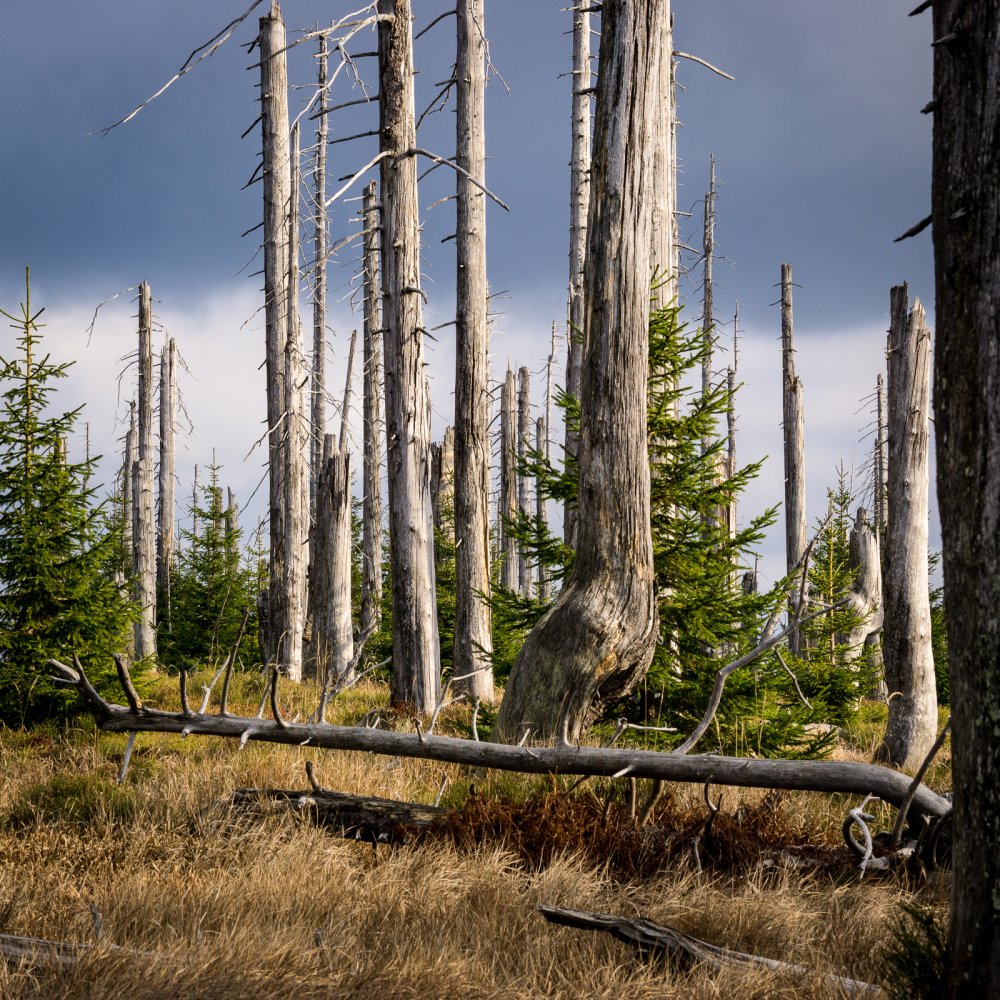 Woods below Lusen
Border trail leading to Moorberg
The path leads me mostly through forests with both old dead trunks and lush green new spruces but there are spots with forest completely renewed and spots where the renewal has not started at all. Quite often the forest gives way to bogs, strange islands of quietness where all bird chirping stops and atmosphere gets even more dense. Crooked branches of sparse vegetation awaken imagination as you slowly make your way through marshy terrain. Autumn adds wonderful colours so you are surrounded by yellow grass, red bushes with blue blueberries and green trees, but even all these colours can not banish the strange heaviness that these places create in your head.

Finally the border starts ascending to slopes of Lusen and with it the fog rises. I decide to go to Steinfleckberg, mountain in Germany close to the border, again accessible only by unmarked trail. I have never been there before but visible stone sea on its slopes looks promising.
Stone sea in last light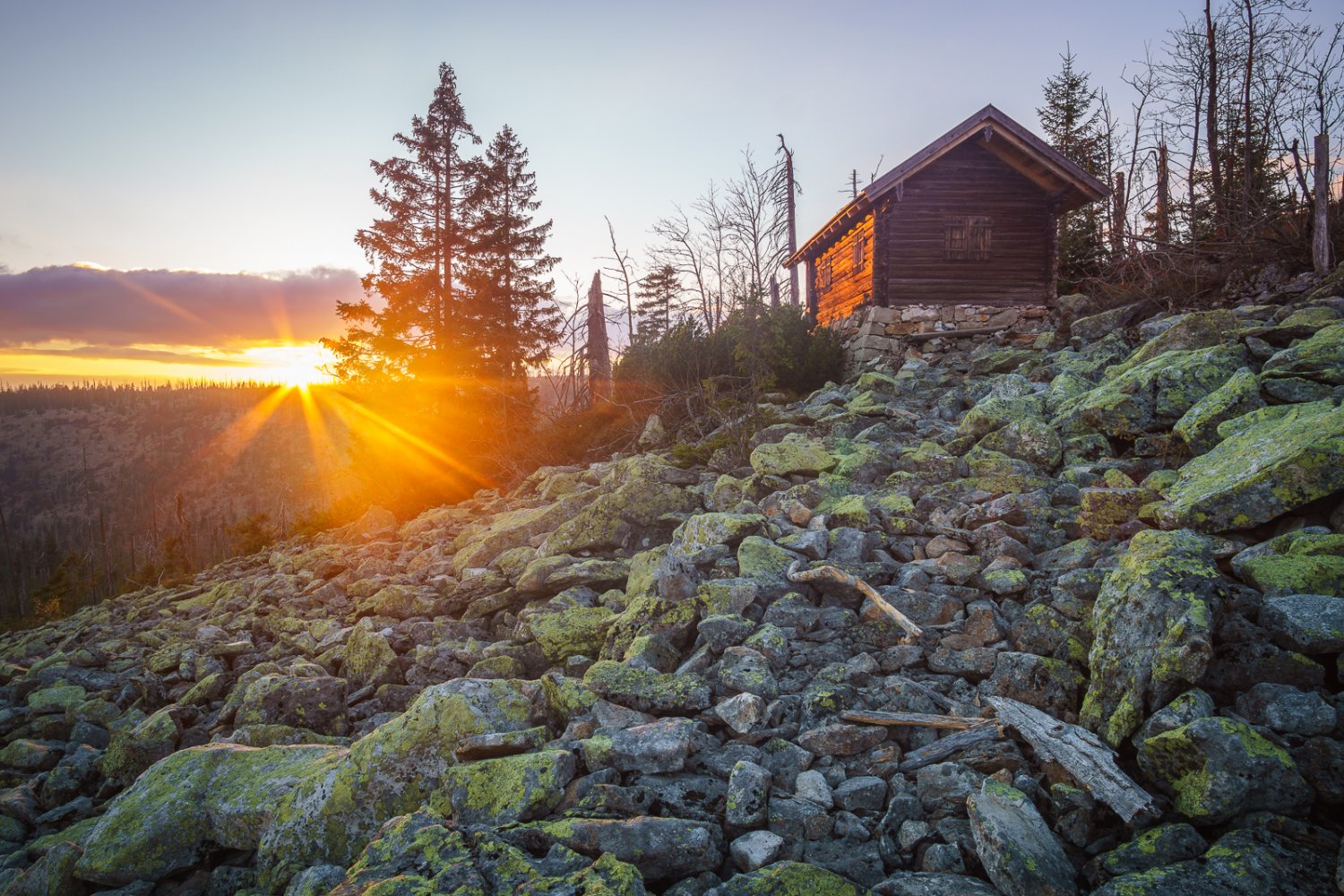 Hut on Steinfleckberg
Evening sun dissolves last traces of fog and makes its way through dark clouds. Dead trees look completelly different in this warm light and when the path gets to its highest point I am surprised by small wooden hut and a huge stonefield. The sunset is wonderful there with many great compositions for photography. I stay for half an hour after the sunset when the Moon rises and prepare myself for 20 km more of walk at night back to the Czech Republic...
Autumn colours on the slopes of Farrenberg