In July 2015 I headed north in a group of four people to enjoy some hiking in Norway. After short break in Norway´s capital, Oslo, we proceeded to the mountains. Quickly it became clear that our car (almost as old as me) is among the oldest ones in whole country which seemed funny to many locals. It was still capable enough to bring us along dirt road to the hearth of Rondane mountains where we realized snow levels were especially high this year. Highest Rondane mountains, which are usually snowless during summer, were white and shining in evening light. Must be noted that by "evening" I mean 11 p.m.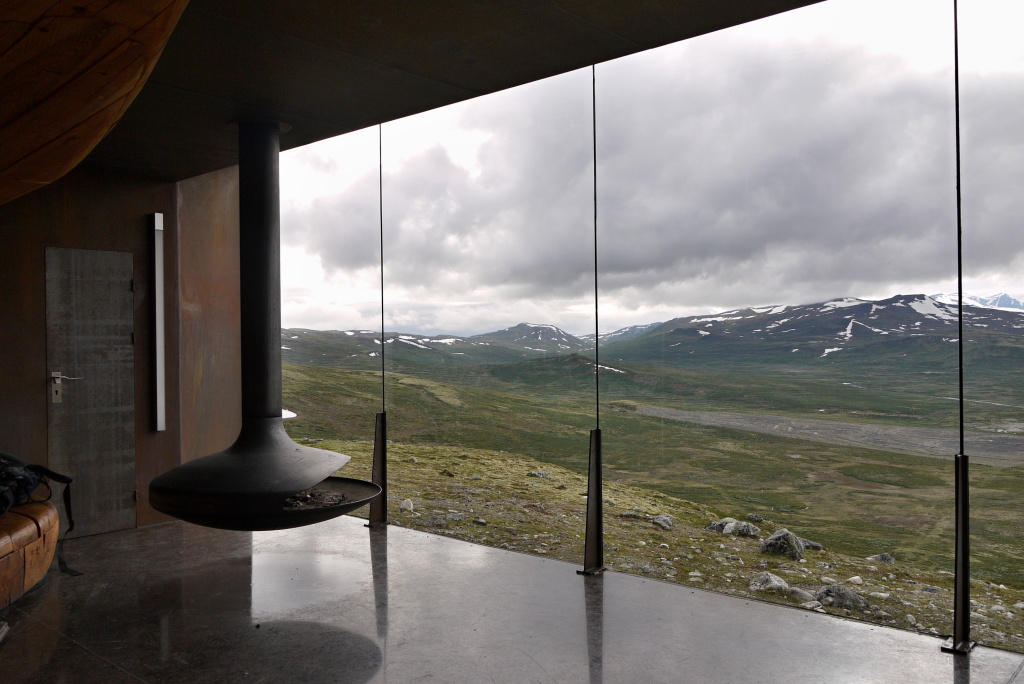 Reindeer observatory - Snøhetta viewpoint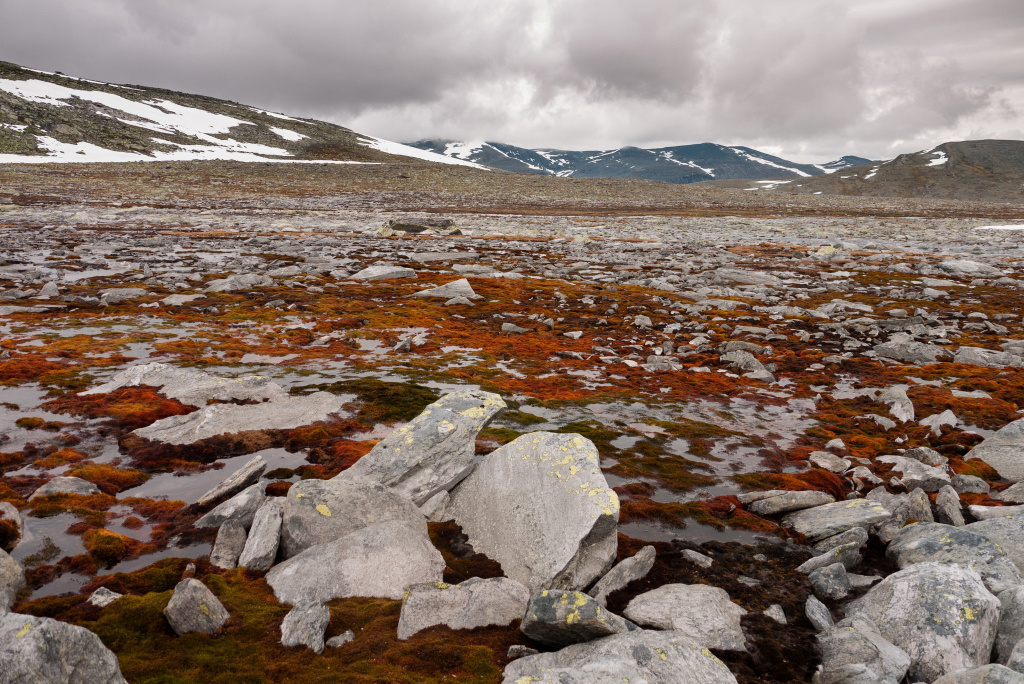 Summer in Dovrefjell, somewhere below summit of Snøhetta
Some guys also warned us about upcoming bad weather which proved true next morning. Storm and wind came and hit us with heavy rain which stayed long to the afternoon and made crossing the mountains impossible. In spite of this we moved to Dovrefjell-Sunndalsfjella to hike to the summit of Snøhetta which would have been accessible for sure if only there was a bridge over some uncrossable river. Even our German friend without survival instinct who joined us along the path could not cross the strong stream so we turned back to the valley. There we found so called Reindeer observatory, or if you want, Snøhetta viewpoint.
Discovering this modern structure made from metal, wood and glass has its own fireplace, we decided to stay there for night and let our wet clothes dry out. We were not the only ones staying there, two norwegian girls arrived soon after us followed by Belgian, Frenchie and Swiss. The Norwegians told us about their attempt of crossing the same river which stopped us. They tried to cross it but one of them fell and got completely wet. It did not actually seem she was bothered with it. Bloody rough northerners.
Later in the evening (around 10 p.m.) two other Norwegians arrived, carrying even their own firewood. Soon it was certain firewood is not the only surprise they were carrying as they started roasting marshmallows and offering us sausages made of every animal which has four legs and lives in Scandinavia. Sharing some funny facts about their country, they also noted that weather should be better in the north, literally they said: "It was good weather for a week till today. If you are heading north, you can still reach it. Chase the Sun to the north." and so we did.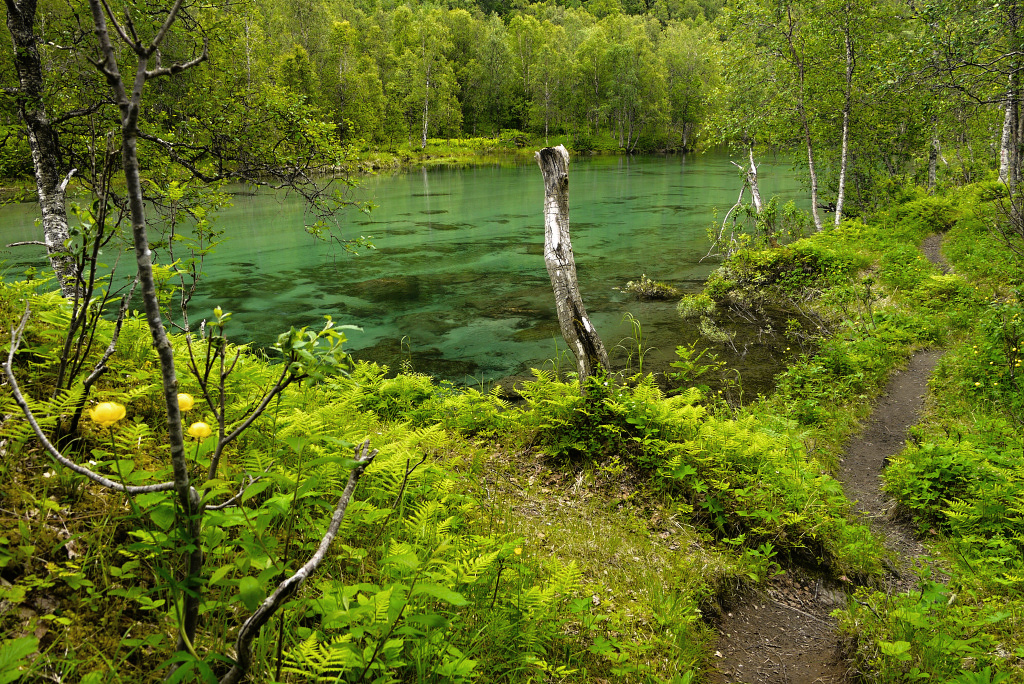 Storskogelva river surrounded by arctic forests, Rago
Into the wild Rago
Not far from the city of Fauske lies Rago National park. Looking into the map it might seem as uninteresting piece of land without high mountains. Once you step there, however, wilderness beyond the Arctic Circle shows its power. Setting off from Lakshola village, path firstly follows meandering river to start climbing soon into the hills which seem higher than it should just by looking at their altitude in map.
If I had to choose one location from the whole Norway which made the most unordinary impression, it would be Rago.
We started our hike at 7 p.m. as it is enough light even at midnight that far in the north. Path led through pine woods, over moorlands full of mosquitos and directly through waterfalls. We happily welcomed empty self-service Storskogvasshytta in the heart of park and stayed there for the rest of the night. Beds in the cabin even have sleeping pads prepared - something that would be impossible in my home country. This was also first opportunity for some more serious photography as clouds formed nicely above nearby lake and midnight sun added some punch to colors.
Hiking trails in Rago are, well, not well marked. Paths often cross huge granit blocks where you can hardly find any footsteps and red dots (which are used as marks) are sparsely painted on them. In bad weather it must be really hard to follow the trail, moreover it is likely you would not meet anybody in the park area beyond more accessible Litlverivassfossen waterfall. By the time we were there, the weather was quite good, just like Norwegians said. It was even possible to take a swim in icy cold lakes along the way.
To the end of the world in Å
We proceeded to the Lofoten archipelago and left our car near Fredvang and started short hike to Kvalvika beach. We arrived there just before midnight and built our tents among twelve others already standing there. This is best about Norway - you can set up your tent wherever you want.
There was no reason for waking up early to watch and photograph sunrise or something. You are watching hours lasting sunset whole night after all.
We had hard time cooking "midnight dinner" as winds are blowing fast at night in Lofoten. Some tents could not even stand out against it so we watched people packing their stuff and moving to another place.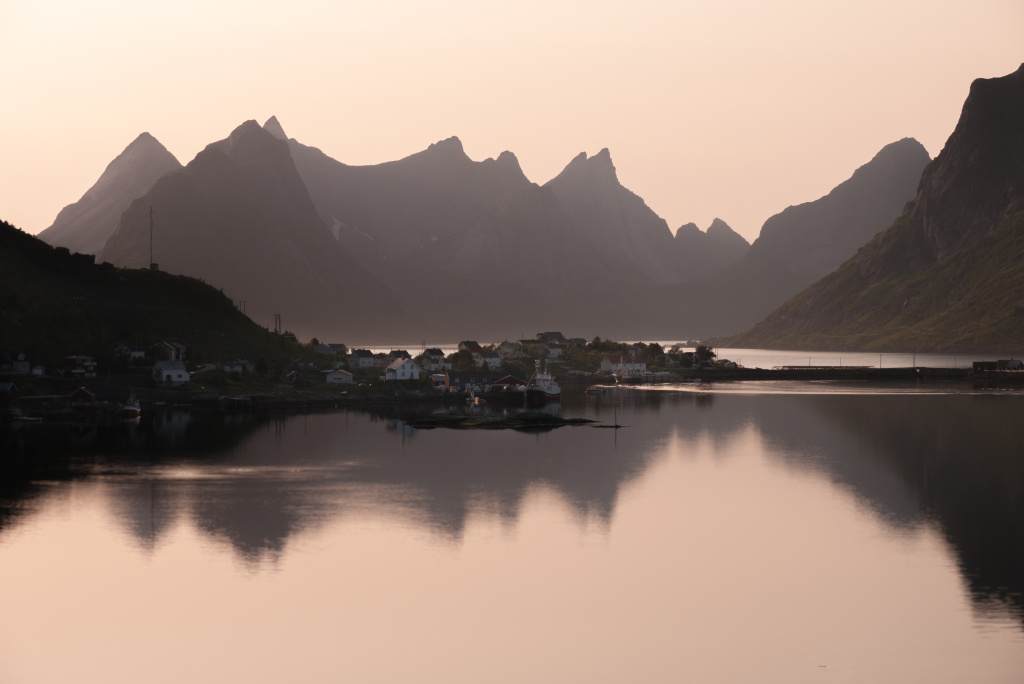 Lofoten from Reine
In the morning the wind was gone and warm sun welcomed us. And for sure, by "morning" I mean 1 p.m. There was no reason for waking up early to watch and photograph sunrise or something. You are watching hours lasting sunset whole night after all.
Apart from many photographs, Kvalvika is real mess in closer view. Ocean leaves almost everything from barrels to gas bombs on the beach. As some sign suggests, we spent some time dragging these to a provisory pile which is picked up by cleaning boat from time to time. And yeah, those gas bombs were full of pressured gas. As someone told us, these came from recently wrecked ship.
The mess is not visible from Ryten mountain overlooking the beach. Ascent takes half a vertical kilometer but is easy compared to ascent of Markan, where we continued our journey. You have to cross this mountain if you are heading to Horseid beach from Selfjord, as we were. We decided to stay on another beach for night as, you know, it promises some nice view, sound of waves and stuff.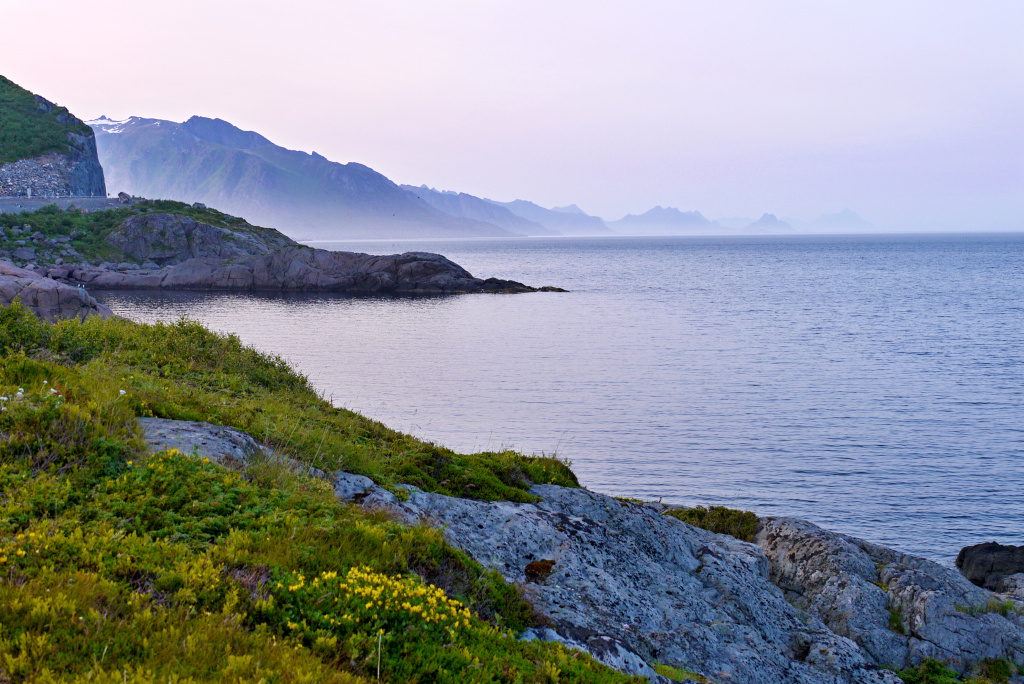 Lofoten archipelago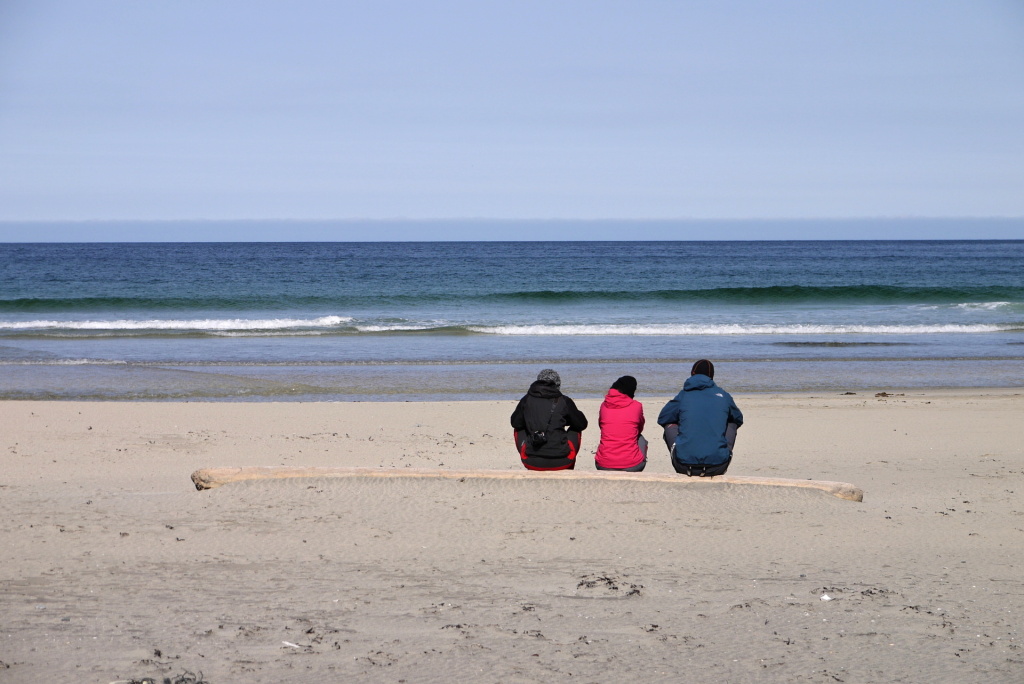 Kvalvika beach
Horseid is quite remote beach, less visited than Kvalvika. Hard to say which one offers more amazing scenery. Horseid lies at the end of grassy valley and is more tightly surrounded by mountains which means less wind. But there is another nuisance (and this applies to whole seacoast). Once you decide to take a sleep, flocks of seagulls decide to start screaming. You get used to it after a while, seagulls create character of Lofoten after all.
We stayed in Lofoten for a few more days, mostly exploring fishing villages. Road E10 ends in village called Å and ends with huge roundabout. This is the end of Accessible Lofoten and of marked trails as well. Å is surrounded with structures used for cods drying, however in summer only remains of cods are hanged there. This is especially useful if you considered tasting dried cod - after you see and smell this, the appetite is gone.
Bad weather finally arrived to Lofoten as well so we decided to chase the Sun to south for a change. It would have been really nice if we have hiked to the highest mountain of Lofoten, Hermanndalstinden, but it would be slippery up there in such heavy rain. We reached northernmost point of our journey and since then we were returning to south through other interesting locations.