National park Bayerischer Wald lies in Germany on the border with the Czech Republic in the same mountains as National park Šumava. It was established to protect nature similar forests, moors and highland pastures. Despite being almost completely forested, it offers great hikes and more importantly many photo opportunities. In this article I would like to present some tips concerning photography in this mountainous area, more specifically in the older part of this national park (Rachel - Lusen area called after the two most dominant summits). You must remember the rules of national park - if you want to take shots in the morning/evening when the best light occurs, you have to get into the park before sunrise/get out of there after sunset, both ways it will require night hike, or risk fine connected with overnight sleep in protected nature area.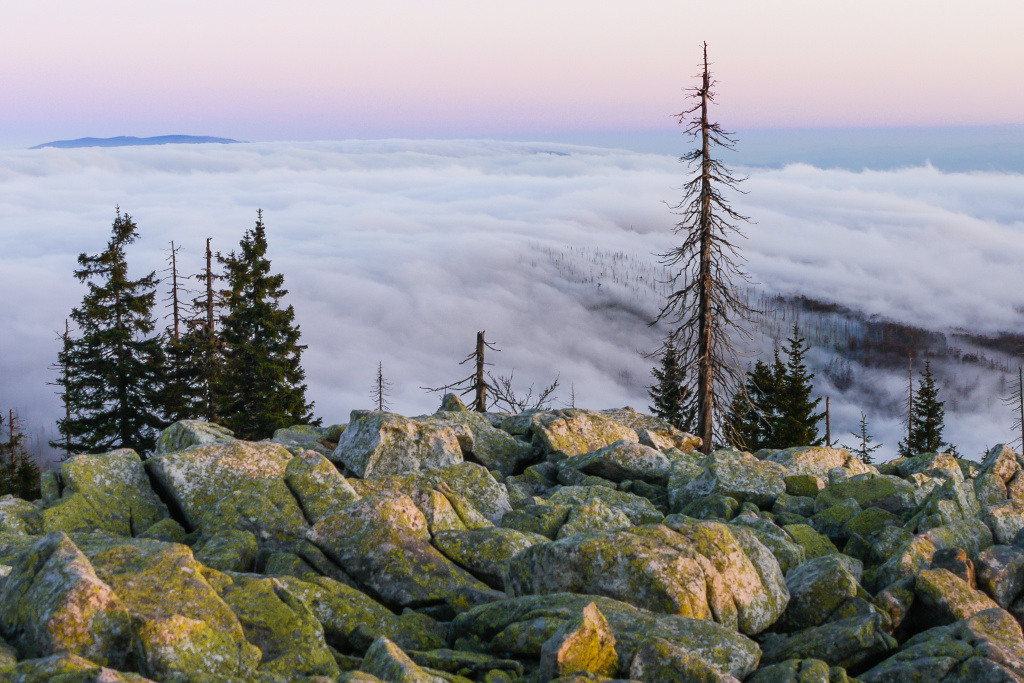 Rocky summit of Lusen
Our hike begins in the region of so called "schachten" - former highland pastures with solitery trees. You can get there by steep ascent from Buchenau or similarly as me taking long way from the Czech side. The trail will lead you first to the Kohlschachten meadow with many weathered trees. Kohlschachten itself is very photogenic but the best is still to come. Once you cross the moors of Latschenfilz huge pasture of Hochschachten appears. Hochschachten is located in the altitude of 1150m sloping to the west, directly towards Grosser Arber in the distance (highest mountain in the area) which makes it ideal for panoramic shots. One of the most crooked and photogenic trees also stand on Hochschachten so I recommend to stay shooting here or on the half an our distant Almschachten which offers even more significant view involving also both summits of Rachel. In the lower part of Almschachten you can find some moss covered stones ideal as foreground to your shot. Last pasture in this part of the national park is Verlorener schachten which is, however, least attractive. All the meadows are most beautiful in autumn - I highly recommend end of September as the best time for photography of these. One month sooner leaves are still not colored, one month later leaves are already fallen.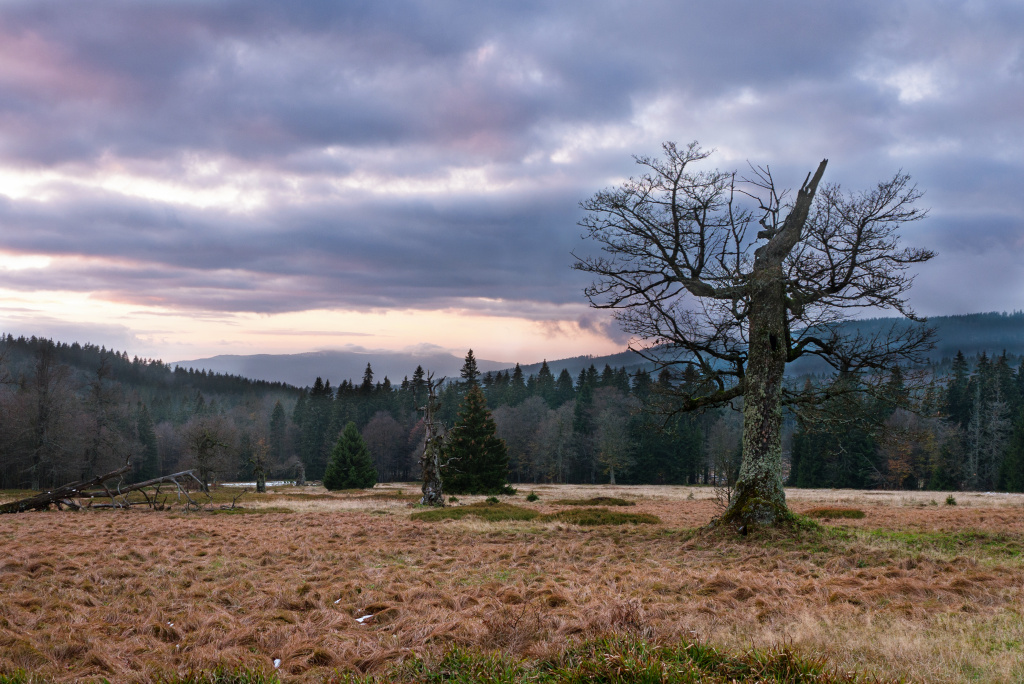 Hochschachten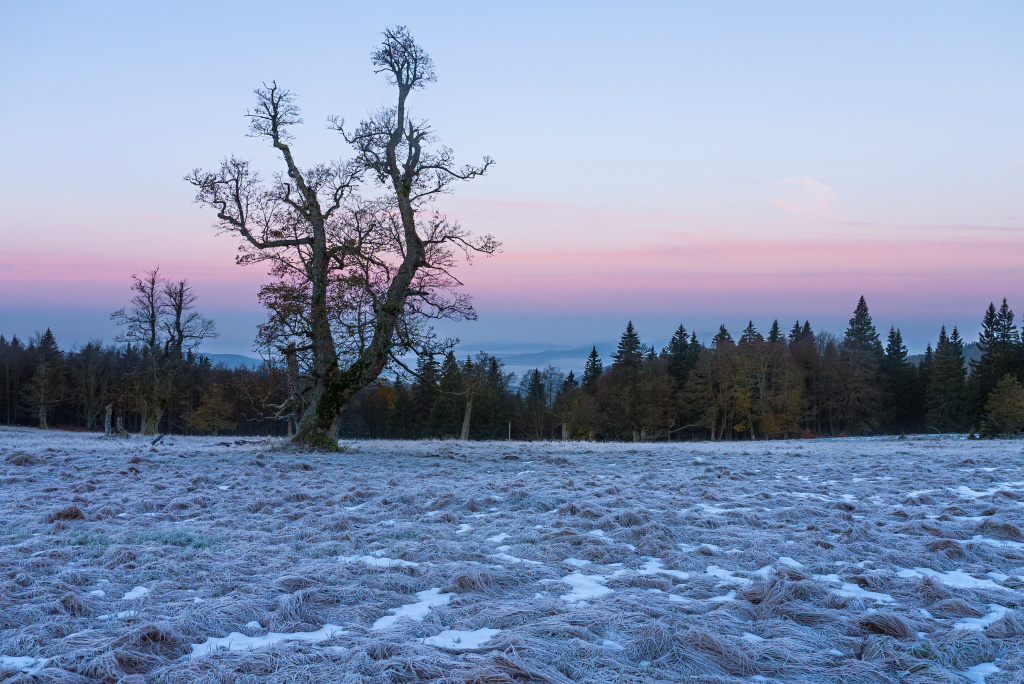 Almschachten
My visit to this location at the end of October involved overnight stay in temperatures below zero. If you consider your own visit, be prepared!
Once you leave schachten region, steep ascent to the summit of Rachel begins and with it come bark beetle forests. Ascent will lead you through one of the most wild parts of national park, if you want to capture wild vegetation with large fens, I recommend early to mid-summer. Be prepared that ascent leads through north part of the mountain where sun never shines. Path gets you to the Waldschmidthaus, 15 minutes below summit. Take small excursion to the viewpoint over Rachel lake, glittering 400 metres lower. This viewpoint comes as more photogenic than view from the summit itself. It is also the first time you can see the mount Lusen - your final goal.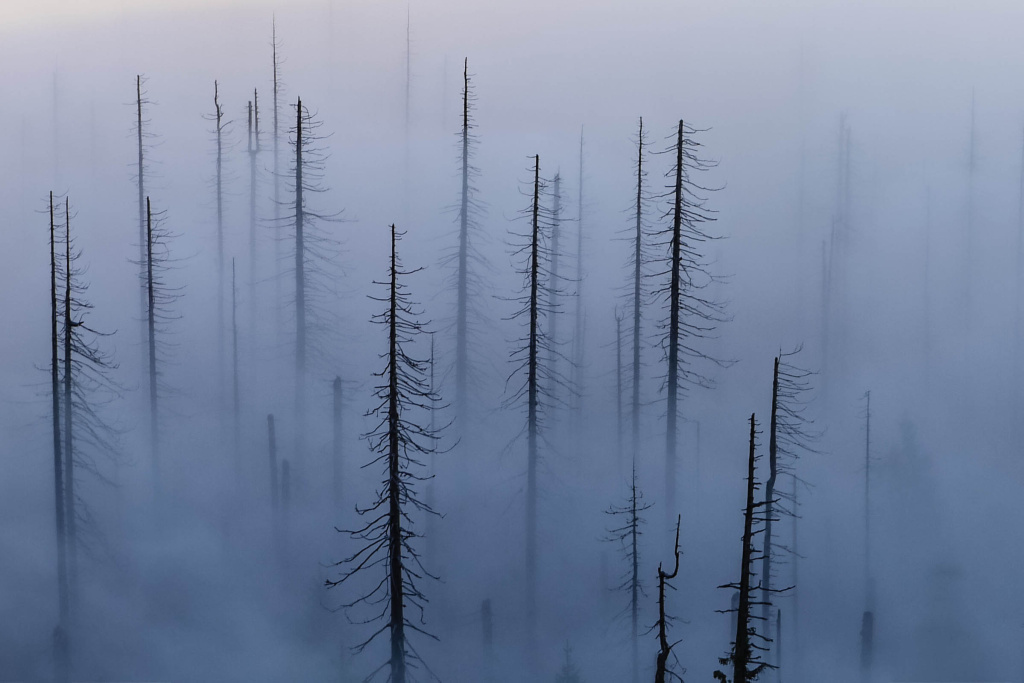 From Lusen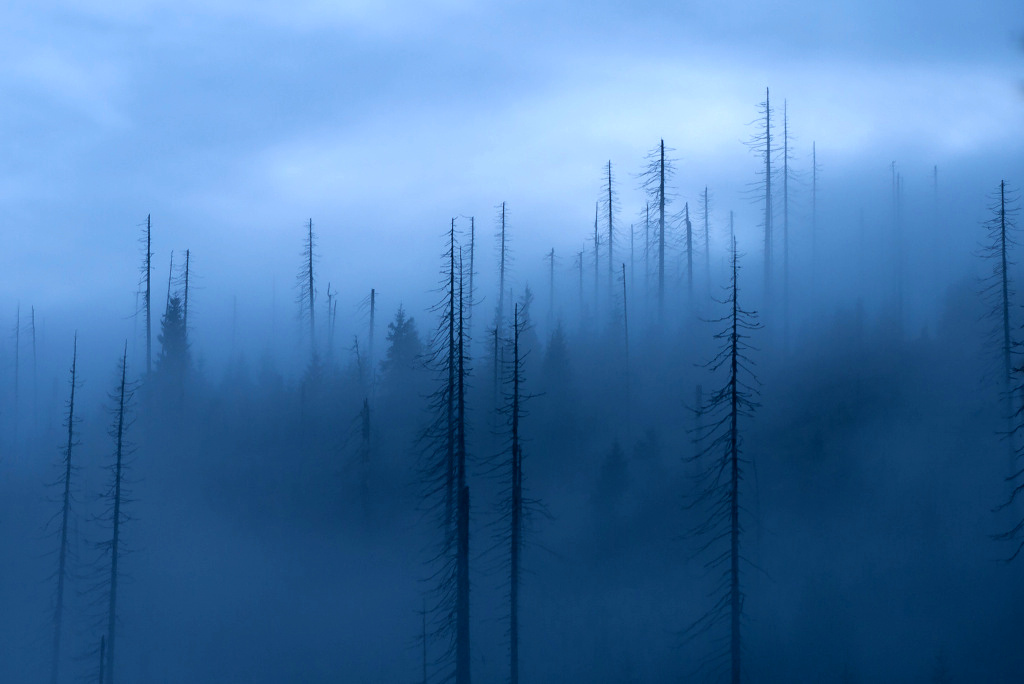 Ghosts in the fog, close to Kirchlinger Stand
Crossing the Grosser Rachel, you will start descending to the lake - Rachelsee. Rachelsee is beautiful all year round but is usually hiding in shadows which makes it too contrasty compared to skies. Morning/evening shooting is necessity here, unless you want to capture just some details. Small path runs around the lake - don´t be fooled by signs, which say to entry only at your own risk - and take this way which will lead you to some fallen trees covered with polypores. There are two hiking trails leading from the lake - upper and lower. Altough it may seem strange, take the lower one and descent even more. After approximately 2 hours of walk you will get rewarded by educational trail Mountain brook (Bergbach Lehrpfad) which leads around Kleine Ohe - beautiful and wild mountain stream running over mossy stones and through beechen forest. Don´t forget to take your polariser and tripod to this location. Similarly to schachten, also Kleine Ohe is best visited in autumn.
If you are after best sunsets in this location, you found your place. Circular view, great foregrounds and frequent inversions are just wonderful on Lusen.
Path now starts ascending quickly, around small water reservoir of Martinsklause surrounded by mixed forest and through Teufelsloch (Devil´s pass) rocky gorge. From there you will not leave bark beetle forest until the very end of the trail. These "devastated" forests are itself one of the special photographic opportunities in this national park. You can capture them rising from the fog, bathing in red evening light or just against dramatic sky.
Kirchlinger Stand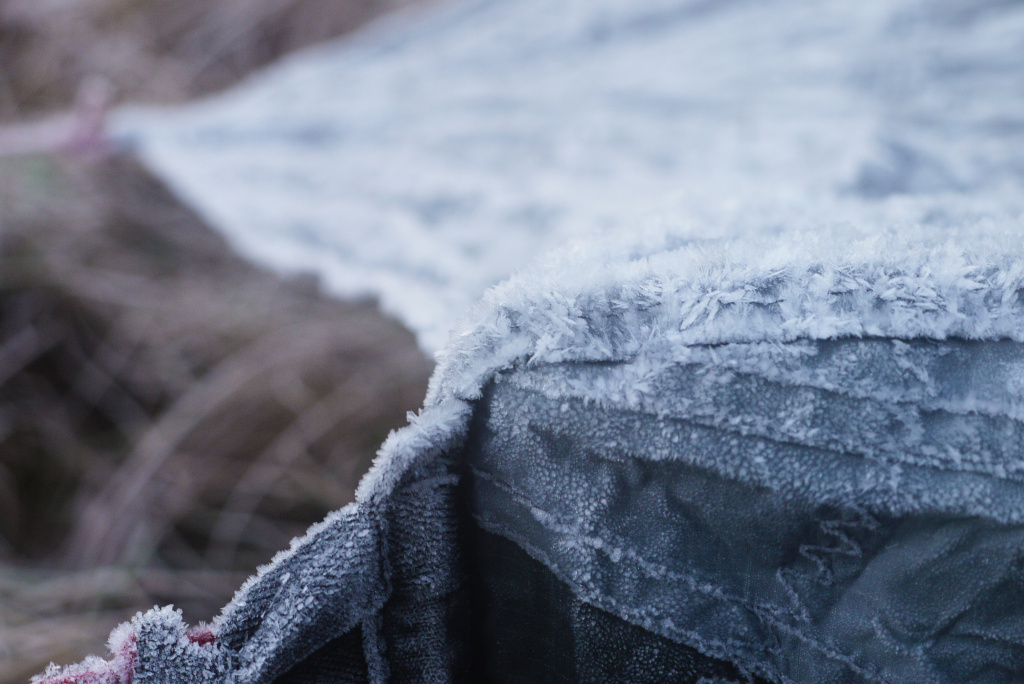 Frozen tent
Soon you will reach the summit of Lusen, interesting mountain with stone field on its top. If you are after best sunsets in this location, you found your place. Circular view, great foregrounds and frequent inversions are just wonderful on Lusen. It is best to get there in the evening (you will definitely meet some photographers here) and stay somewhere near overnight. You can, for example as me, choose 3 km distant meadow of Kirchlinger Stand. As already told, weather changes quite rapidly here so it is possible you are one moment lost in fog and after few minutes walking under clear skies. Have your camera prepared as this unmarked trail leads through one of the most photogenic wild forest in the location. From Kirchlinger Stand, you can choose one of a few paths leading to Finsterau where you will probably end your hike in the morning.
Whole area of the Bayerischer Wald and neighbouring Šumava is also well suitable for night photography as the skies still remain dark due to remote location of the mountains.