We had a few sunny clear days on the Lofoten islands and it should have been the last time to be so during our trip through Norway. Opposite to what one may assume, travelling south in Scandinavia often means travelling to colder and overall worse weather (as the weather there is one big ride on the sun-rain-snow roller-coaster). By no means was the best part of the trip over, actually we headed to the highest mountains now, during our "return" as these are located in southern part of Norway.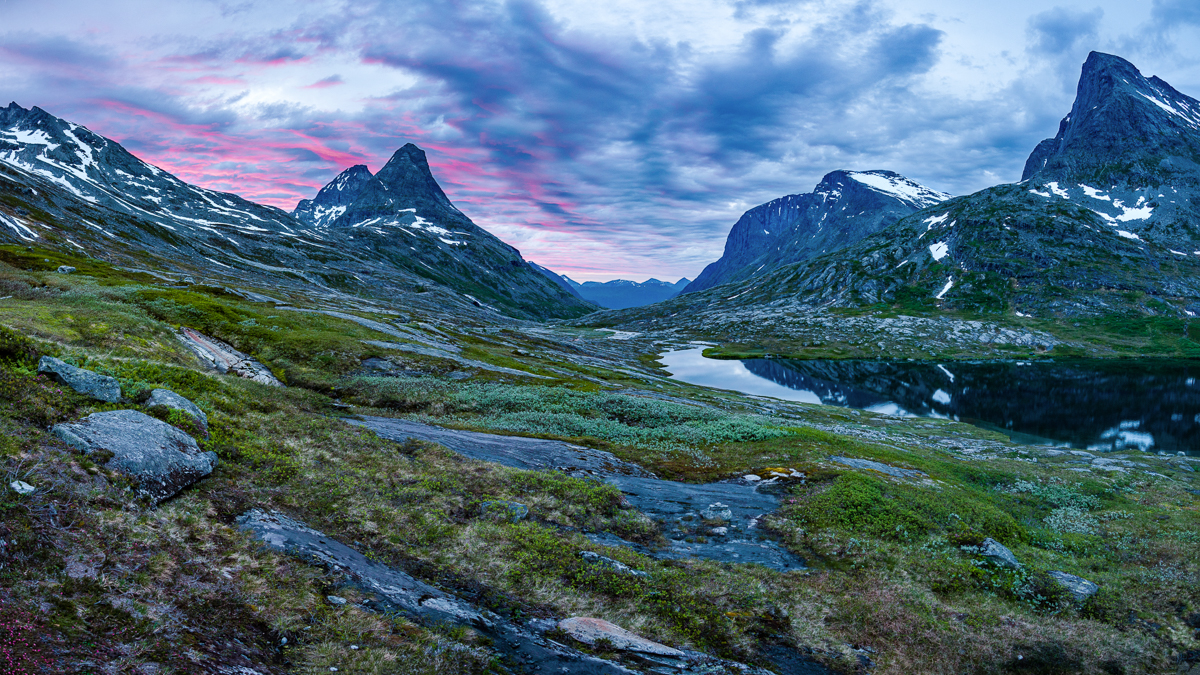 Best sunset of the whole trip - purples over Bispen and Kongen.
After 2 days in our old car we finally reached top destination accessible by car in Norway - the Trollstigen. It went so well that we arrived to the foot of this mountain road late in the evening and got nice opportunity to ride this road in traffic free conditions. Well, car almost burnt down due to the steepness of Trollstigen and we had to let it cool down once we reached top plateau. Cooling had also one side effect in rear door somehow locking itself in position and we were not able to open them anymore. Not even with quite amount of power. (I know what you are probably thinking now but it was just nothing as the bottom engine cover was already held by some gadget we put there already in Sweden to prevent it from grinding the road and interior was fixed with power tape on ten places or more.)
Steep mountains are exactly of those shapes I would say are the most characteristic for Scandinavian mountains
As it was getting darker we decided to camp not far from there and it was by far the best improvised decision we made. The nature there, despite beeing pierced by the road is quite unforgettable. Steep mountains are exactly of those shapes I would say are the most characteristic for Scandinavian mountains, lakes are crystal clear and rivers are full of fish. However, the best was yet to come.
As we were eating dinner, Sun started its performance. Mountain peaks began to burn in red flames as the last sunrays hit them and some holes appeared in otherwise dull grey clouds. One can never say whether this is the best of the sunset or the clouds will get more colorful as well but that evening I knew I had to forget about the dinner. Throwing the tripod and camera into the car we left our campsite even leaving our unfinished food on the table just for the sake of finding better place to capture the upcoming inferno.
It was the best sunset we experienced in Norway to say at least. I would say it is one of the 3 best sunsets I experienced ever. Long story short the colors were pure madness. Light blue tones changed rapidly into dark purple and whole sky over Bispen and Kongen mountains was like burning. Whole thing lasted only for few minutes after which the mountains got dark (and somewhat more dark than we were used to from Lofoten islands) and fog covered the road. Next morning it was raining. We stayed in this location for a few more days and hiked to Trollveggen, highest rocky wall in Europe before we moved further.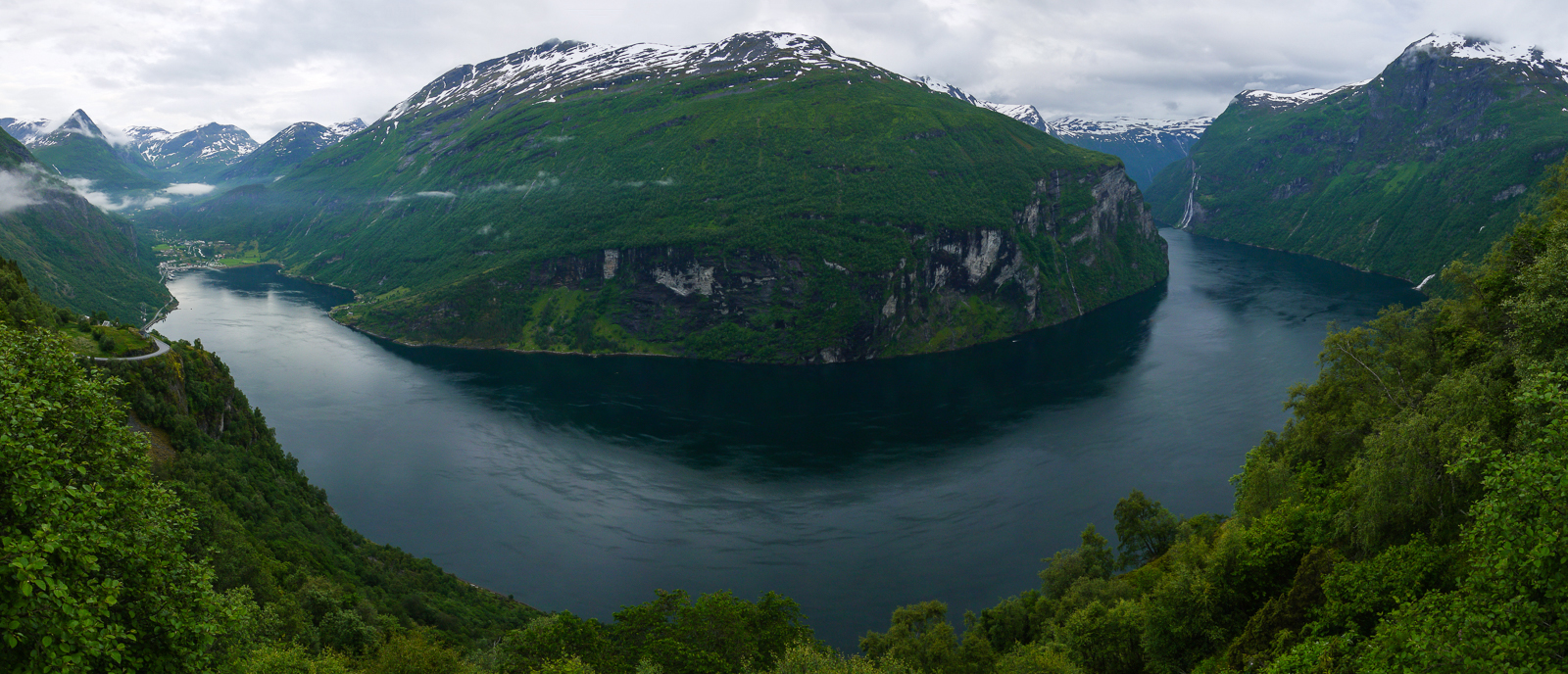 Geirangerfjord
After the mountains of Reinheimen (in which the Trollstigen is located) we headed for Geiranger as one never misses Geiranger during his first visit to Norway. Well, this seems to me as the biggest mistake we made. Geiranger itself would be wonderful if the area was not probably the only one in Norway where it is not permitted to camp everywhere and was not full of tourists who only left the huge cruiser ship and mysteriously forgot how to behave once they set their feet on solid ground again. Trip to Skageflå was not that bad after all as it leads through forests high over the fjord but still it was far from the best experience we had in Norway.
The highest mountains of Norway and whole Scandinavia - Jotunheimen - were the last mountains we visited back then. Our plan to reach the highest summit of Galdhåpiggen was over once we parked our car at Spiterstulen in heavy rain and after warning that continuous cover of snow lies from 1300 meters higher.
Lakes up there were still fully frozen, often it is necessary to cross the river or snow bridge where you are uncertain whether it can withstand your steps.
End of Langvatnet lake in Jotunheimen with wonderful ice structures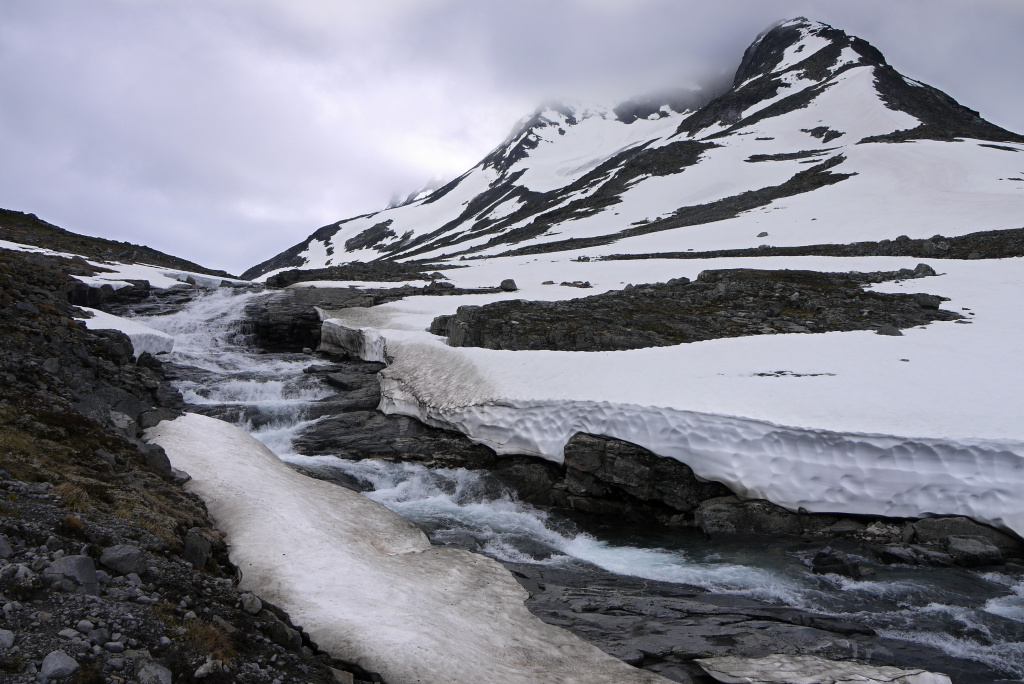 Beginning of Urdadalen
Urdadalsbandet, contrasting blacks and whites
Still we said goodbye to civilization for a few days and walked towards the heart of Jotunheimen. This was also the only time we saw reindeer, just a few meters in front of us, directly on the hiking path. We decided to camp below snowline, on the crossing of many streams as high snowy pass too far away to reach it the same day. Lost in the middle of nowhere - that is how I like it. And the next day during crossing of mentioned pass it was even better. Walking in pure white in the middle of July is something really special. It was cold of course but that makes the experience real. Lakes up there were still fully frozen, often it is necessary to cross the river or snow bridge where you are uncertain whether it can withstand your steps. All in all Jotunheimen is definitely one of my favourite locations in Norway, partly maybe because of the harsh weather we had there which made the mountains seem more dramatic than they really were.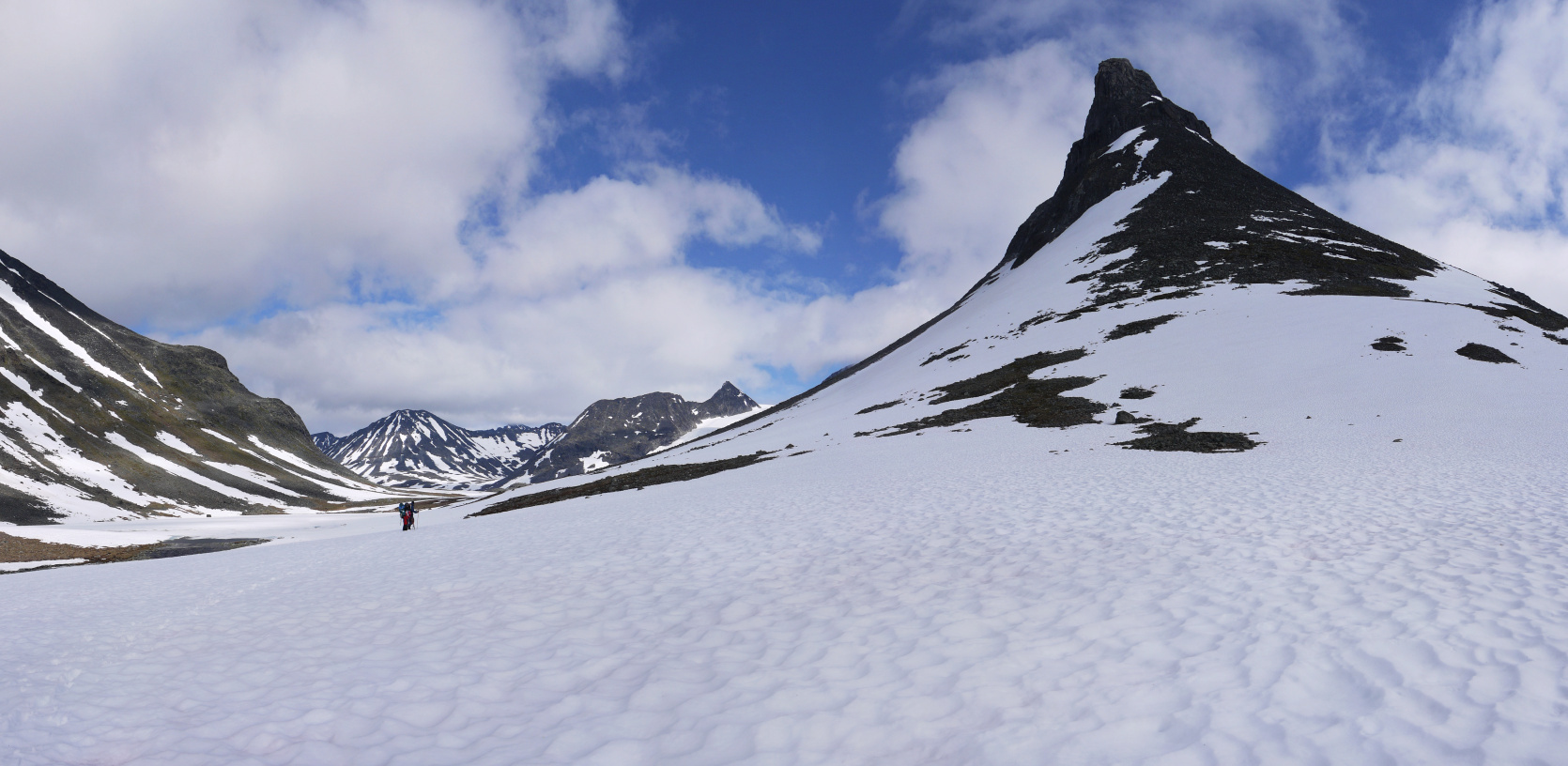 Kirkja mountain
Our last steps in Norway led to Bergen (one should never omit visiting Bergen) and to confirm the strangeness of Norway's weather, the rainiest place of the whole country was bathing in sun during our visit. I nearly imagined the locals would hold a festival just to praise the only sunny day of the year but they were like 'meh'. We were like 'meh' from the fact that we spent 2 full hours looking for a decent pub with beer and found nothing. Literally nothing. Quite strange for the university city. And even weirder, in every street we found a barber shop. Like who needs so many hairdressers? In some streets there were even two of them. What? Yes. Two barber shops, one next to another. Different companies. Different names. And that is it. Wonderful country with its little peeves I would never hesitate to visit again.