Forest is dark and soaked up after recent storms. The path leads over many streams, moss and rocks through forested gorge. For a moment I can see a bird of prey circling high above my head before it disappears behind thick branches. The path takes another turn and I, as always, take a deep breath. What if I walk directly into a bear waiting for me? Is that jingle bell I put on my backpack producing loud enough noises? I do not believe so, but locals usually hike with them so I rather follow. I stop and stand still for a while. The wind is rustling in the trees, small streams are bubbling all around me and I am almost sure I can hear a waterfall from the gorge below. Is this it, I ask myself, the true essence of Romanian Carpathians? The answer seems evident with all that nature around. Would it still be the same if I shared this experience with someone else? That I wonder even more.
After all my lone journeys I can say that it would be different. Not better nor worse, just different. For a long time I could not imagine hiking alone, even in my homecountry let alone in Romania. Then one day, something changed. I went for a few days to the mountains in Czechia, completely alone for the first time. It felt a little weird at first but everything changed once I reached the first summit. The whole experience seems more intense, more close. You do not have to talk, to come up with jokes as you would when in a group. The mind concentrates only on the nature and itself.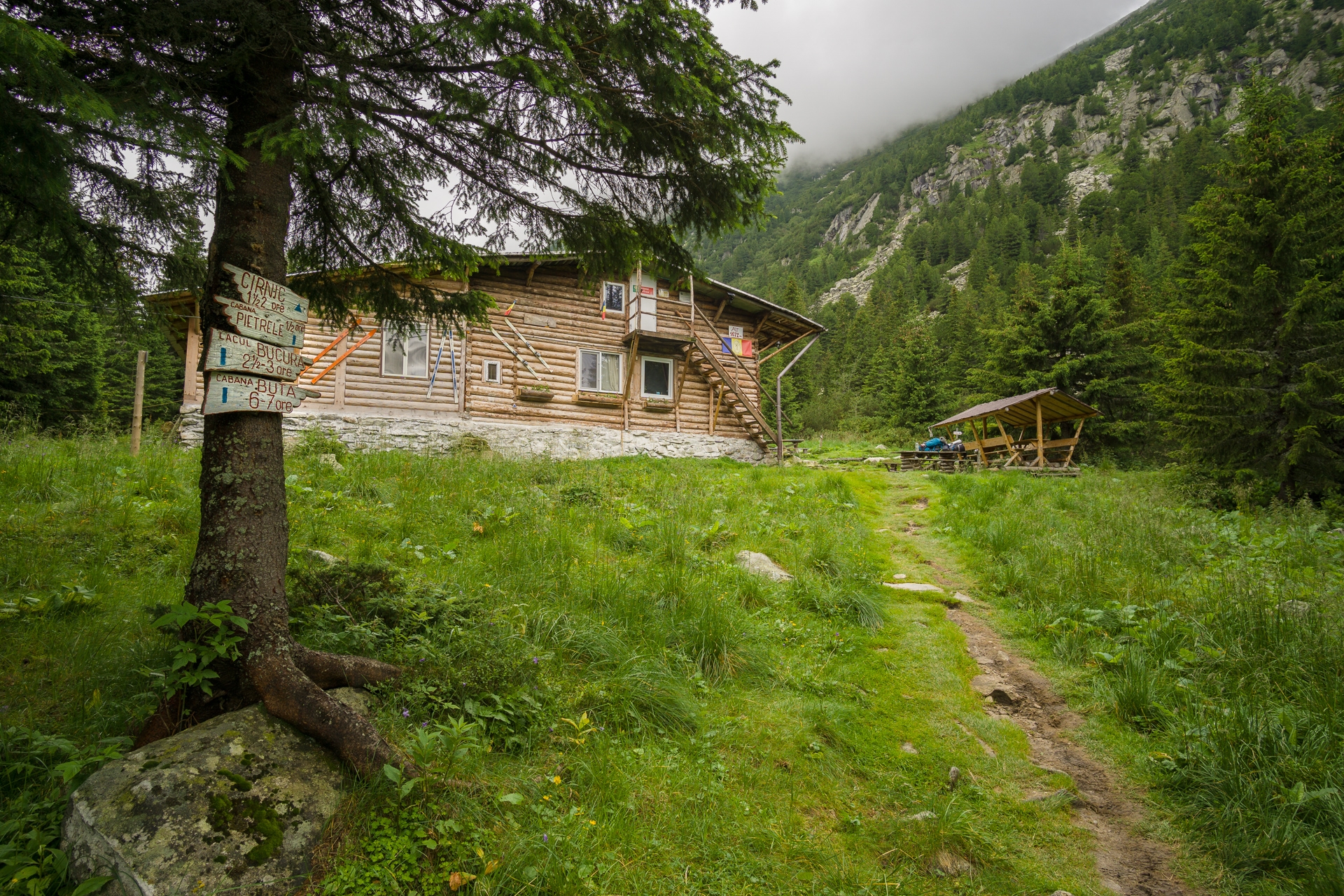 Cabana Gentiana - where deep Carpathian forest ends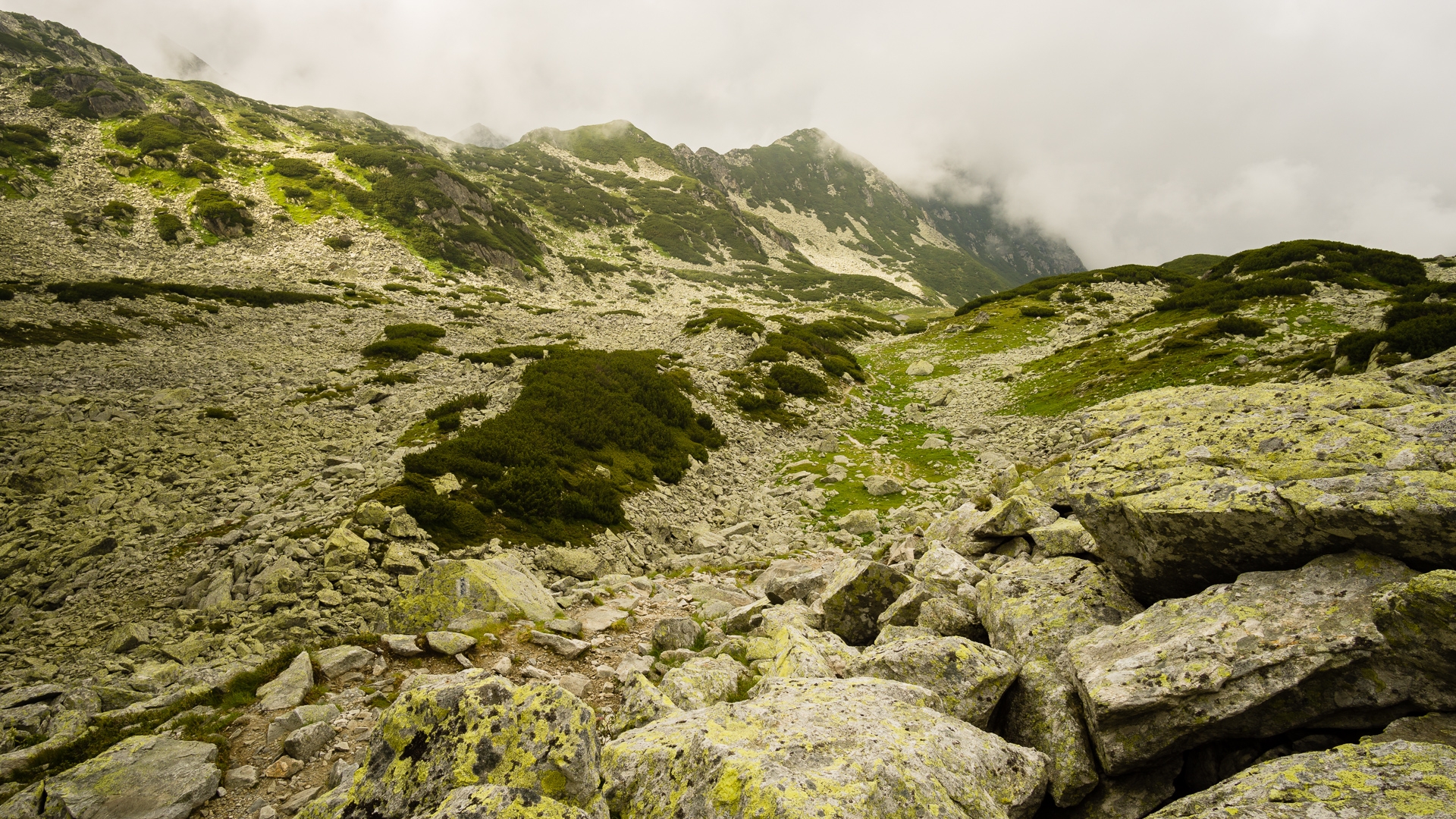 Directly below Curmătura Bucurei
The signpost shows 3,5 hours to the lake Bucura, largest glacial lake in Romania and my destination. After half an hour in swift pace, another signpost shows 3,5 hours again. I have to smile, good old Eastern Europe. The trail suddenly ends in a stream or better said in a river. I try to cross it but recent heavy rainfall made it unpassable. I have to take longer route to Cabana Pietrele where the same stream tore down a bridge. It is possible to cross the water only over freshly felled log - luckilly. At Cabana Gentiana forest ends and I start singing weird stuff. Clouds are coming again and mountains are dark. Somehow I think it adds to the atmosphere of Transylvanian nature.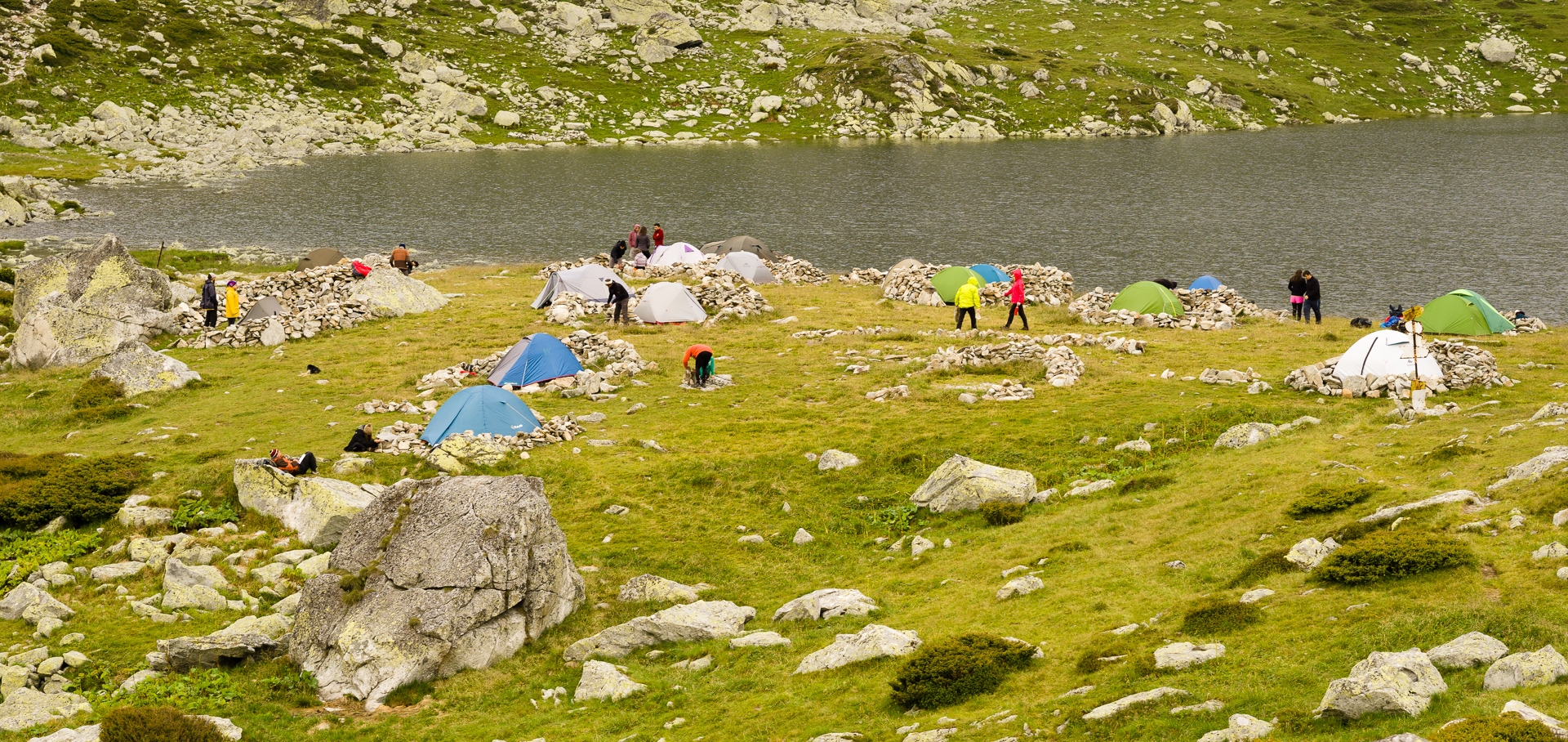 Campsite at lake Bucura. I would like it less crowded more, but it could have been worse.
Soon I can see the rocky saddle Curmătura Bucurei which I have to cross and it also really starts to rain. Directly below the saddle my lone journey ends as I join a group of Romanians heading to the Bucura lake as well. Actually, almost everyone in Retezat is heading to Bucura. To make it clear, Retezat is somewhat different to other prominent ranges as it lacks proper ridge trait. Do not get me wrong, there are many trails, just not one main route. However, almost all of these paths meet in the middle - as you correctly guess, at lake Bucura. Shores at the southern end of the lake are also one of few places where you can freely camp in Retezat, which means a lot of people. It gets worse in august when main roamanian season starts, but many tents are pitched up there even now at the beginning of july. It is a good starting point summits around as you can leave your tent there and hike lightweight.
Lake Bucura in the morning. Peleaga, highest peak in Retezat, is blocking already risen Sun.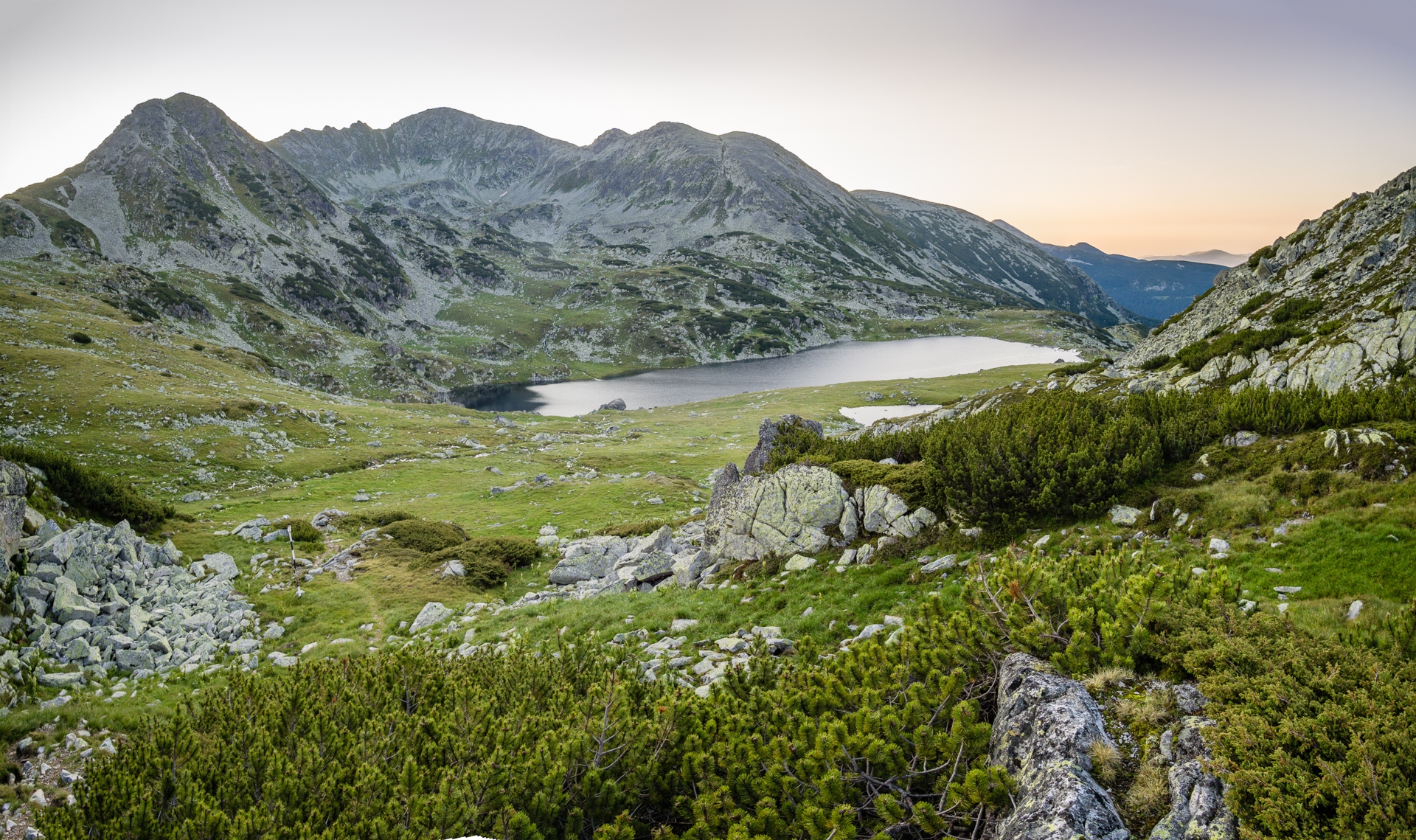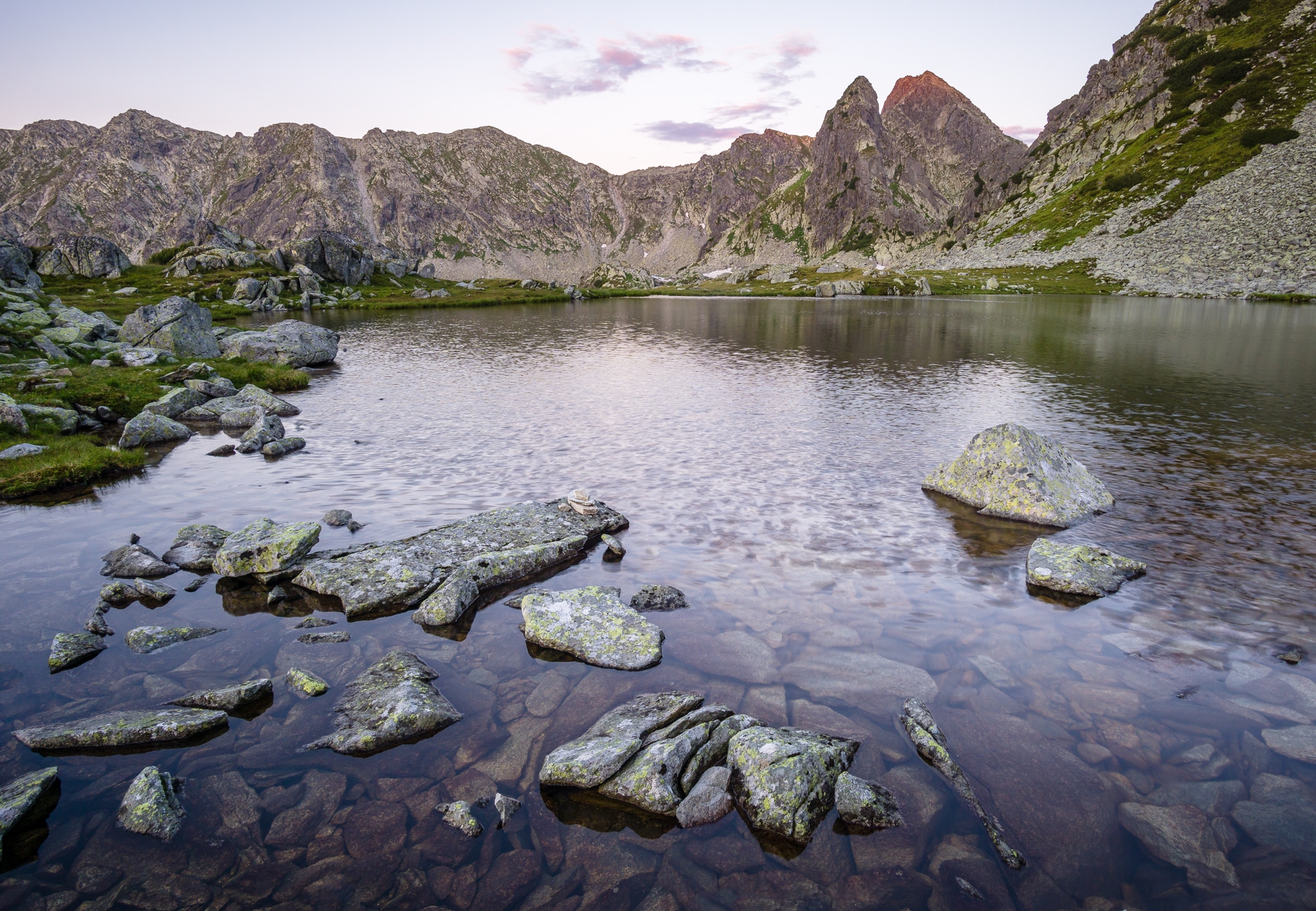 Dawn at Tăul Porții with rugged Judele peak in the background. Probably my favourite peak there.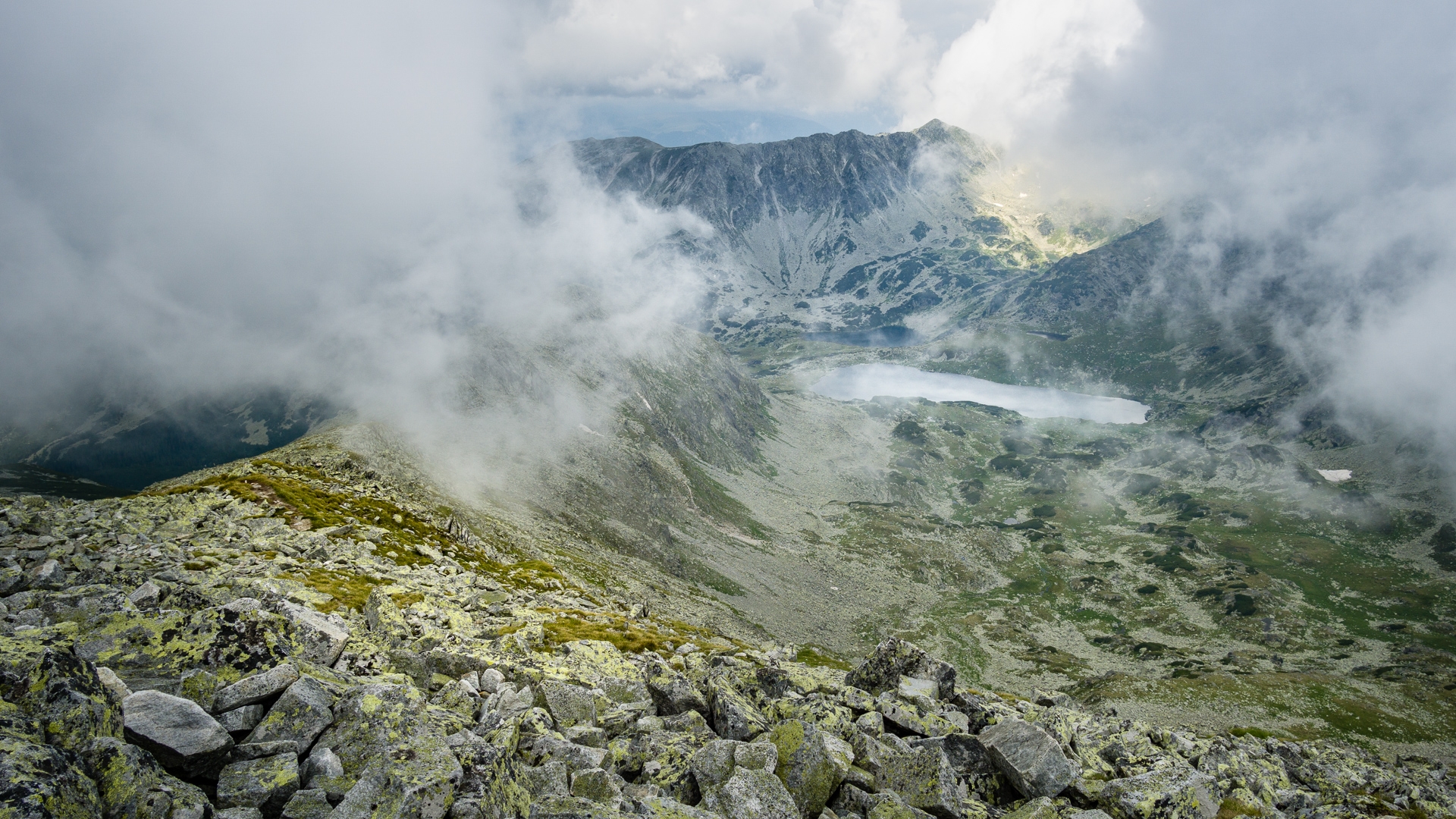 Below summit of Peleaga. Looking back to Bucura lake.
What repeatedly proved true to me is that if you are in the mountains on your own, people approach you more and you usually end up talking a lot. That was the case also here in Retezat. One morning as I returned from photo walk to Tăul Porții, I decided to hike to Peleaga, highest mountain in Retezat. As it was still very early, only few people were on the trail. There I met one Polish guy, lone hiker as me. It was sort of natural thing to continue to the summit together. He told me about his inspiring journey that brought him here: he started in Poland and went all the way through Slovakia, Hungary and Romania to continue to Greece through other balkan mountains once he decides to leave Retezat. To quote him: "I had to give up my job but aren't mountains worth it?"

On the summit we met with two hungarian girls and father with two sons. I sadly do not remmember his name, so I'll call him T. As interesting as it gets, T was born in the Netherlands, lived in UK and married a Romanian. His family usually spends summer in Romania in the countryside and returns to busy life in UK for the rest of the year. Quite rarely you get the opportunity to talk with someone who understands both west and east european mentality as well as T did. In the evening back at the lake we discussed everything concerning nature, economics and politics in our countries (as I talked about Czechia as well). I can say his insights changed my personal view of Romania at least as seeing the country did and I am very thankful that this random encounter happened.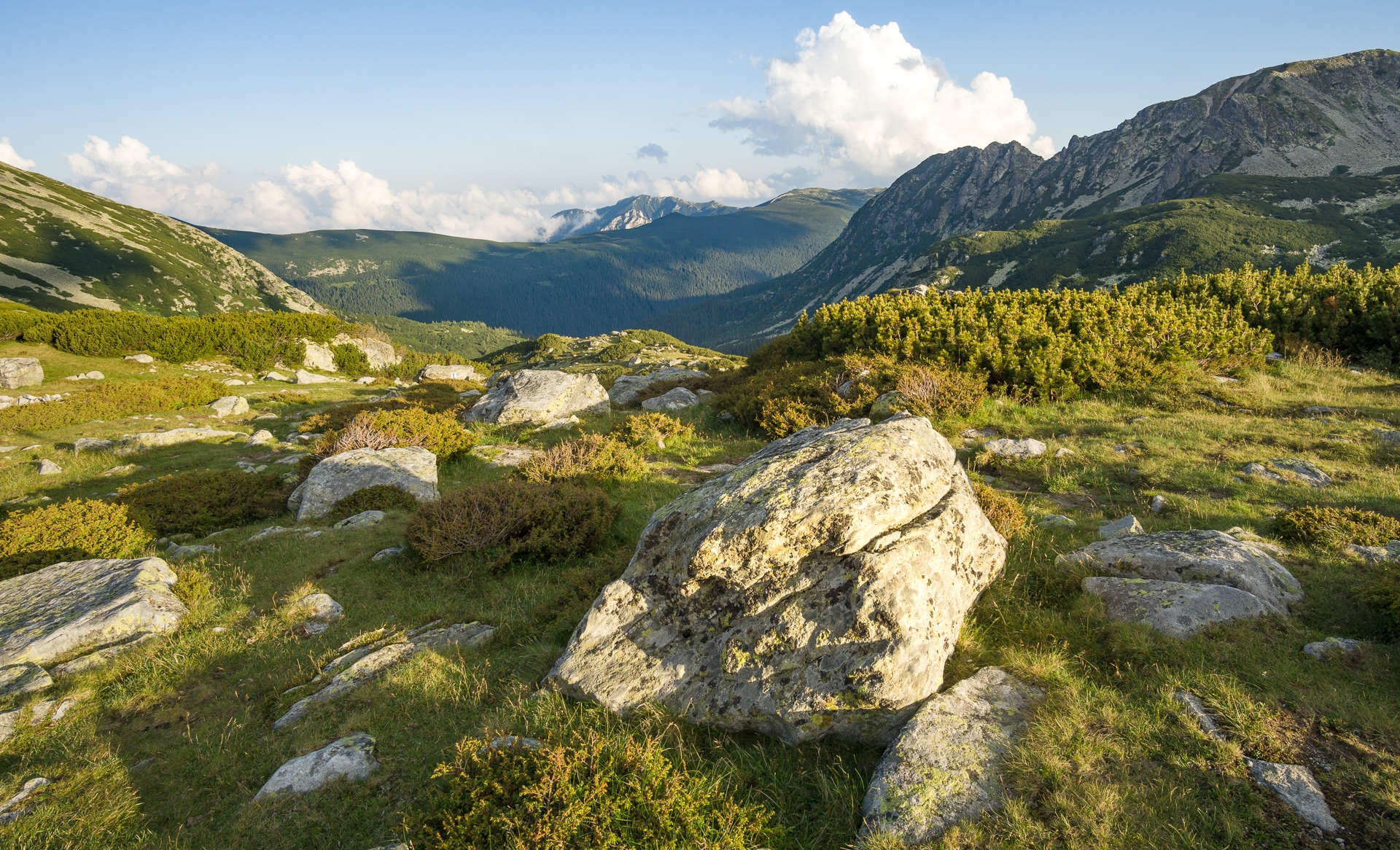 The most beautiful afternoon in Retezat.
That first evening when we returned from Peleaga, weather conditions seemed nice so I asked T and that Polish guy (whose name I do not remember as well) if we can continue our discussion once I find a place with good composition and set up a tripod. We did so not far from the campsite watching shepherds gather their sheep and sharing our travel stories.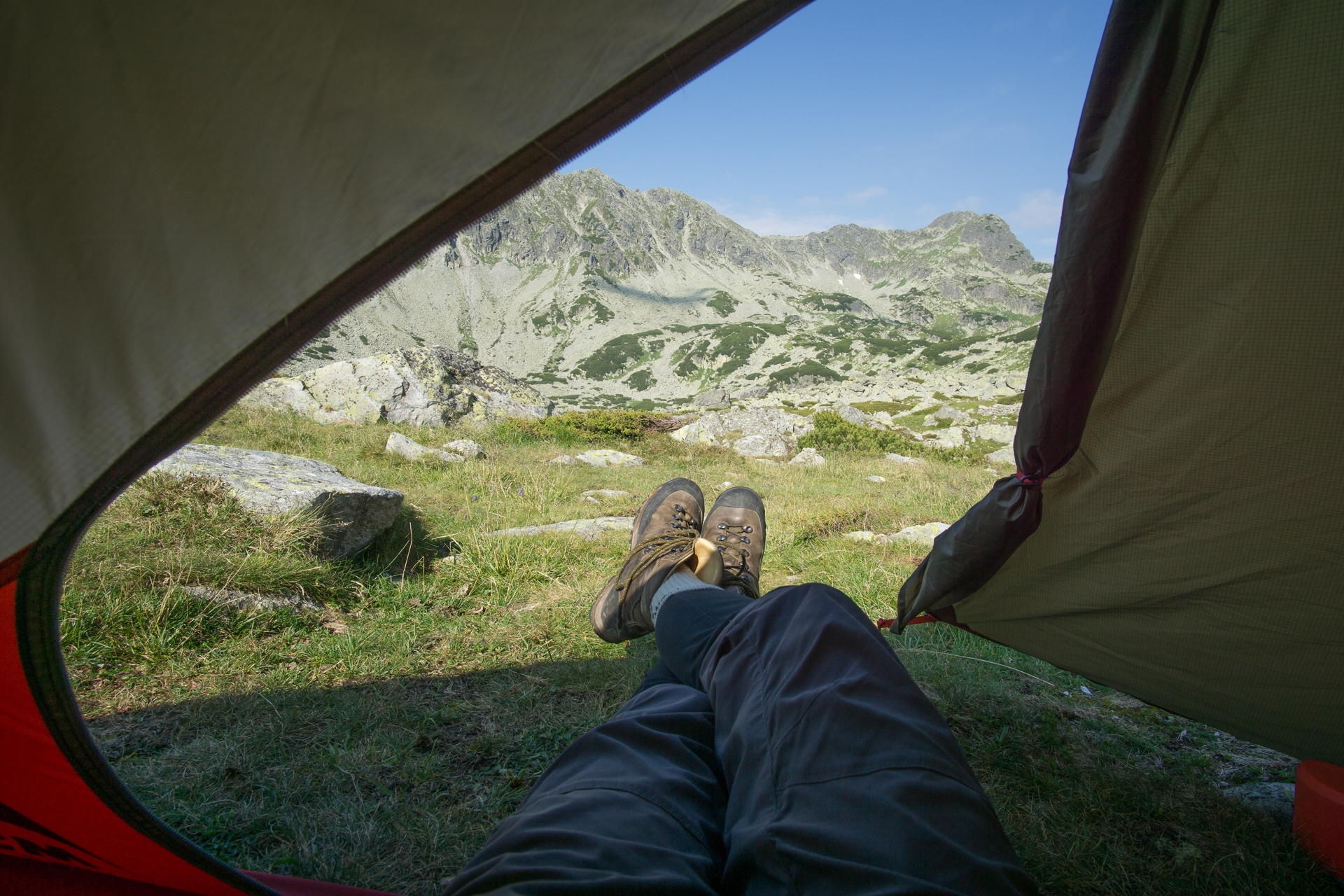 Breakfast with view to Judele peak.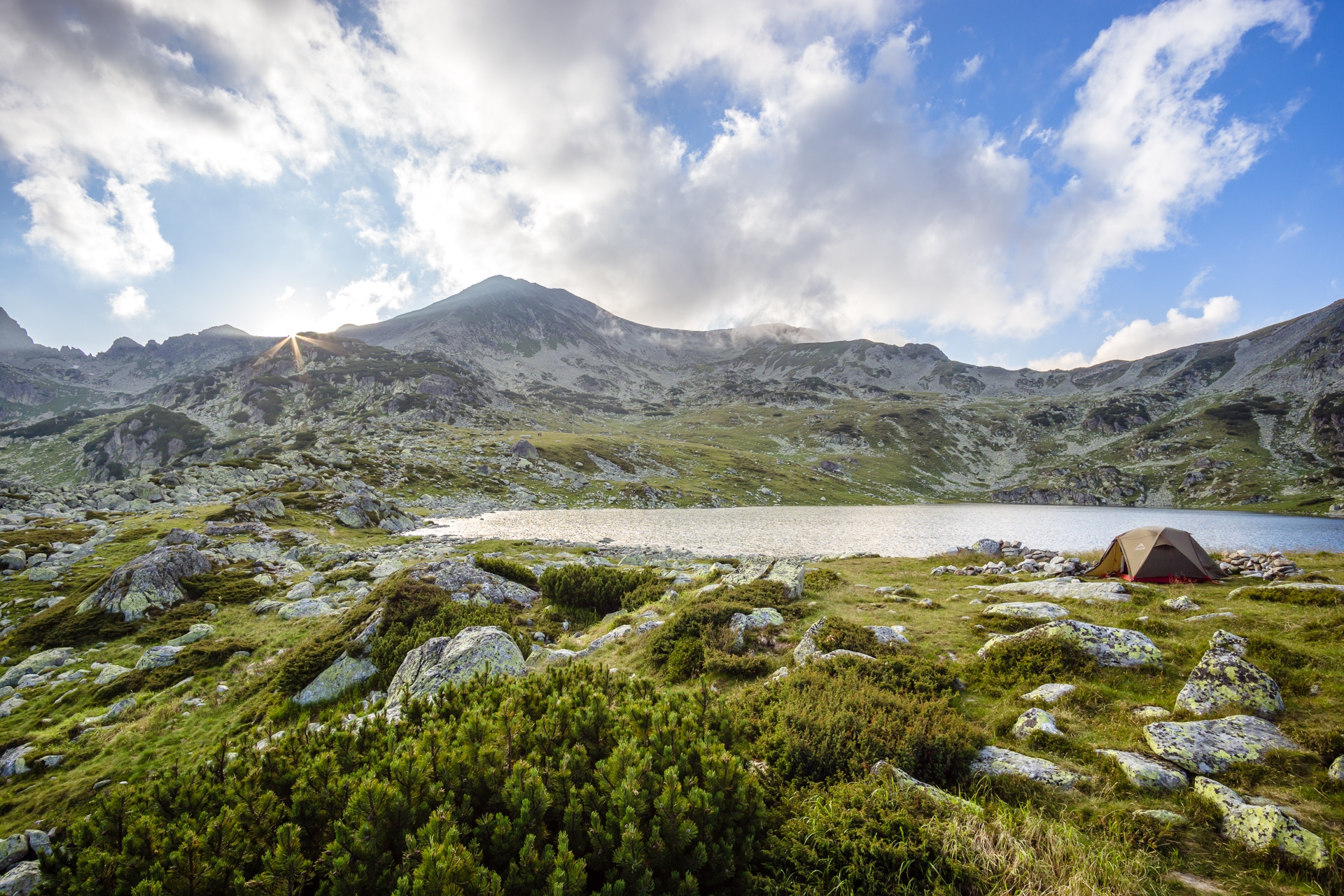 My tent at lake Bucura with sun setting behind Bucura peak.
That night I was waken up two times. First time by rain drops hitting my tent and second time by distant but urgent barking. In the morning, T stated an interesting thing: those dogs were probably scaring off a bear. He seemed quite surprised himself that bears can appear so high up in Retezat but was certainly sure based on previous encounters with these wild animals. As someone who lives in Romania for a large part of year and likes to go to the mountains, T met a bear more than once. Guy from Poland added that barking woke him as well so he decided to look outside his tent - and the night sky full of stars was spectacular. Wait, I thought it was raining all night?!

Next night it was the same story again. Heavy rain at 10 pm and dog barking around midnight. This time I went outside, the stars were there! No cloud in sight. Believe me or not, I have never seen stars as brightly as there in Retezat. Maybe it had something to do with sudden cold that came in the evening or simple fact that it was shortly after rain and air was supremely clear. However, not even on sea or in other remore areas have I ever seen so strong green airglow (visible by eyes!). This was the only moment when I felt quite sad that I am not sharing it with someone else.
Burning clouds and Judele peak.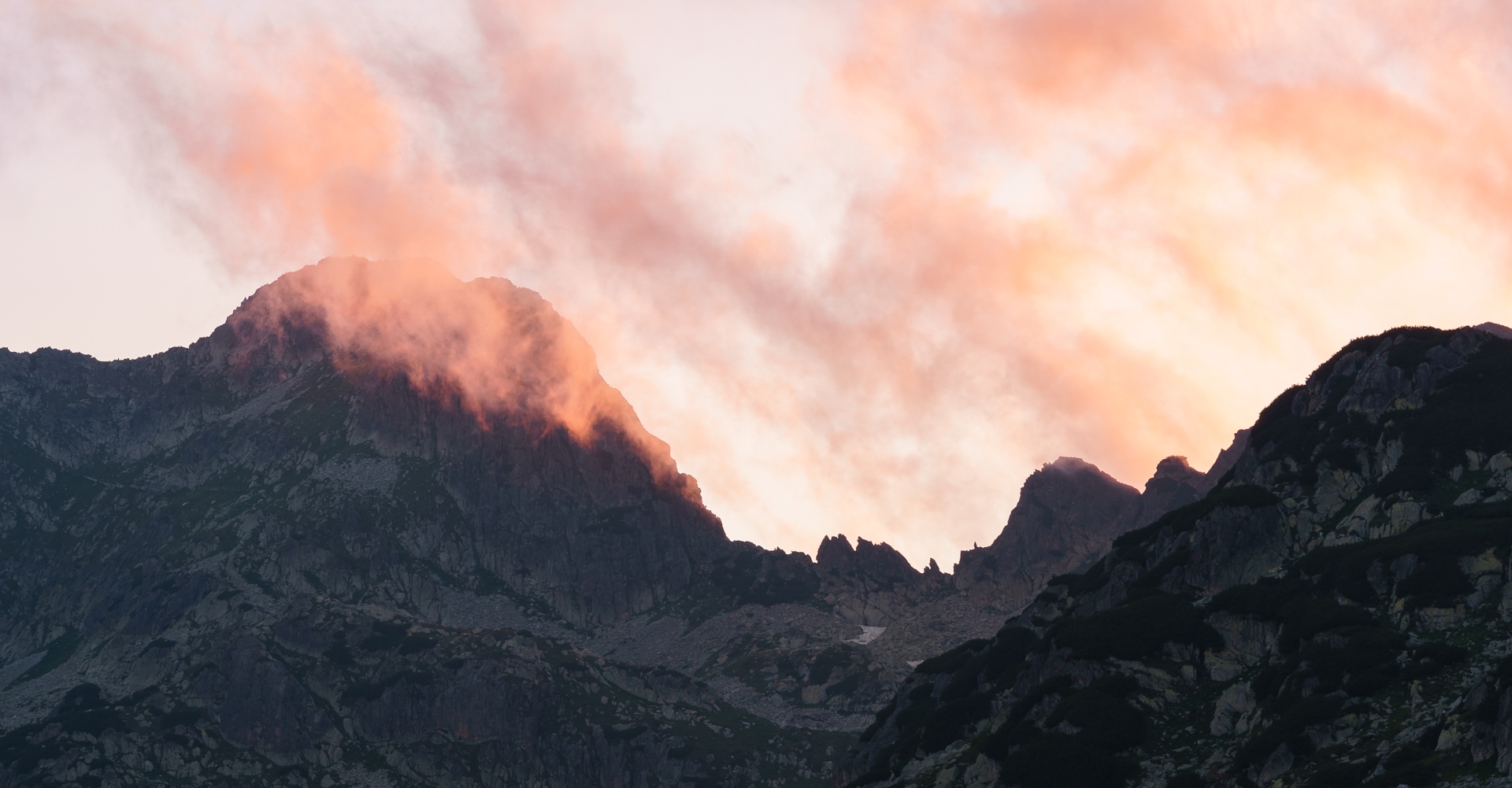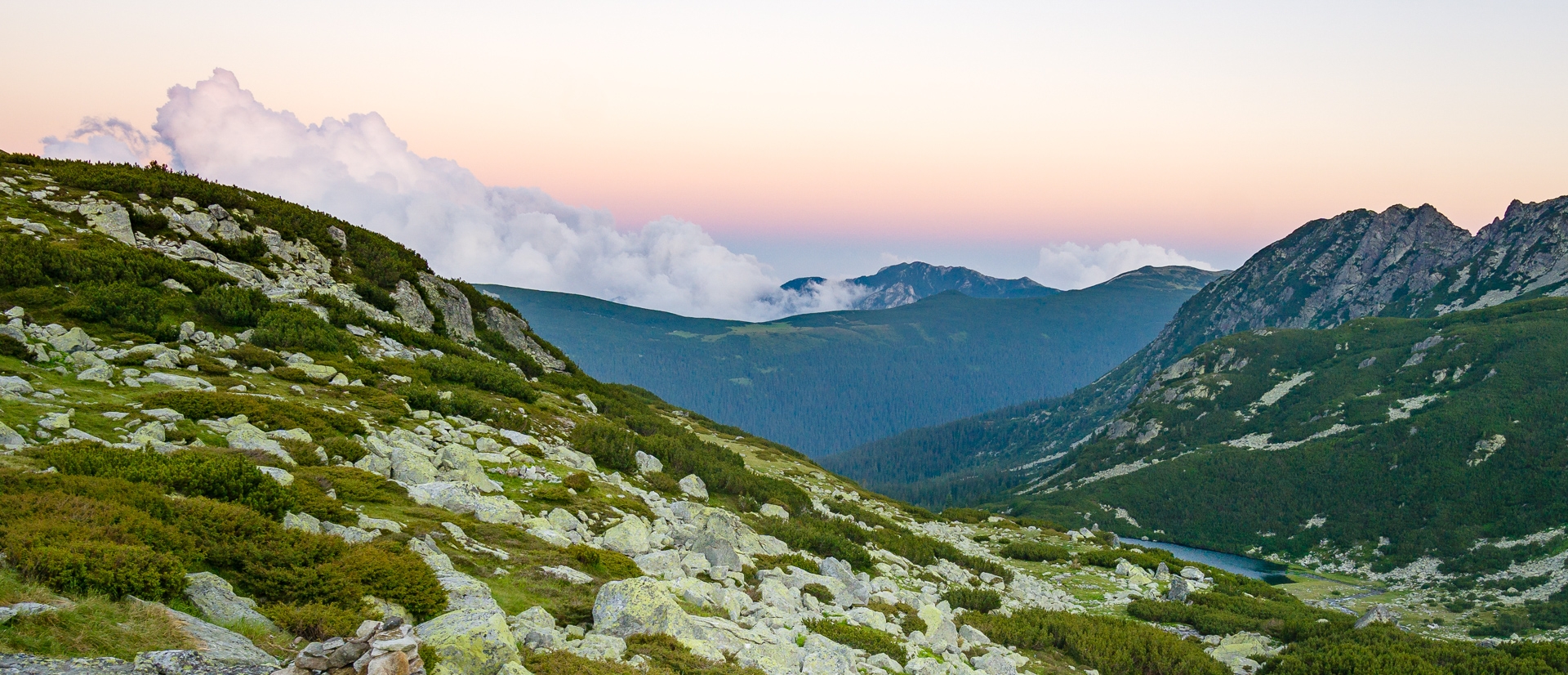 Stormy clouds come to Retezat.
Next morning I decided to leave the mountains as I was getting out of food. By this time, Retezat seemed to me as the most beautiful part of whole Carpathians and it remains to this day. As rocky as High Tatras in Slovakia, but undoubtfully more wild and mysterious. As mysterious as Făgăraș, but more interesting in the highest parts. Less desolate than ukrainian Chornogora, but still far from civilisation. Now I had to leave all this beauty behind. To my sursprise, T decided to leave as well and joined me on my path down. We still had many ideas to discuss. Finally, before we left the campsite at Bucura lake, 7 Romanians joined us as well including two girls from Braşov, who studied in Innsbruck - interesting discussion as well. Since then I know that when you hike alone in areas not completely desolated, you are not alone at all.

Written during Corona crisis lockdown of 2020, craving similar experiences. Images never presented before.