By coincidence I received an offer to join sailing vessel for a sail across the Ionian Islands. With only few weeks left before departure I found myself sacrificing older plans and deciding that mountains are not the only thing I need in life. With zero experience in sailing this seemed like an easy opportunity to try something absolutely new.

Mainland Greece from the journey to Kalamos
Going with 6 other people it was immediately certain the ship we'll sail is nothing small but seeing her for the first time in Lefkas marina was simply amazing. 46 feet long vessel called Wanderlust (oh, what a great name for a ship!) was to be our home for the next week. However, before setting sail there was still time to soak up the atmosphere of Lefkas town. Getting lost in the narrow streets I discovered my view of Greece was always somewhat false. I imagined it as a mediterranean paradise, tidied up for tourists and nothing more. Well, in fact it is pure Balkan country, somewhat dirty and beautifully authentic at the same time. At least it seemed so during off-season.
Next morning and finally setting sail towards island of Kalamos. Our captain while navigating the ship through the Lefkas strait managed to patiently explain everything concerning the control of the ship: sails, ropes, engine, navigation, basic sailing rules and more. Only the wind protested a little bit and did not blow strong enough to sail on sails. By the island of Meganisi, doplhins joined our ship and followed us for a while before we changed course to the east. From here we could admire mountains of mainland Greece before we finally reached marina of Kalamos.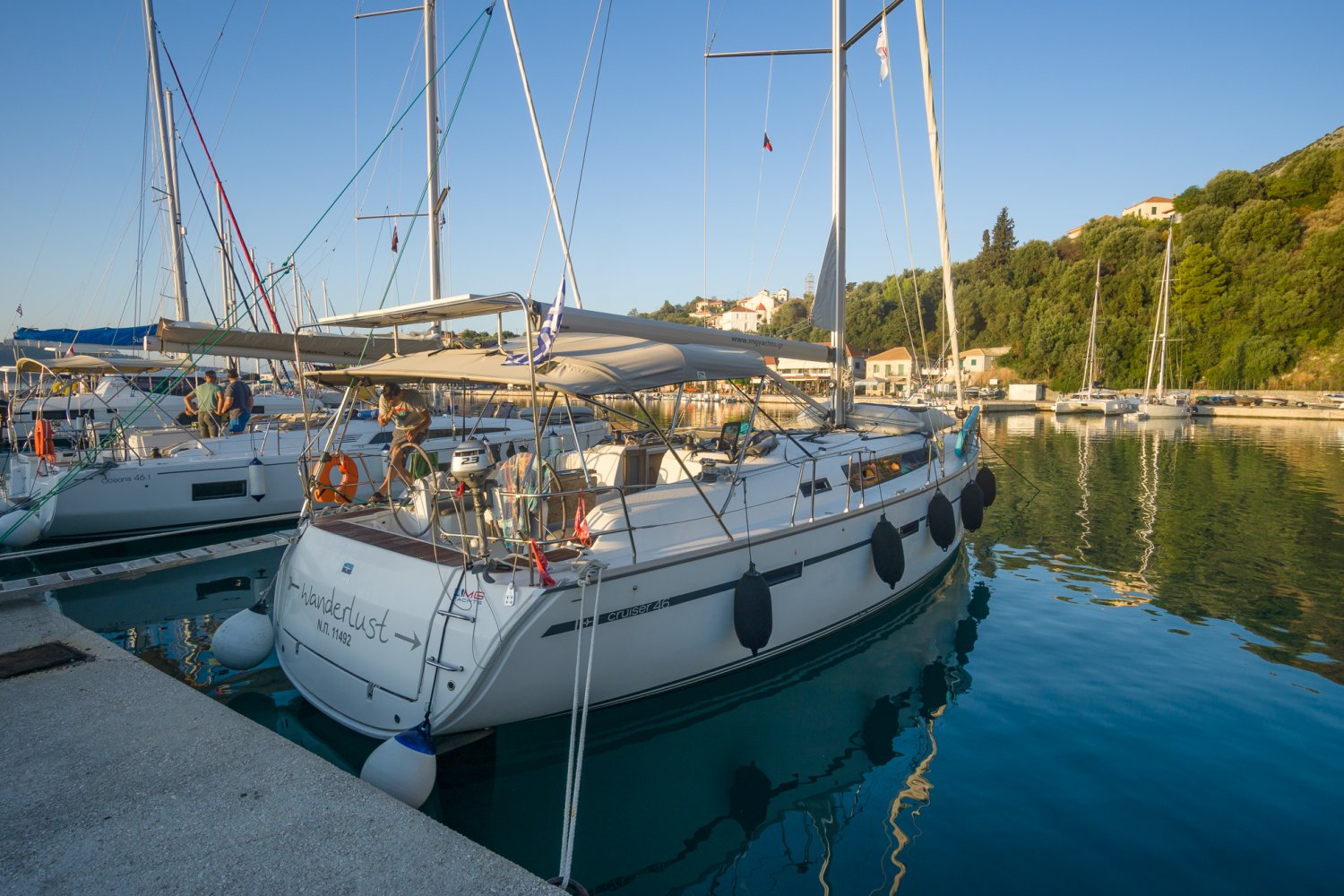 Wanderlust in Kalamos marina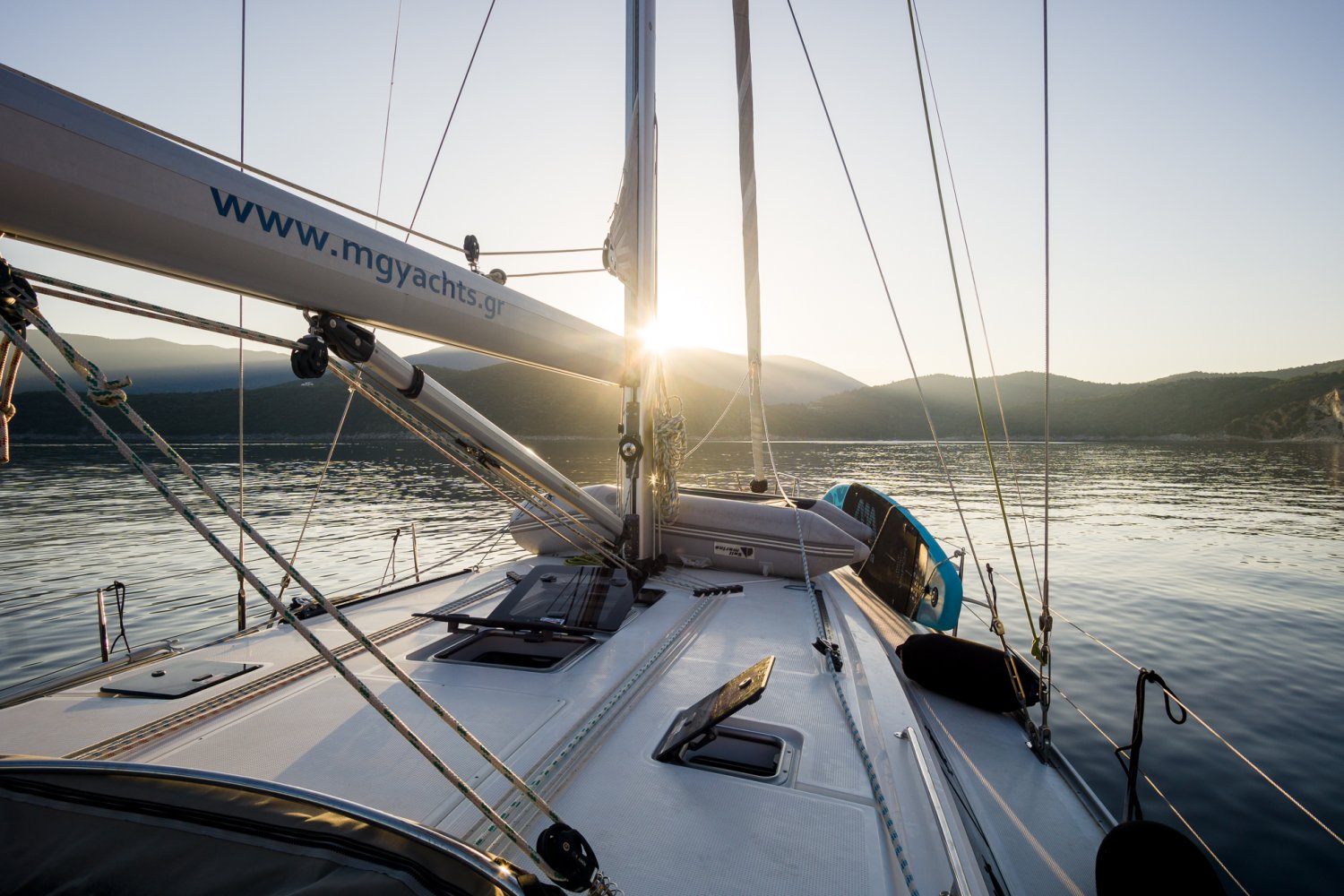 Evening vibes
Next morning prepared a short sail to nearby island of Kastos. Mandatory stop at Windmill café, a café built in one of many old windmills scattered across Greece, prepared one of the weirdest breakfast I probably had in life - coffee plus beer with ice. Next stop for lunch in One house bay at Atokos island and further continuation to Ithaka island - home of Odysseus. There we decided to anchor in a bay aside of main ports and took a short trip to nearby church in the evening. Rising full moon and our own jokes prepared an experience hardly to be forgotten.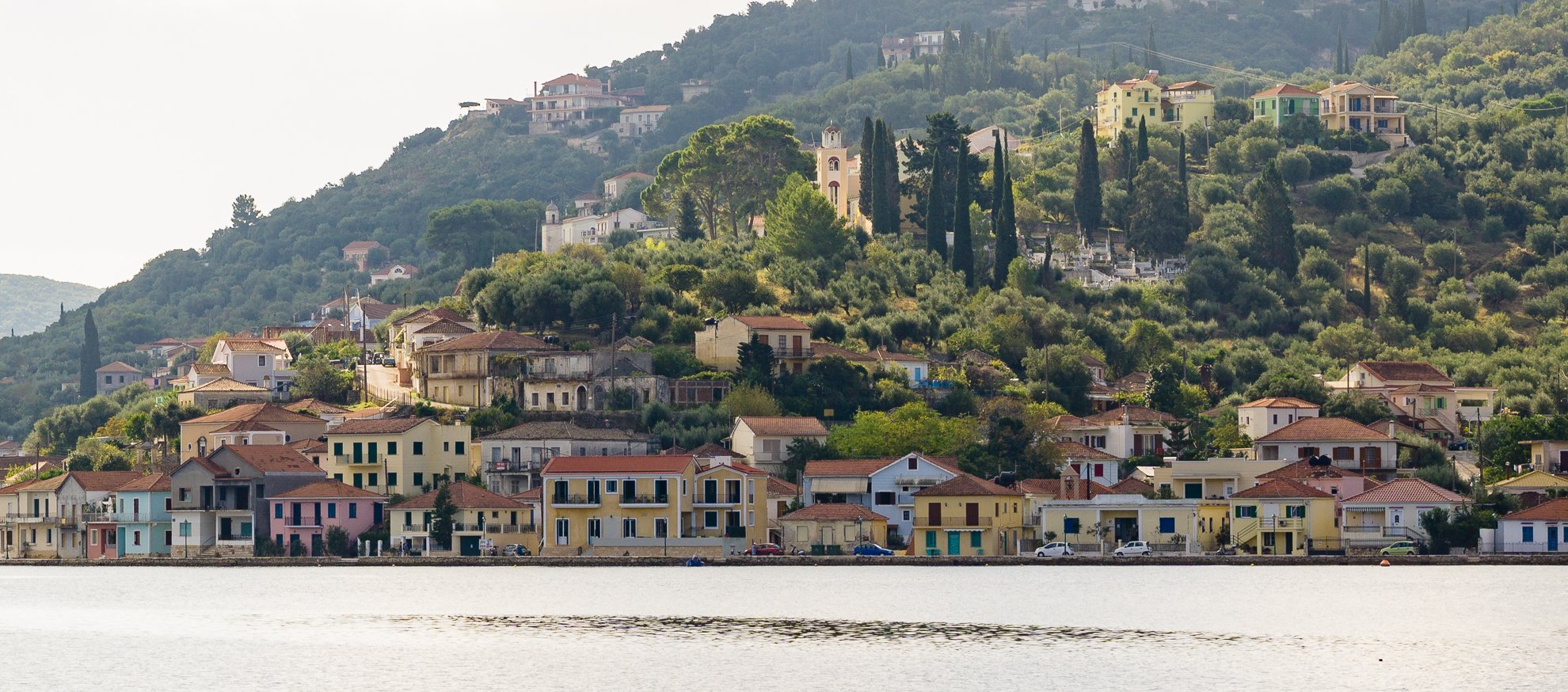 Arrival to Vathy, Ithaka
In the morning we decided to exchange ship for scooters to see more of Ithaka than we could from the sea. Hills, old villages with no tourists, wonderful viewpoints and perfect crooked mountain roads, that is how Ithaka sticked to my mind. Searching for the ruins of Odysseus palace, enjoying views over olive groves, freezing on the scooters going downhill once the wind started blowing...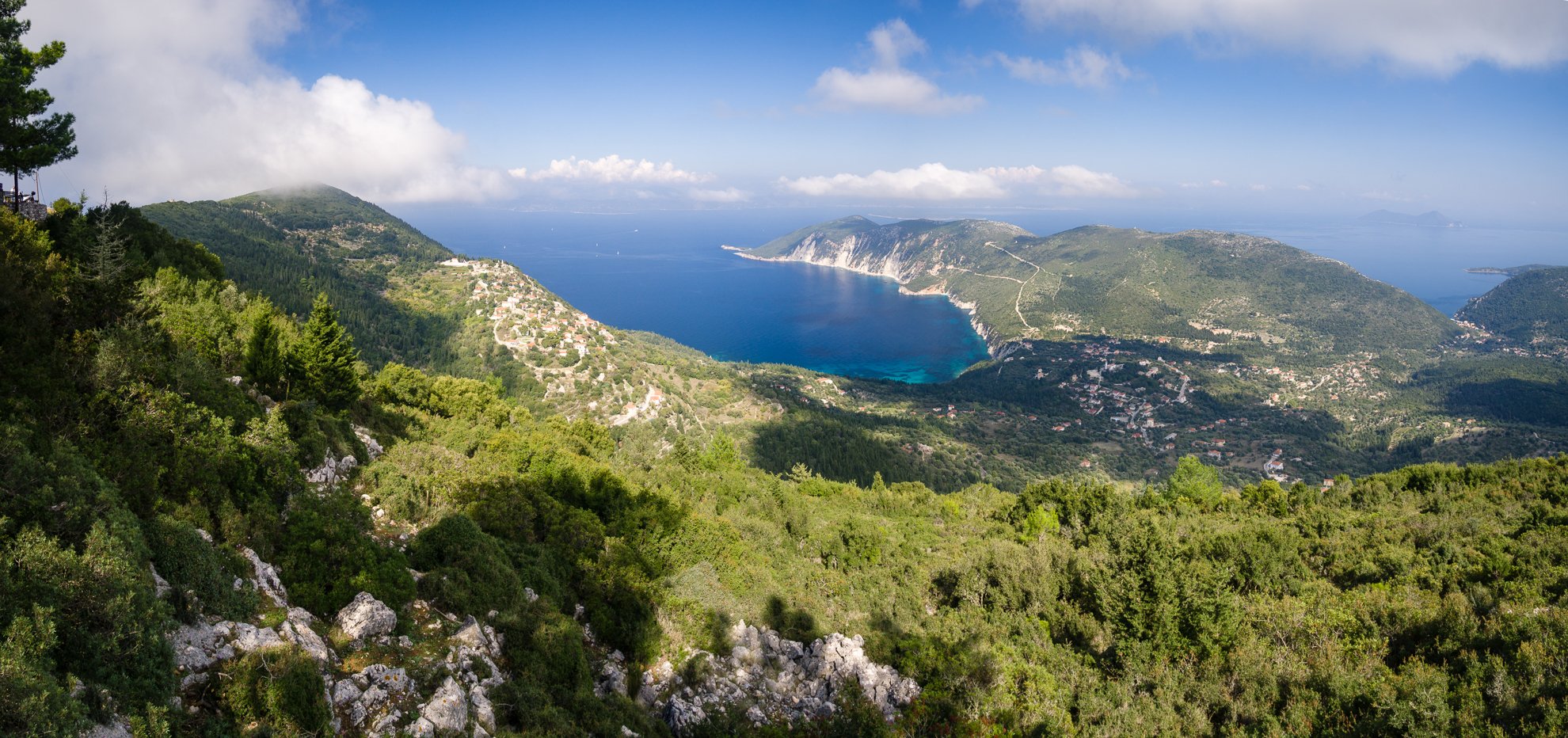 Green Ithaka with villages of Exogi and Platrithias
Yes, the wind started blowing! The part of sailing I was looking forward to the most finally came - night sailing. With this wind we could easily make it past large island of Kefalonia and arrive to the north shores of Zakynthos next morning. Soon the stars came out with Milky way over our heads moving against the mast when looking directly up. Hour later full moon again joined in illuminating part of the sky and also waves of the sea. You know that feeling when you expect too much and get almost nothing in return? Well, this night was the rare example of expecting too much and receiving even more.

At 1 a.m. captain decided he needs to sleep and left control of the ship in hands of three guys including me. Absolute highlight of the trip? Indeed, although it seemed like three noobs operating oil tanker with hundred sails (most of the time it went like:
"Ok, wind is changing."
"Maybe if I change the course just a little bit..."
"I would tilt the sails."
"Ok... Which rope was that again?"
"..."
"Nevermind, the wind is back.")
At least, when the captain woke up, he did not wake up by the shores of Italia, Spain or whatever, but with shores of Zakynthos in sight and sun rising directly in front of us. Morning enhanced by wonderful colours and rocking of the ship. As the rest of the crew woke up, Wanderlust was already reaching Navagio bay, hidden between high limestone cliffs and treasuring small beach with rusty shipwreck - often ranked between the most beautiful beaches in the world. While cruise ships full of tourists are limited to half an hour when staying there, we anchored Wanderlust further from the beach and could enjoy the beach for as long as we wanted (once we swam there).
Evening onboard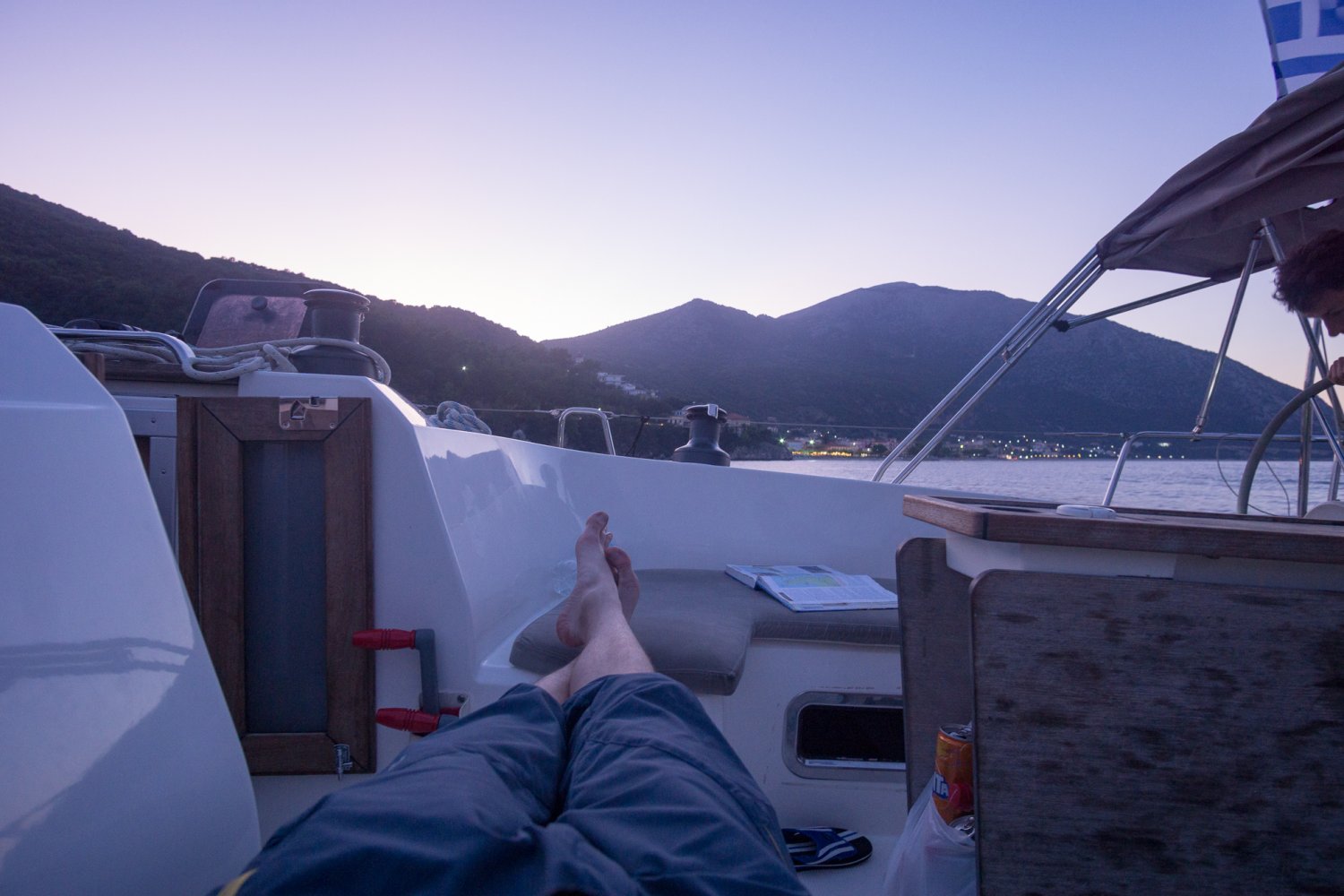 Arrival to Fiskardo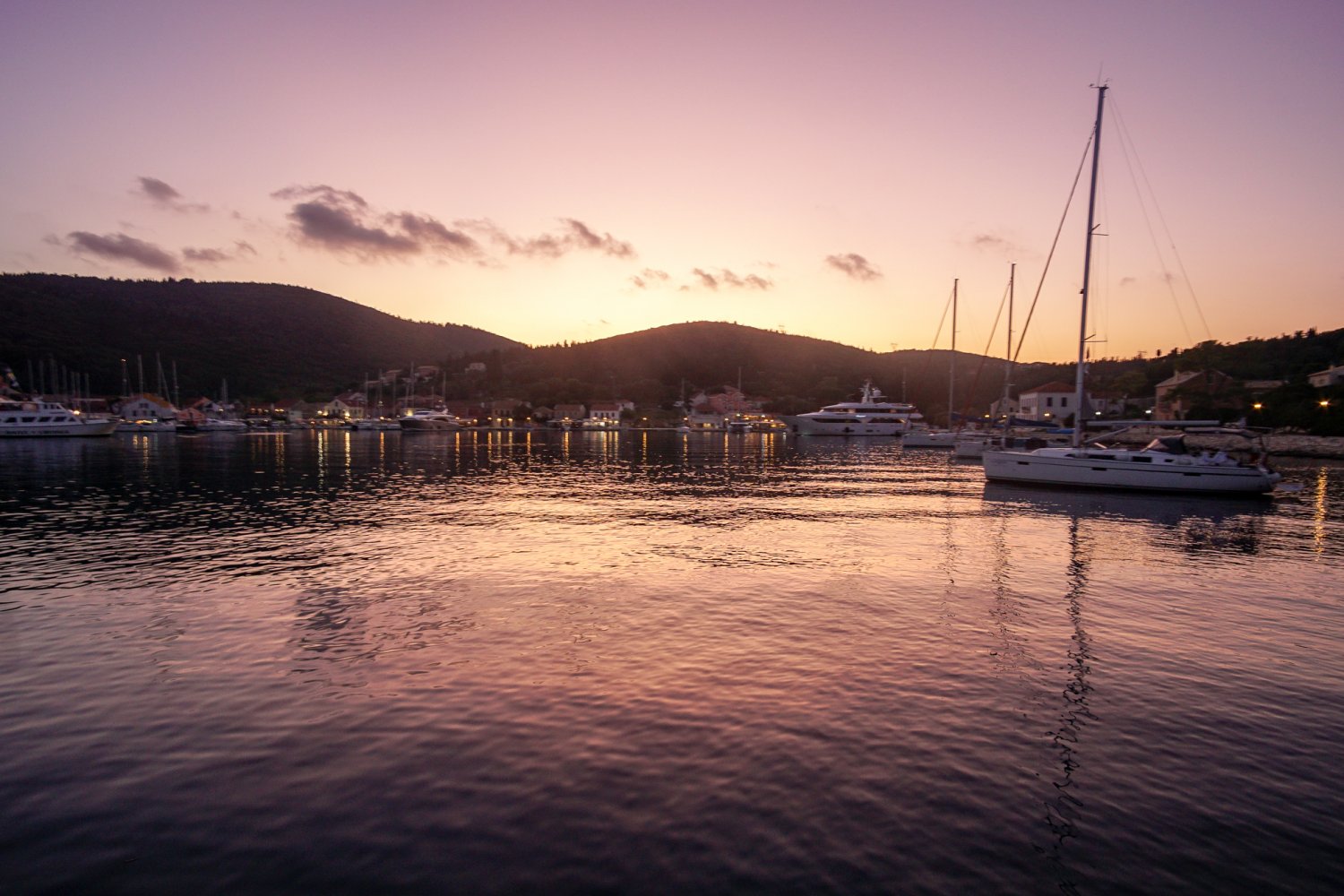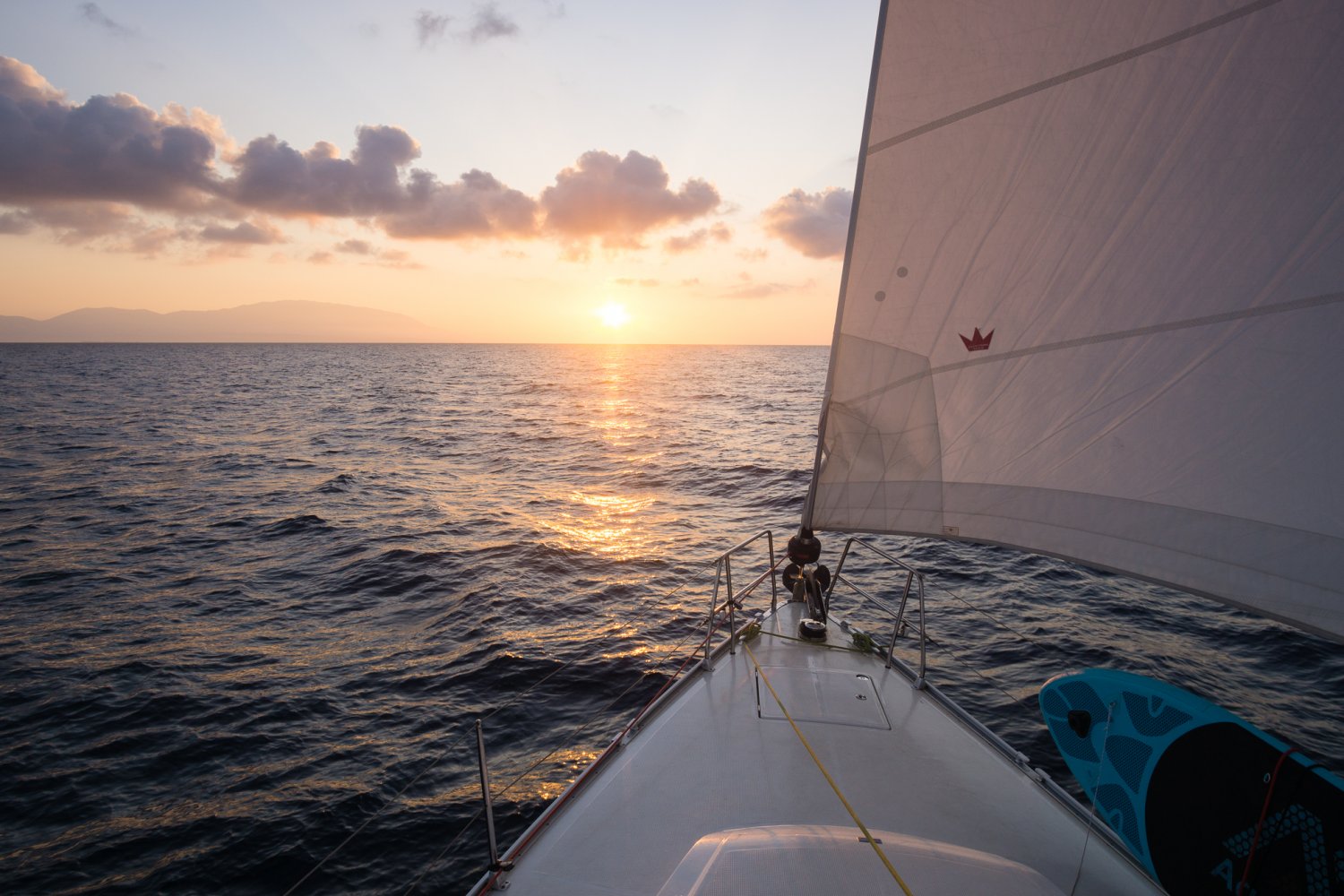 After all night sail with Zakynthos in view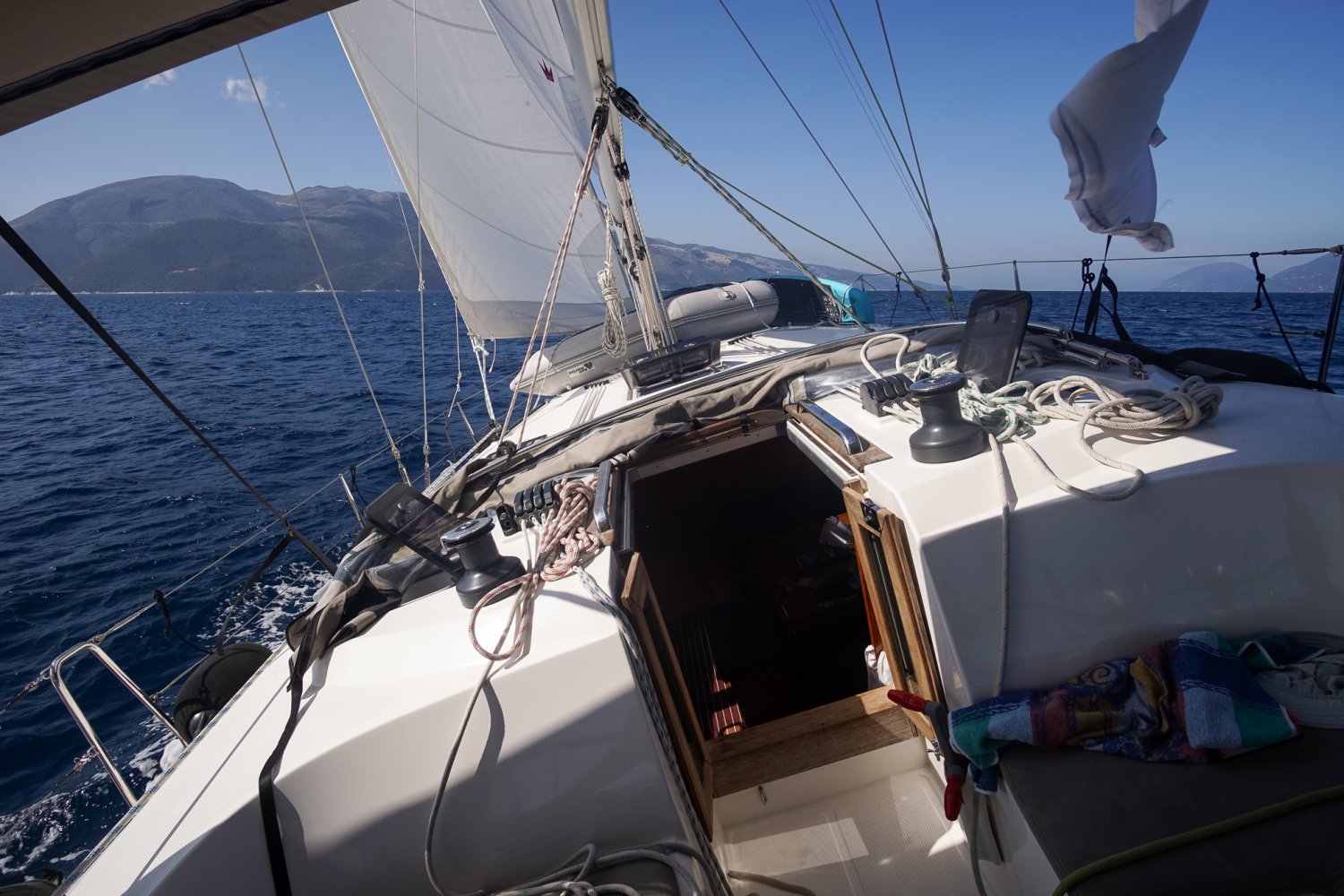 Sending her to tilt!
With Navagio bay we also reached our point of return and headed northeast around the east coast of Kefalonia. Weather forecast was harsh on us and promised gentle wind. That remained true all day until we arrived to small port of Poros on Kefalonia (with one shamefully terrible restaurant and with many great ones). Morning there was lazy one as next part of our journey to Fiskardo could be done in a few hours of sailing on the engine. By this time we were also somewhat accustomed to greek no-hurry style of living. However, nearby hills seemed just too nice to omit short morning walk.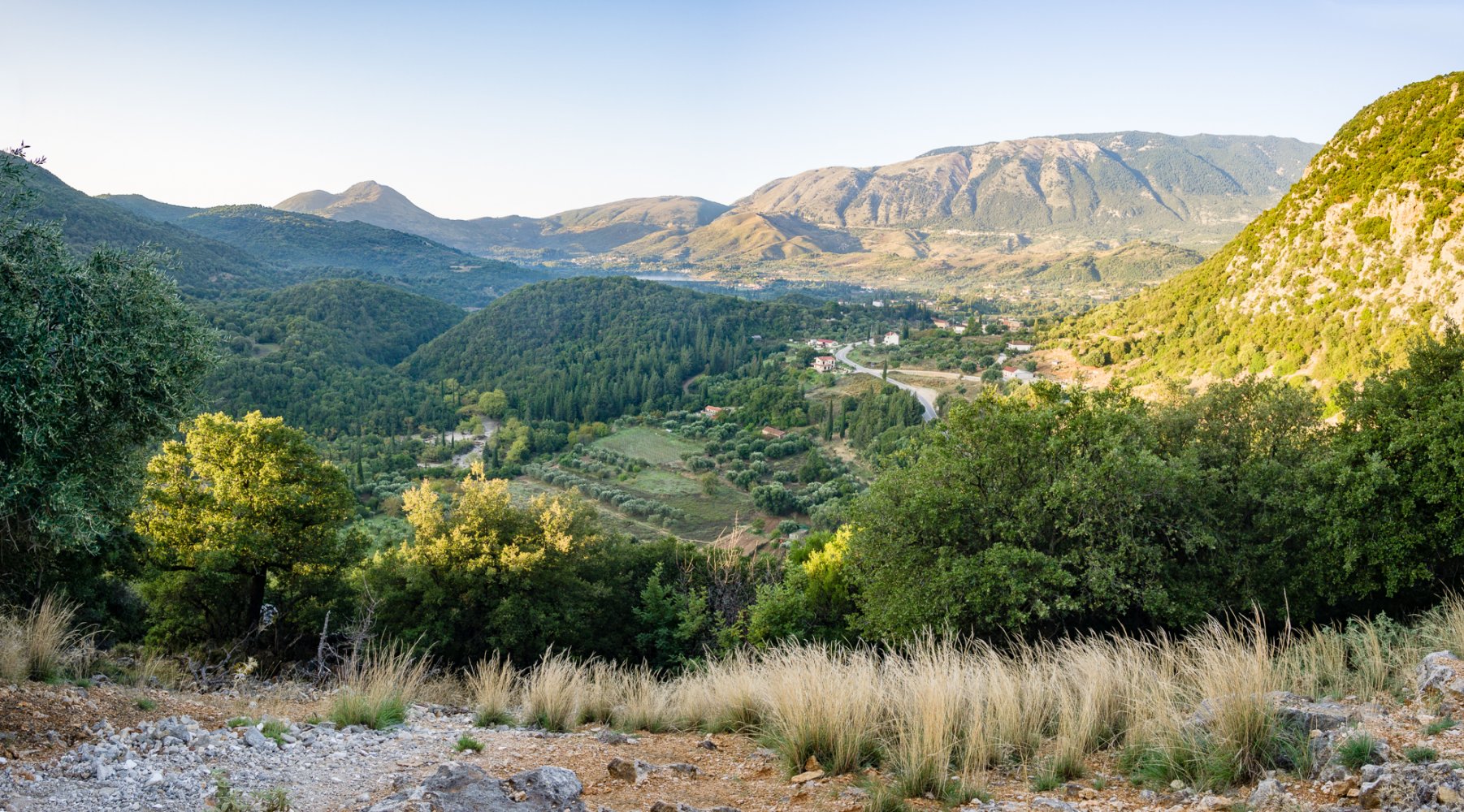 Morning in the hills over Poros
Back on the ship weather forecast showed literally zero for wind speed. What a surprise once we reached the strait between Kefalonia and Ithaka where wind blew hard. You can hardly hear better words from your captain than "Clean it up! We'll send her to tilt!" as he turns off the engine. Moments later the sails are hoisted, ship tilted sideways and moving forward fast. The tilt is a funny thing, even the stove in the kitchen has to be mounted on the joints so it can maintain horizontal position however large the tilt is.

When the wind is blowing from the direction you are heading to, the ship has to sail sideways to it so the wind can effectively tense the sails. That means the course has to be changed quite often (and sails rotated - funny "work"), making zig-zag pattern on the map. This way we reached Fiskardo, port on the northernmost part of Kefalonia. Wonderful place with cozy cafés, luxury yachts but also nice surroundings (ruins of Byzantine basilica or cape with lighthouse from where we watched another moonrise).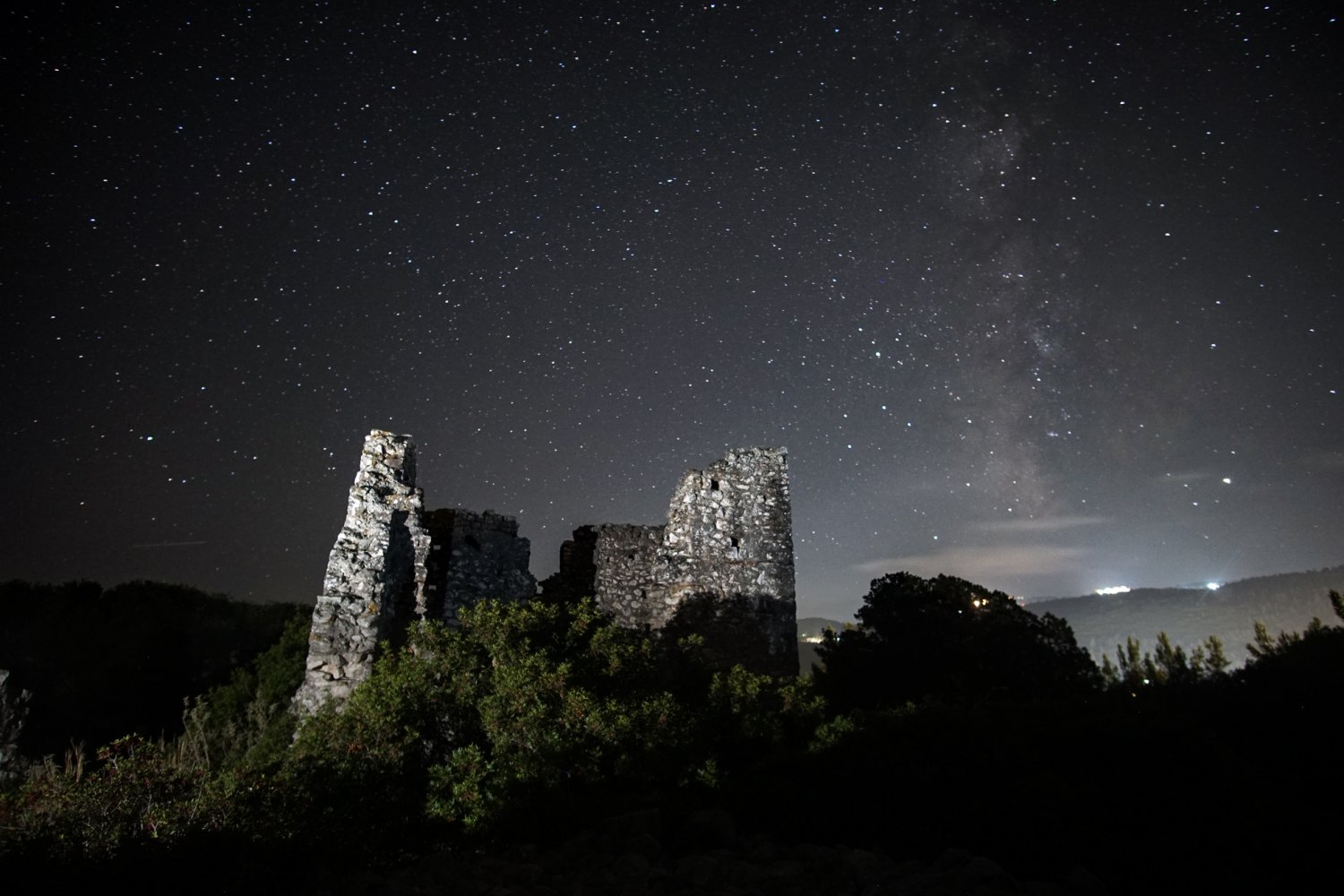 Ruins of Byzantine basilica near Fiskardo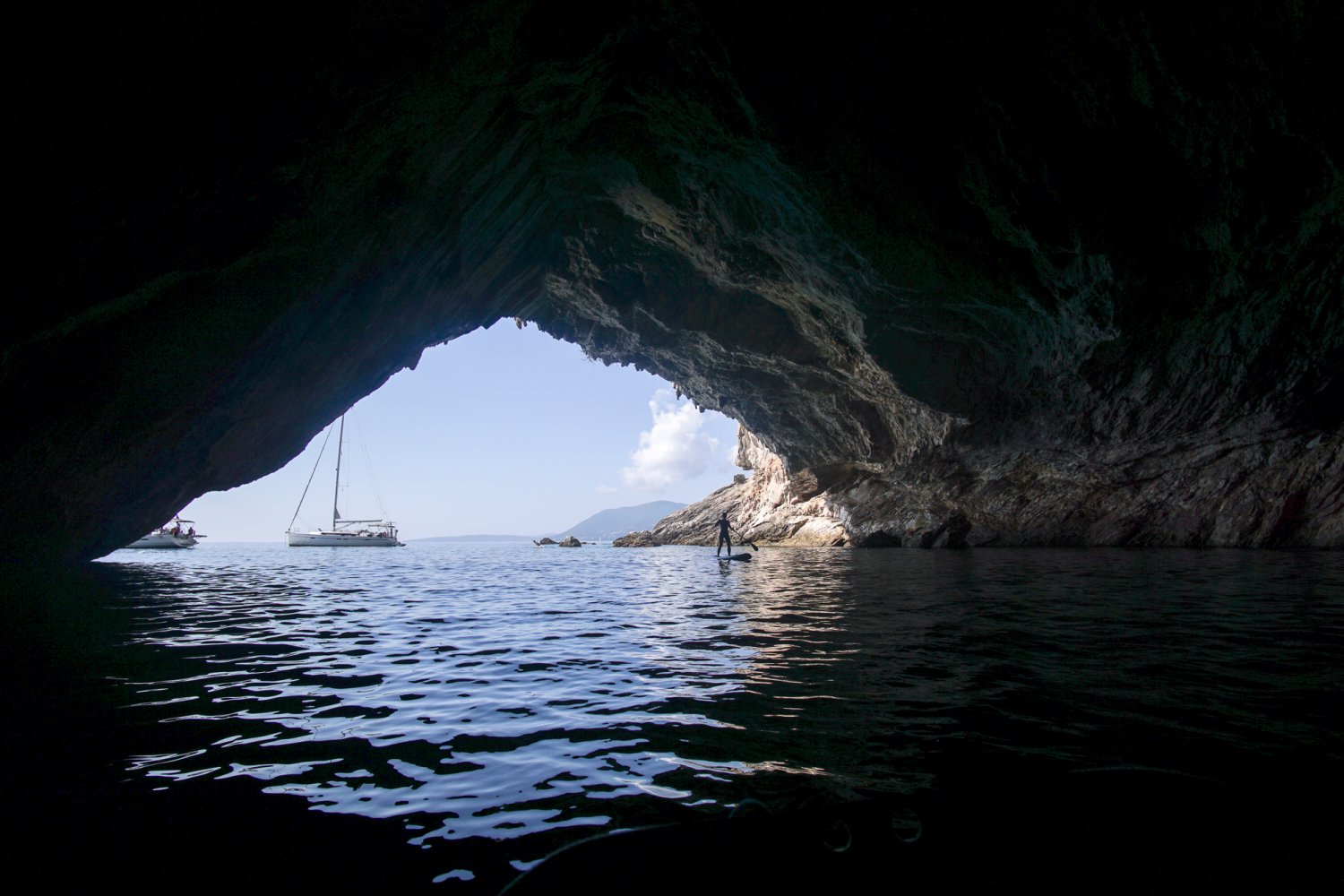 Papanikolis cave
From Fiskardo our last journey leads back to Lefkas marina. We make one stop at Papanikolis cave, once we turn the ship to pull out some garbage from the sea and finally stop at petrol station for ships to refuel. We return the ship unscratched, in better condition than we received it in (repaired stairs holder and greased bearings) and enjoy one last night onboard over game of poker.

This way thanks to the captain and to the whole crew for the great experience!