Travelling to Romania still remains kind of obscure in my homecountry as many people shake their heads in wonder when I tell them I travel there. A lot of prejudices still holds up, like those about shitty roads, me getting robbed or simply killed by hateful natives or if I am lucky by wild bears. None of them are actually true. It always surprises me how far from truth these are. Well, maybe not for bears, those are for sure in the mountains and can kill you easily.
This time my main goal was to conquer summit of Moldoveanu, highest mountain in Romania. However it is always nice to have something to do when you return back from the mountains and a lot of medieval Transylvania still remained mystery to me as I travelled only to small part of it before. That is why I planned to fill those holes in my transylvanian experience this year. And of course I got surprised again in a positive (and just a little bit in negative) sense.
Brașov main square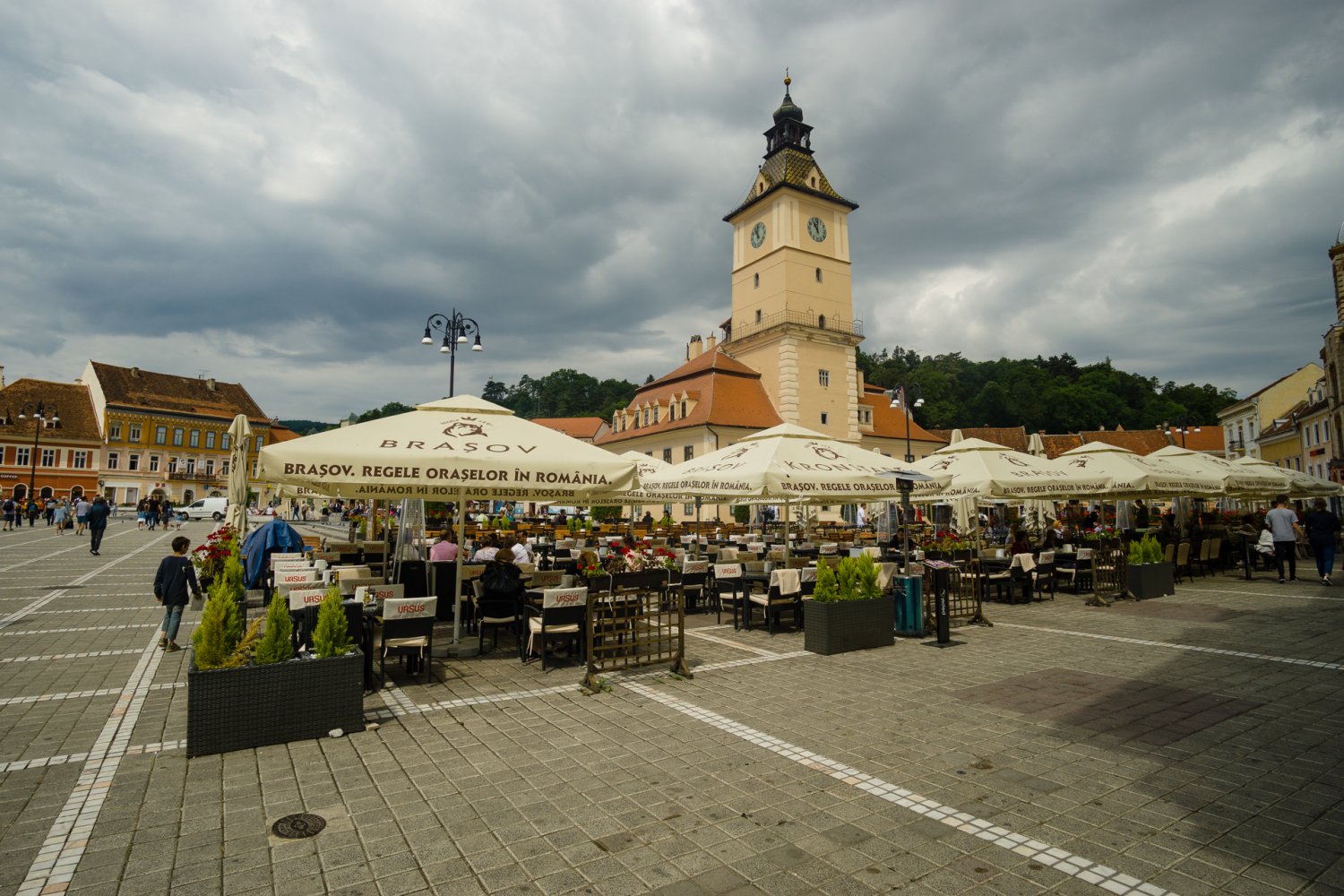 Black church of Brașov as seen from Black Tower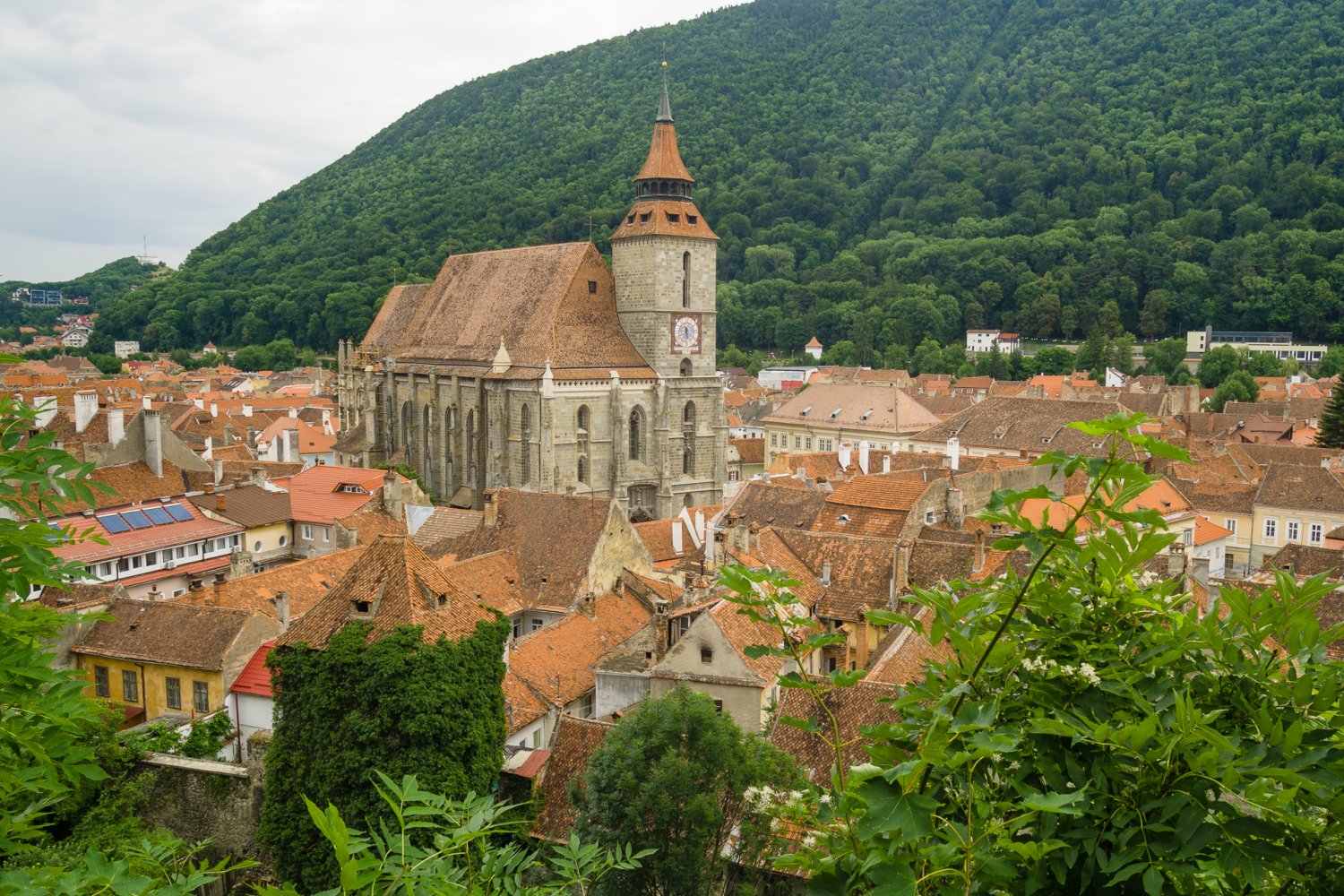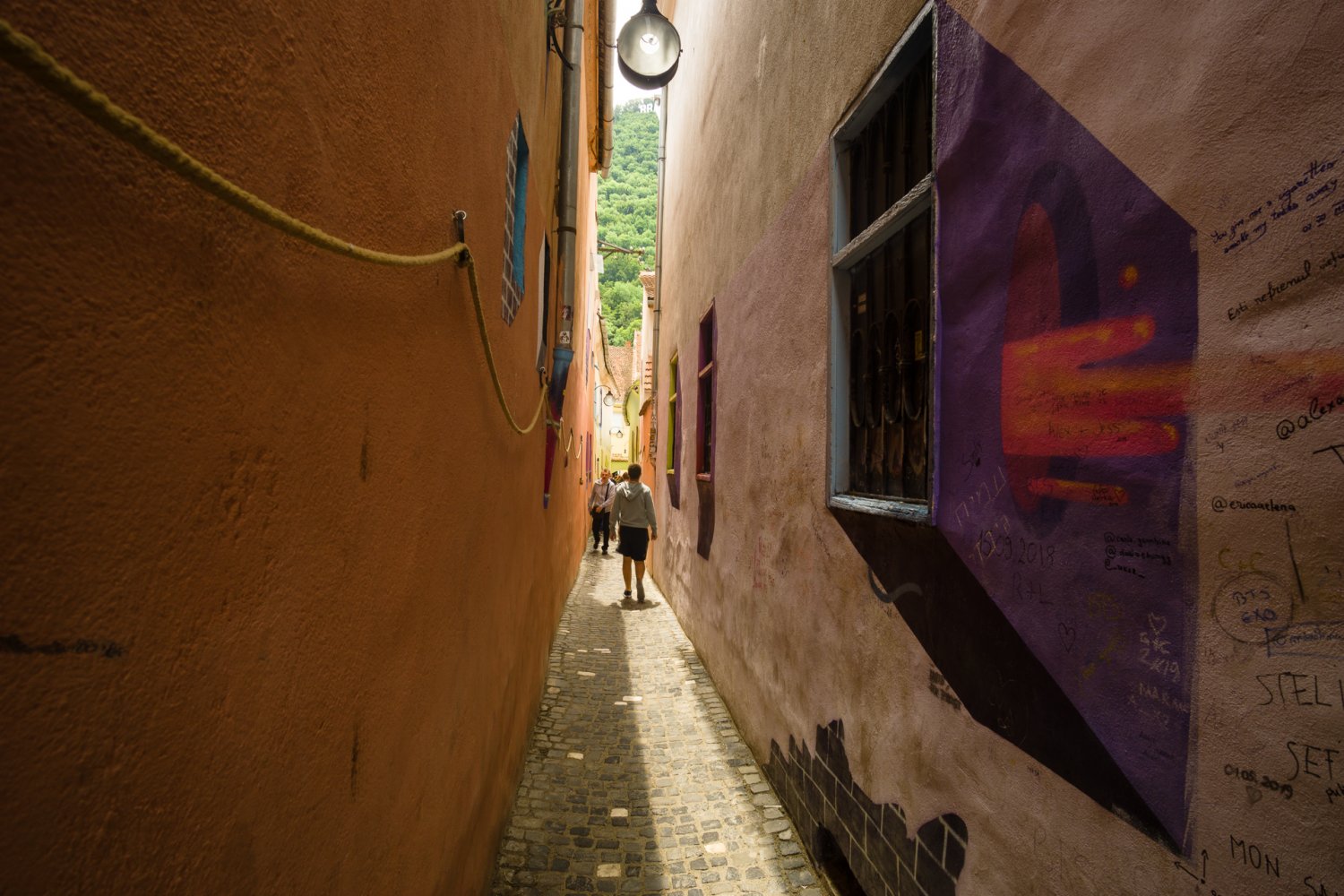 Strada Sforii, narrowest street in Romania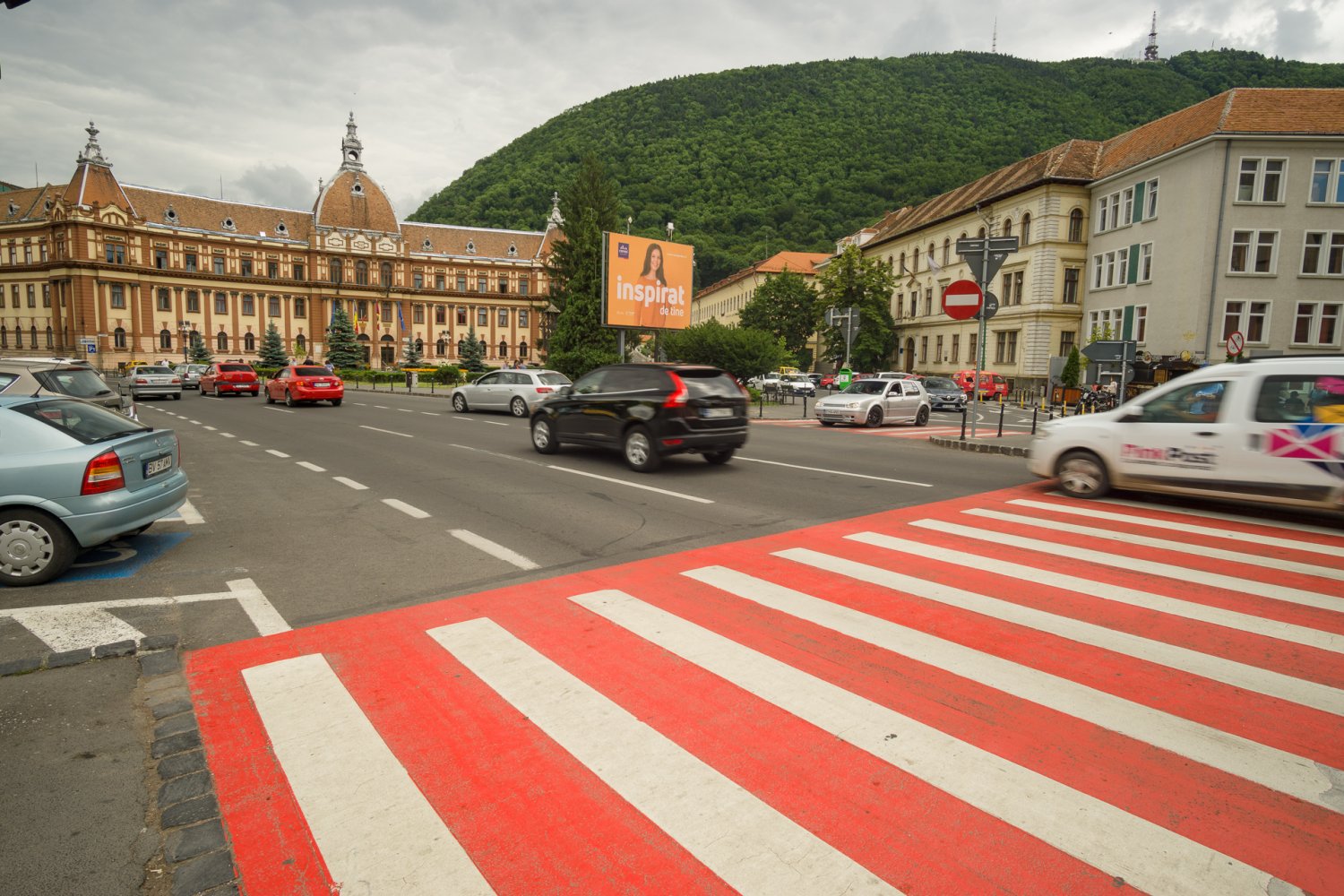 Heroes Boulevard, Brașov
Route starts in Kronstadt, or more likely to be known as Braşov, the largest one of seven walled german cities that gave original name to Transylvania (Siebenbürgen, meaning "Seven castles"). For me it was also the largest city I visited in Romania so far. The experience is wonderful, city is full of cafés, original restaurants and shops, everything fitted in historical buildings in unobtrusive way. Main square is dominated by town hall and Black church, most of the city walls are preserved even today. At a first glance, Braşov resembles Sibiu (capital of Transylvania, mentioned in previous part of this article) a lot. At a second thought, there are some differences. Sibiu got a lot more attention recently thanks to it being capital city of culture in EU and Braşov pulls the shorter rope here. While in Sibiu you can be sure something is happening (bike race, open air concert, food festival, ...), Braşov seems to be a little hidden in its shell. And that is despite huge Hollywood-like sign proudly stating "Braşov" on the hill surrounding the city. Do not get me wrong, I liked Braşov a lot, but in this natural comparison Sibiu wins it for me. And that is both for experience and for photographic opportunities.
Tartlau wall rooms - ingeniuos defence system
Not far from Braşov lies village of Tartlau (Prejmer). While the church with best defences of all transylvanian fortified churches stands there, it was probably the worst experience of all villages I have visited there. Apart from the church there is nothing interesting in the village as the houses are mostly modern. And the church itself, well, it is church encircled by huge round wall. The only interesting part is inner side of this wall that served as housing for the whole village in times of need when facing attacks. What is, on the contrary, nice is that you can walk it yourself to all rooms and bastions. That holds true to many historical sites in Romania and is unimaginable for example in western Europe.

From Prejmej I headed to Viscri, another of the churches listed as Unesco world heritage site. On the way there I made two another stops, in Hamruden and Rupea. Hamruden was just a short stop to see its church. Compared to Prejmer, it seems people are living here without awareness that there is something special in their village. Anywhere else church like one in Hamruden would be historical monument of highest priority, here it is something absoutely normal. And that really helps to preserve rural or medieval atmosphere of Transylvania.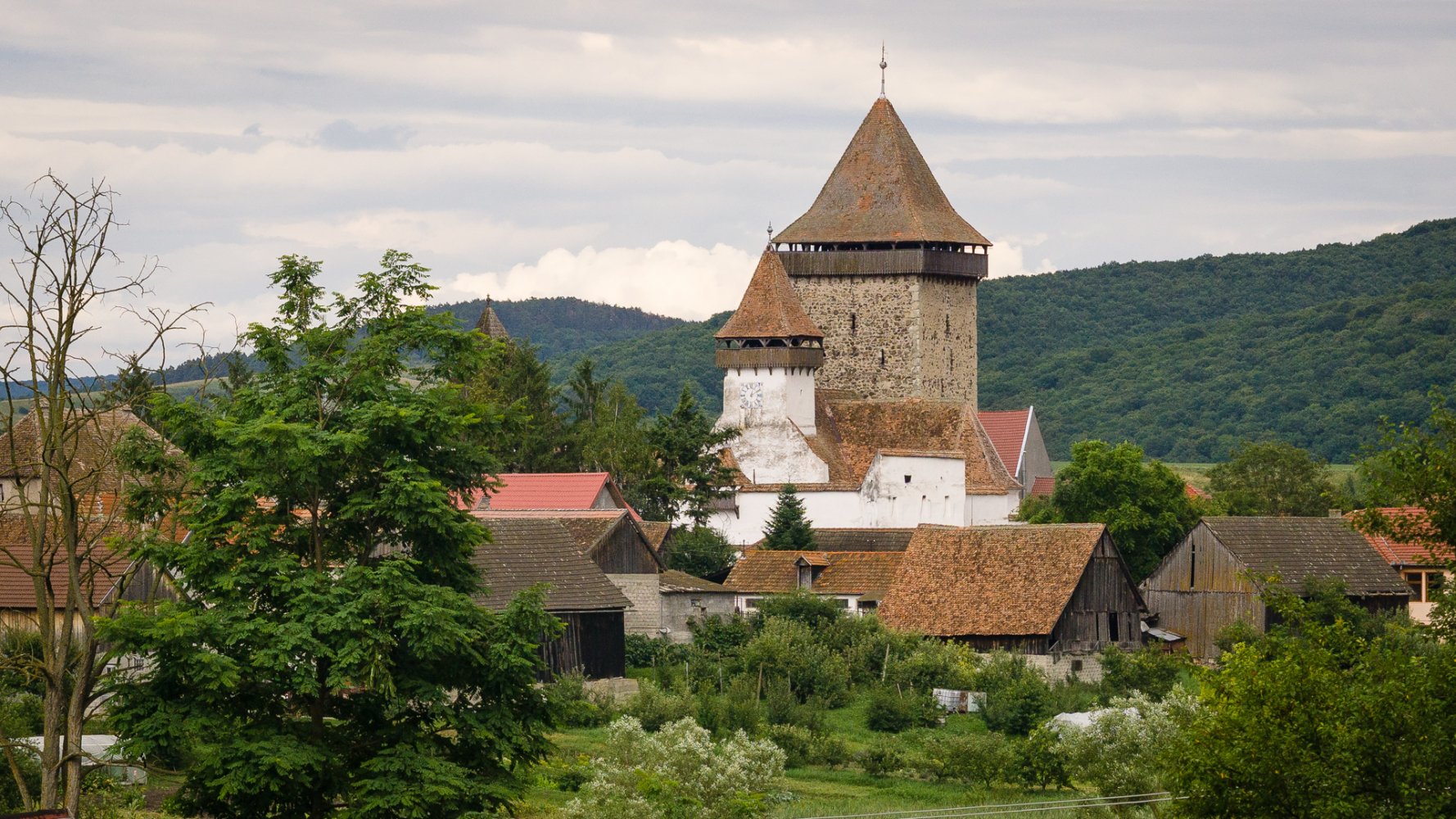 Hamruden village as seen from path to cemetery hill
Rupea on the other hand is the largest settlement between Brașov and Sighișoara and houses large fortress on the hill next to the village center. Fortress is newly renovated and extremely large. Well, it did not click with me that way as other places here. At least you can walk it all by yourself without a guide.

On one hand I write here about how I like those places that stand aside from main tourist interest, that are slowly deteriorating and resembling past times vividly. The truth is, as I personally witnessed, that it can lead to total destruction of these wonderful buildings. Church towers in Feldioara and Radeln collapsed, the one in Radeln has at least a theoretical chance to be restored as I saw beginning of the restoration works there. But the situation like this is far from ideal. As usual it is about finding compromise between too heavy reconstructions and total desolation.
Orchard and blooming meadows in Viscri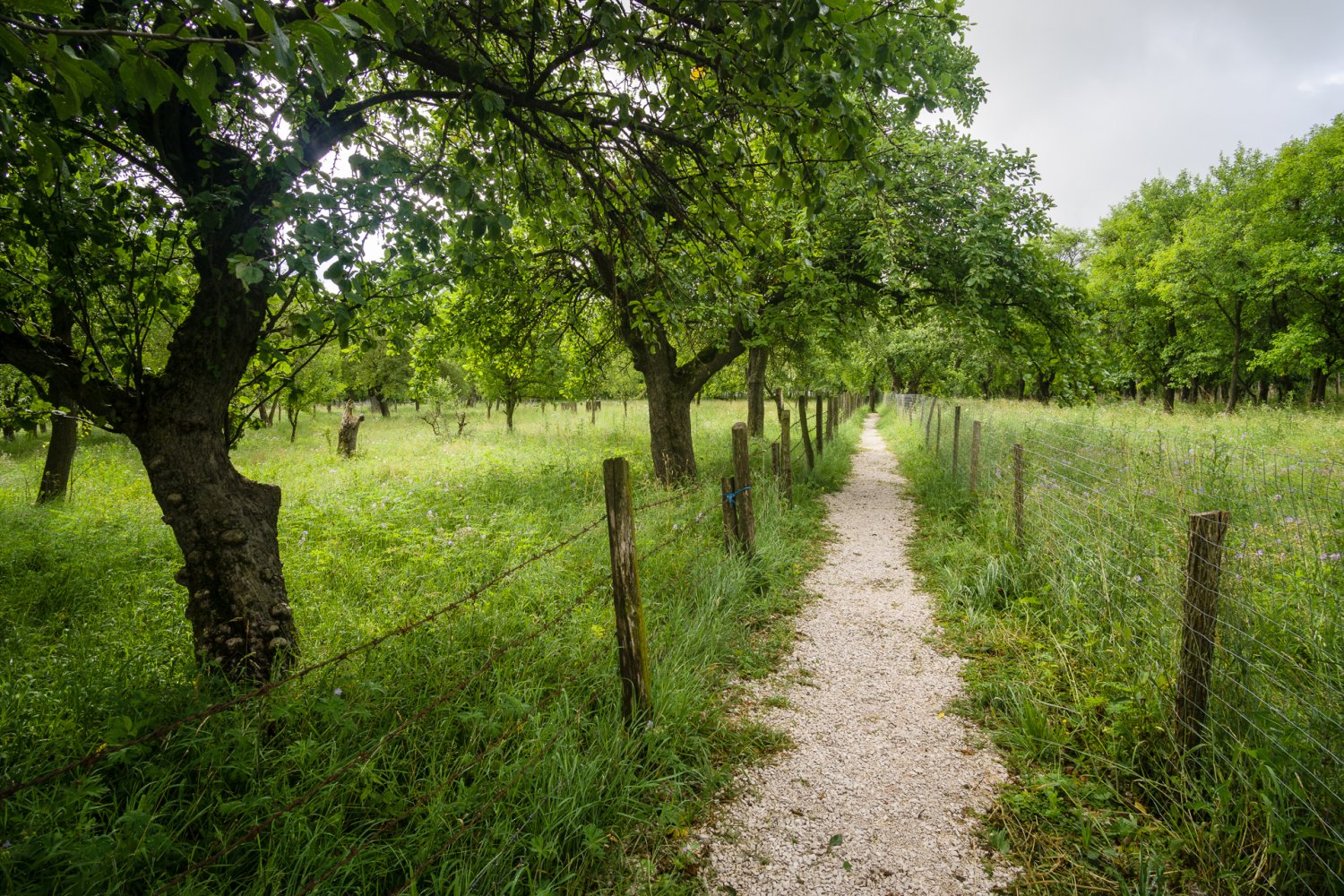 Path leading to Viscri church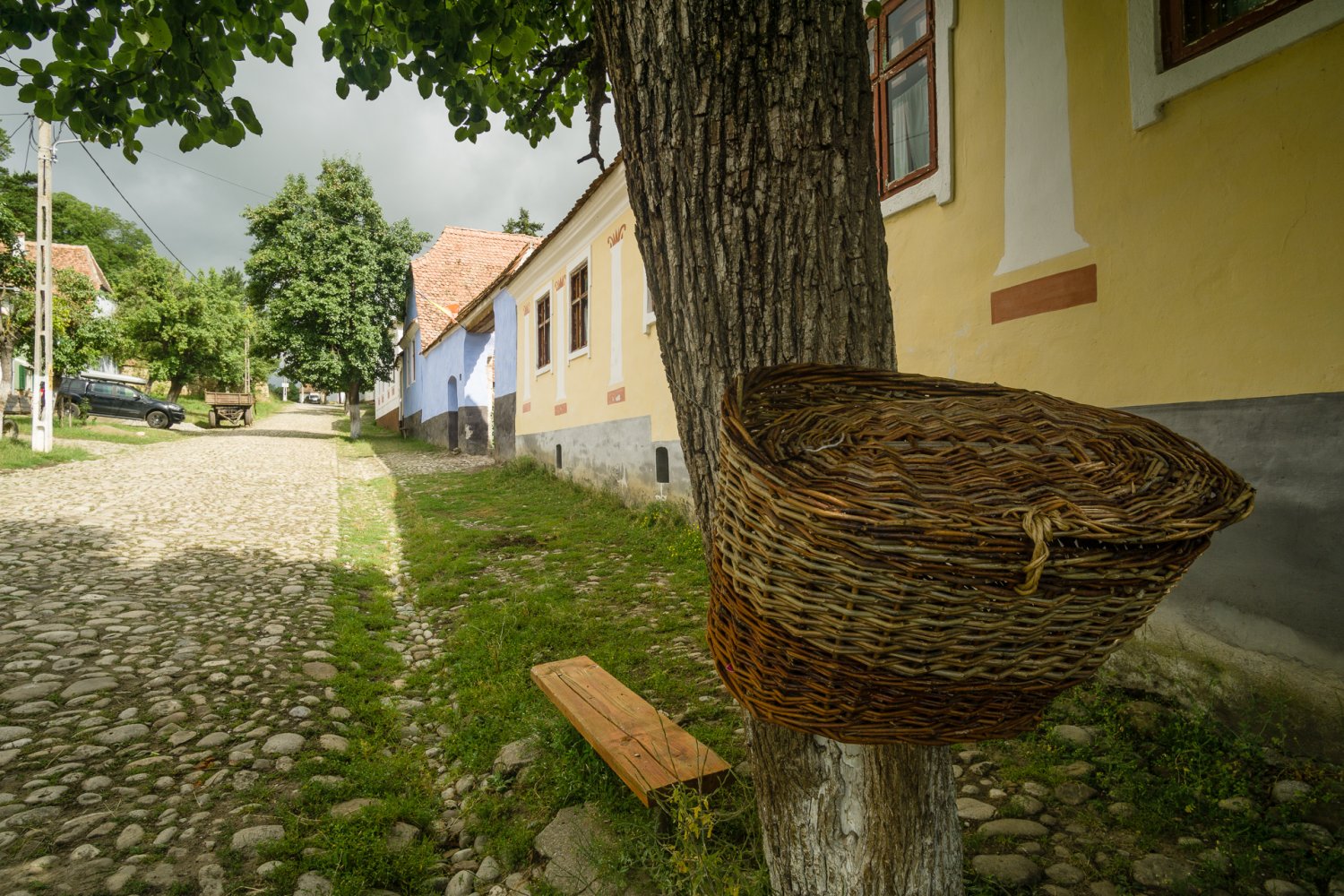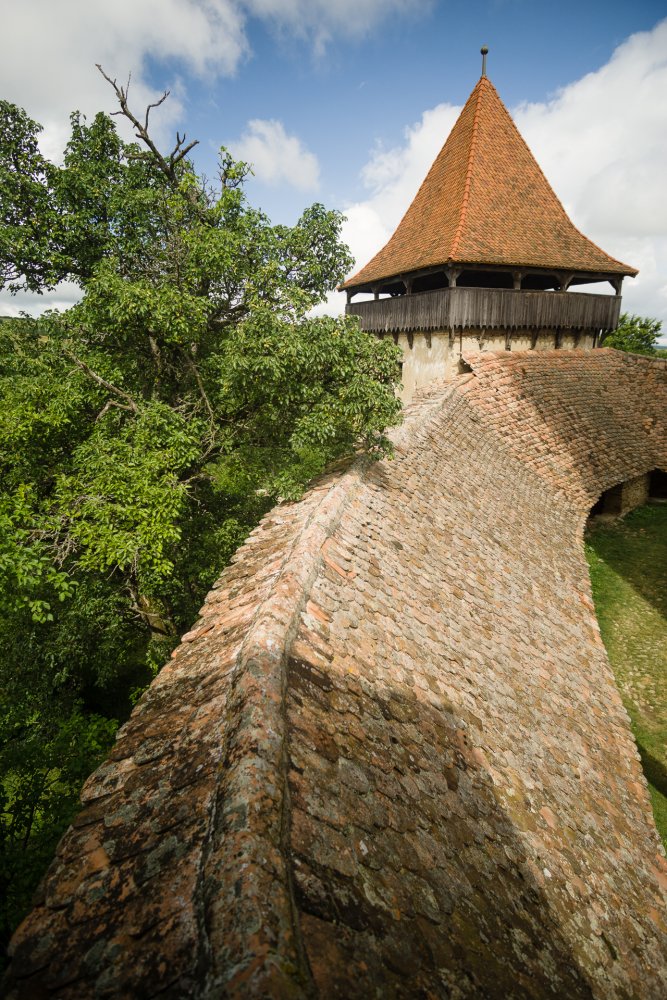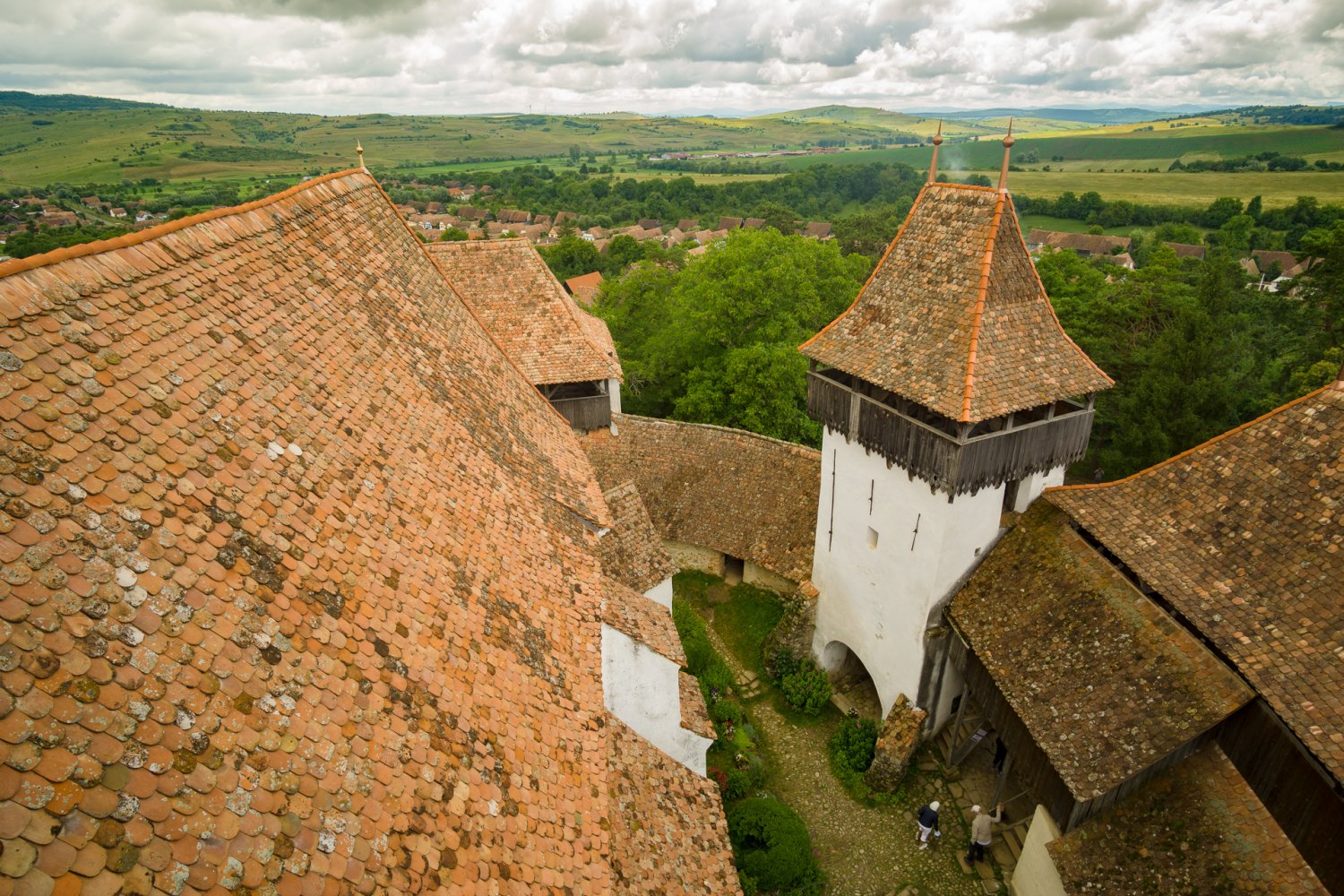 Viscri church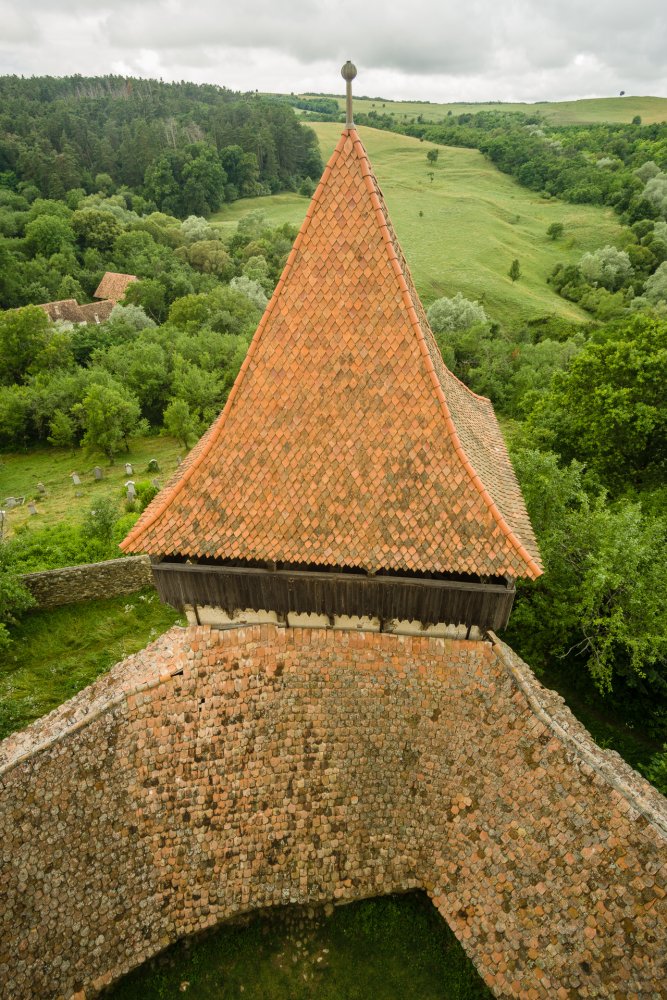 I expected Viscri to be the same as Rupea, rather boring traditional historical site with lots of tourists as the village is supported by british crown prince himself. Well, I could not be more wrong. From the first steps through fruit orchard that connects two parts of the village, I knew this is something different. Yes, it is well preserved, it has more tourists, but the atmosphere is still there and escalates as you walk the main street uphill to the church. And the church... I found it the most enjoyable one to visit. You can climb the bell tower, you can go to the top of main gate, of course to church itself. Views from the tower are beautiful, only rural landscape without any new structures and the overall feeling is, well, medieval. The experience for me was even better than that in Bierthalm last year.

Transylvanian landscape would still be beatiful even without historical monuments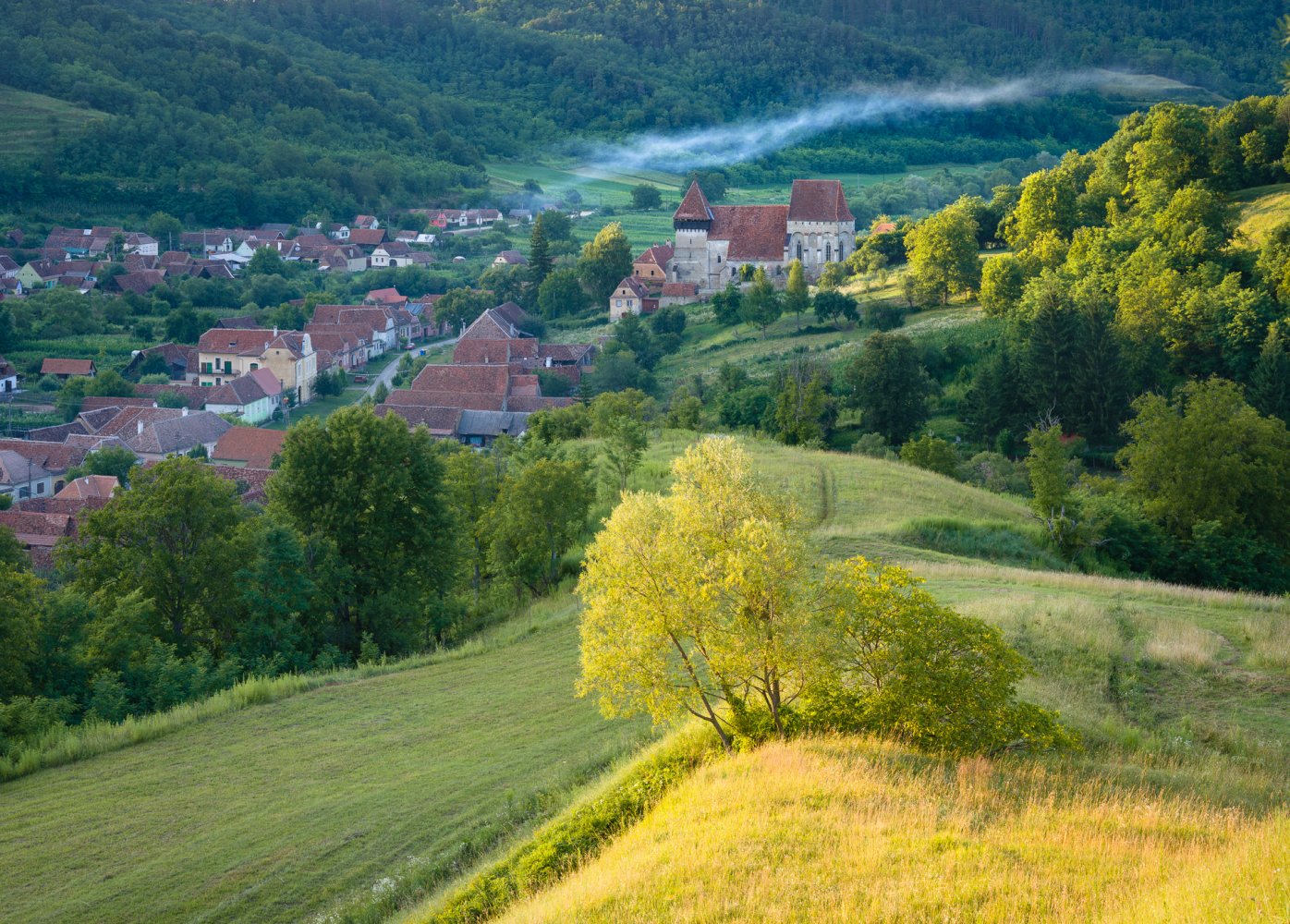 Copșa Mare from nearby hill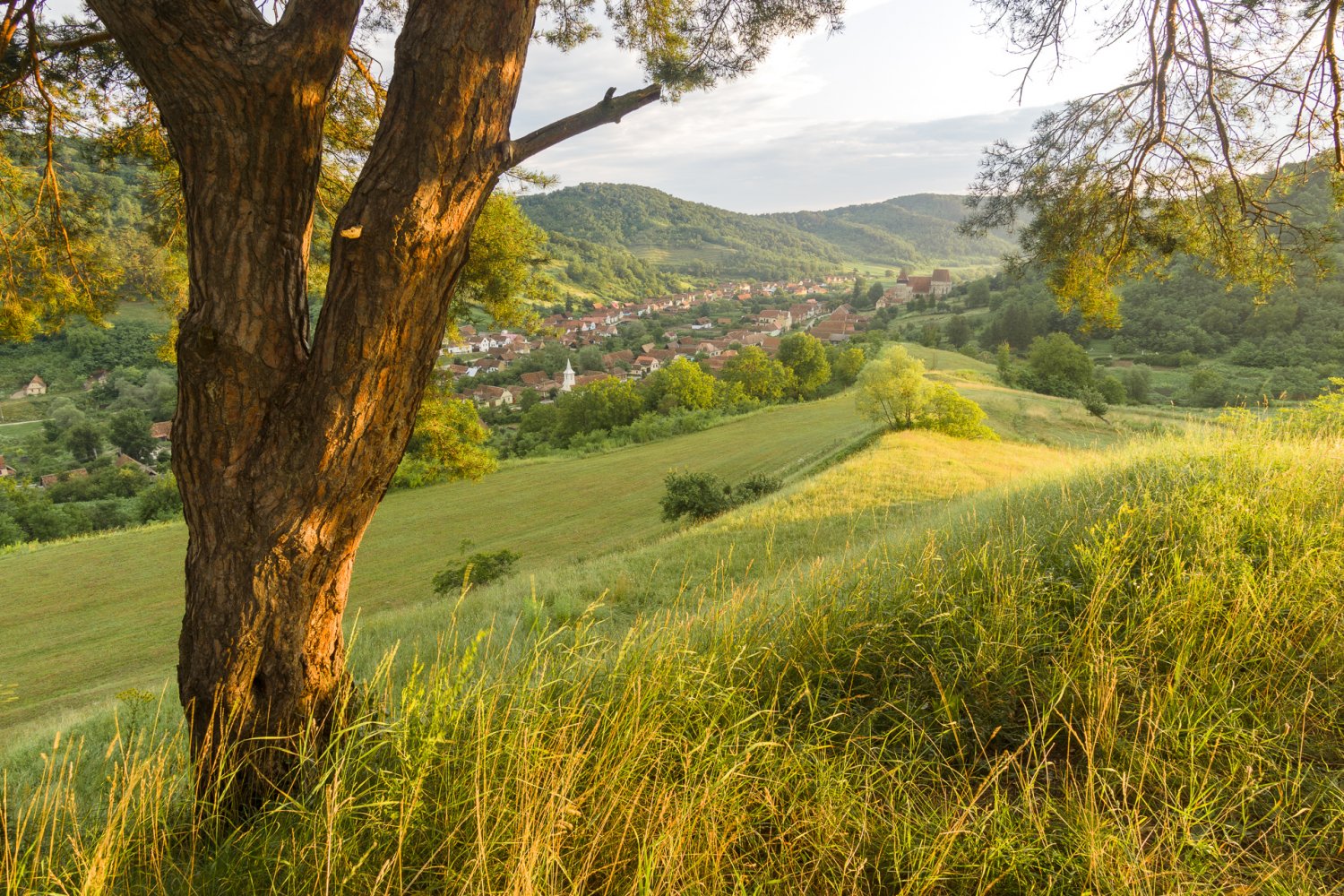 Best campsite in Romania?
Similar applies to Großkopisch or Copșa Mare, small village lying in the shade of well known Bierthalm. I noticed it in the list of translyvanian fortified churches where it did not look any interesting. What caught my attention was rather a hill with old pine tree overlooking the village that I found on some googled picture. Arriving to Copșa Mare it was obvious this place is real travellers win. After a short ascent to the hill it was a pleasure to set up a tent in evening light on golden grass and enjoy a few beers there. It ended up being probably the best photographic opportunity in whole Transylvania and I would not hesitate to return there in the future.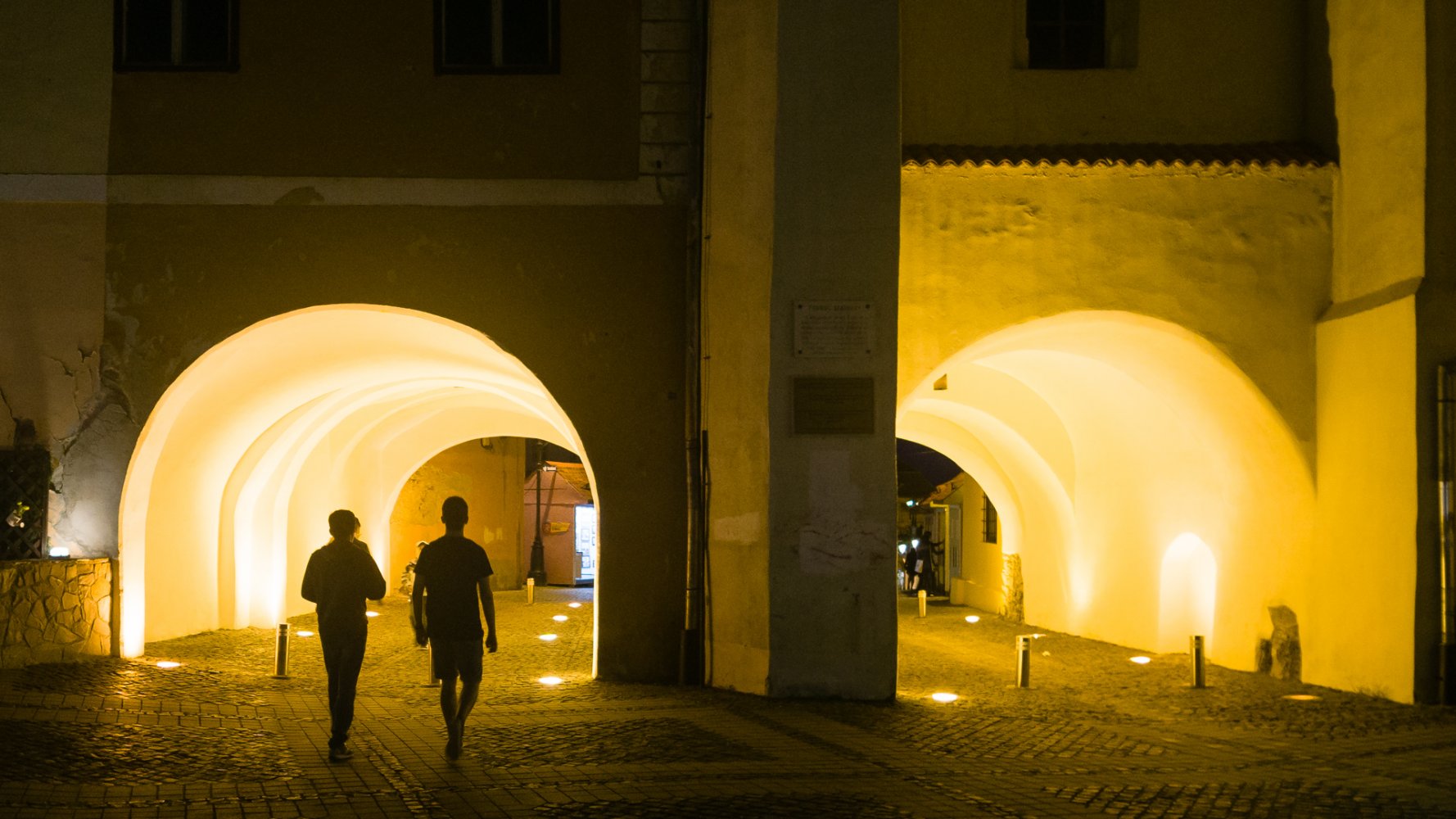 Eyes of Sibiu
Usually I end my romanian travels in Sibiu, unique and beautiful city. Every time I have visited it (and that counts like 5 times) something interesting was happening there. A concert, race, food festival... this time two concerts were happening. One on the cathedral square and one on the main square. Enjoying a beer in of many beer gardens was the best trip ending I could imagine.