Like all the good plans it started over a glass of beer. Martin, a friend of mine stated he has a free week in may and wants to plan a hike. He suggested Romanian Făgăraș. I said it would probably still be unpassable because of snow and out of nowhere brought up a simple question: "Ukraine?" We soon agreed on hike through Chornogora range and our common friend Mark joined in and made the final lineup. Who could have known we would be worried half a week before our planned arrival to Ukraine that even Chornogora would be simply unpassable as 30 cm of fresh snow covered not only the mountains but also lowlands there?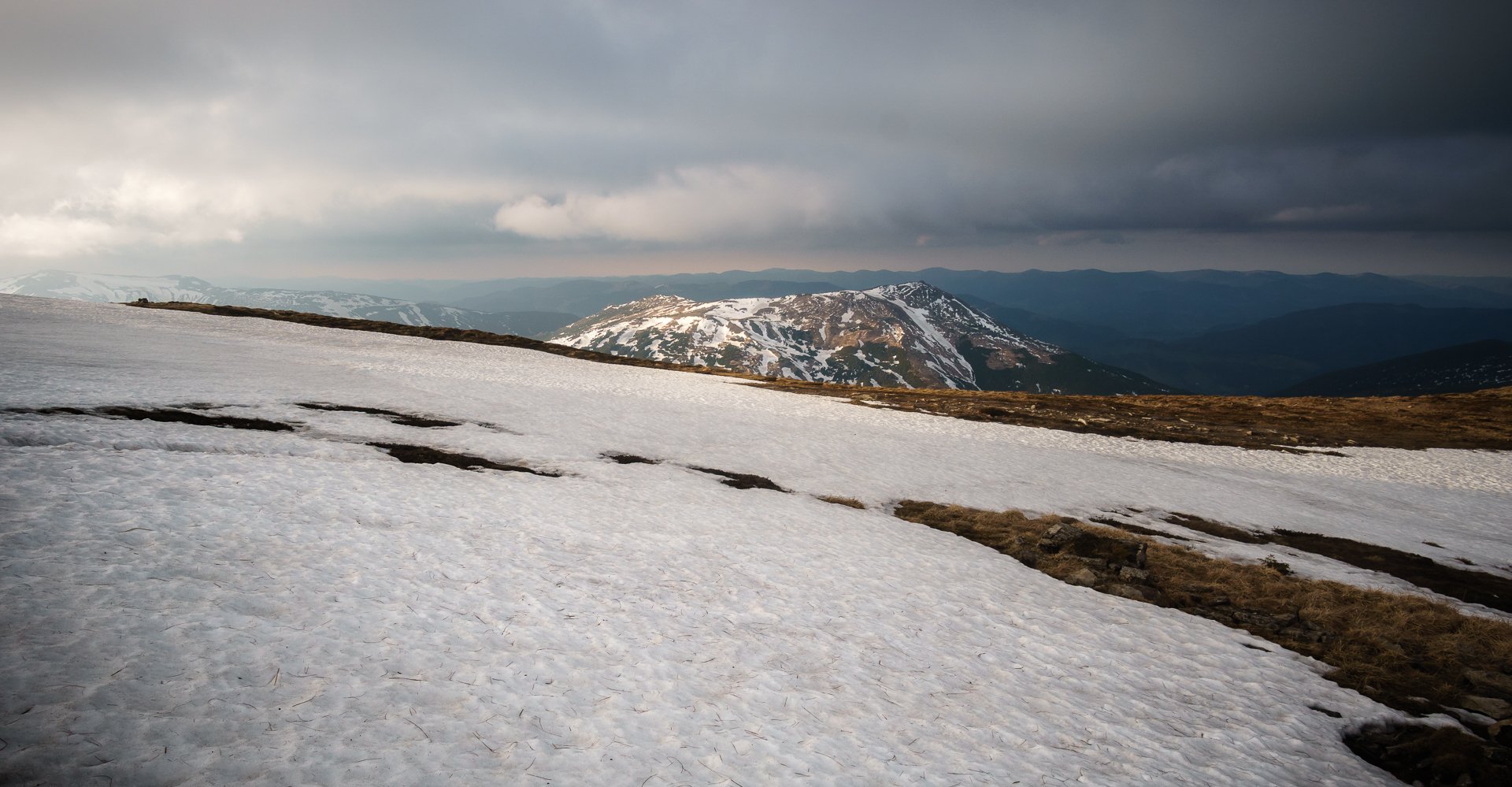 Strong wind brings new clouds in the evening on Pop Ivan Chornogorsky.
Marshrut takes us to Luhy, small village in long side valley directly below main Chornogora ridge. Fresh snow is luckily gone but with night quickly coming we camp as soon as we pass the village. Followed by a (probably) stray dog we find a small log cabin and decide to stay there. We try to chase the dog away as rabies is still a thing in Ukraine but the dog exhibits no special behavior so we let it sleep outside and start calling it Rita.
In the morning in surprisingly nice weather we continue to abandoned homestead Komen where we firstly see the snow covered ridge of Chornogora. Mark comments it with "Heck, that is a lot of snow!" Just a few kilometers further marked trails leaves wide road and curves to the right. That is where the steepest part of ascend begins. Mark forgets his sunglasses below it and has to take this part down and up again.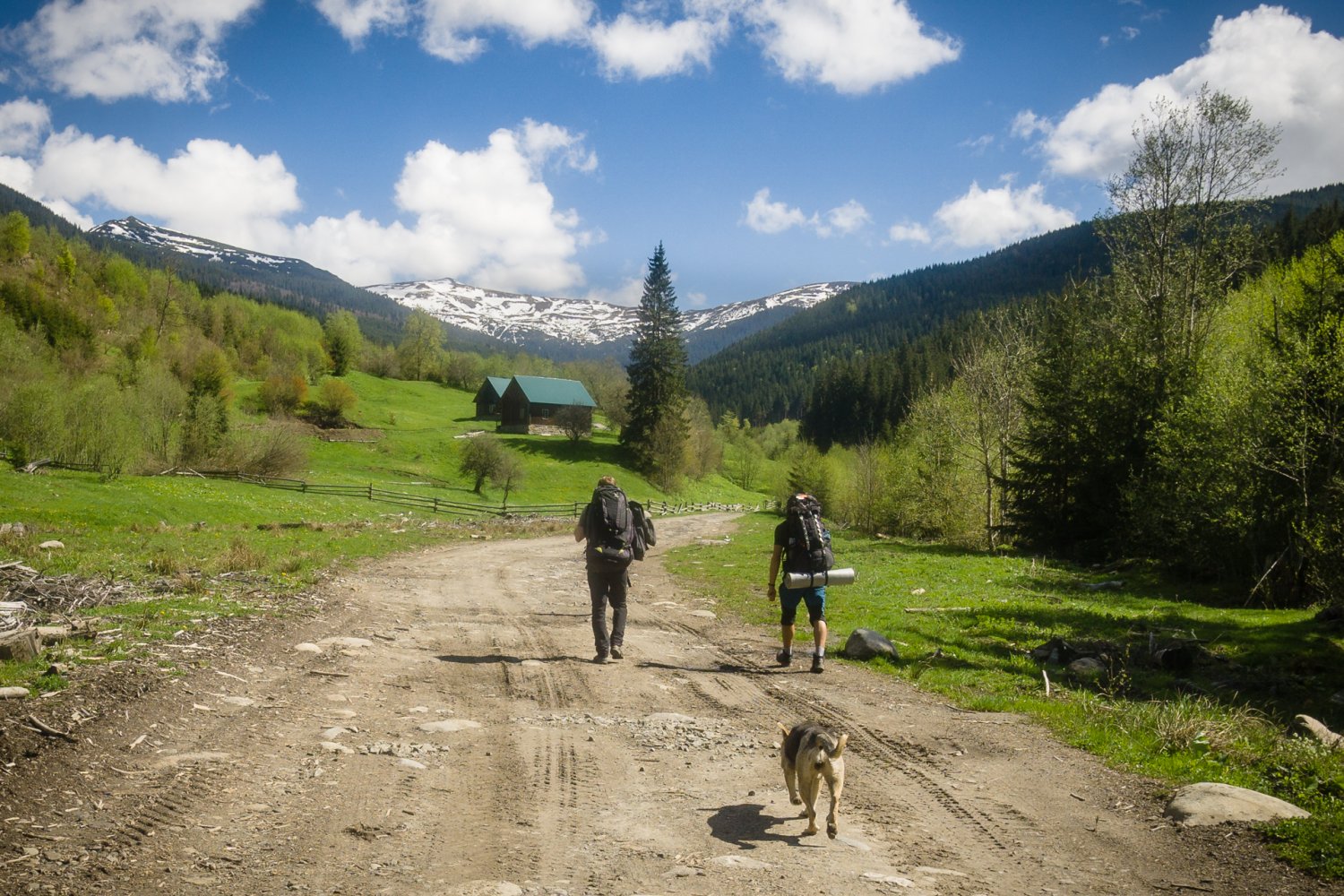 Arrival to Komen, we see the snow covered ridge for the first time.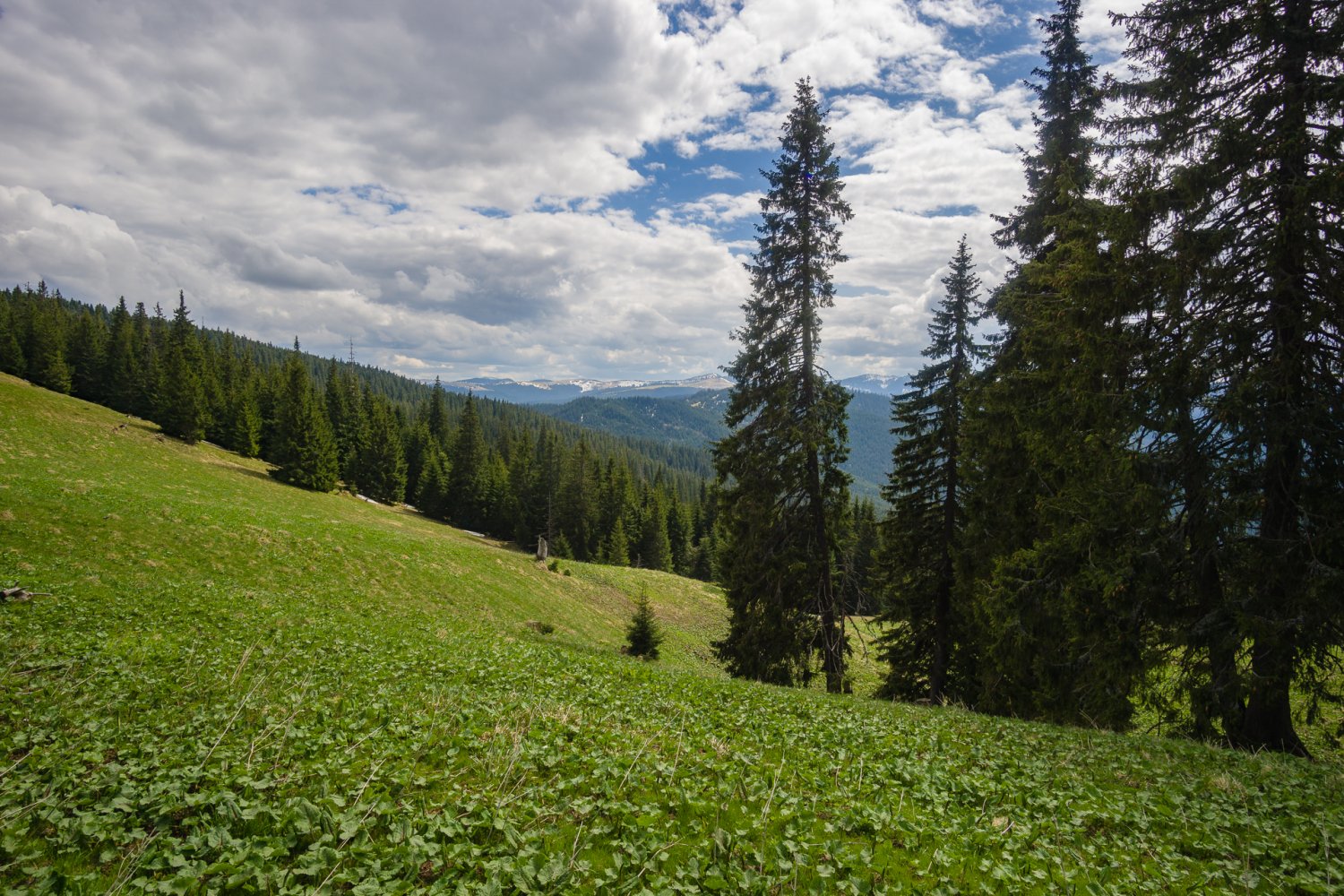 Polonina Wertopy and views towards border with Romania
Path crosses first polonynas (ukrainian term used to describe alpine meadows) and we see mountains on the border with Romania. Snow is even there. In the middle of polonyna Wertopy stands ruin of a shepherds cabin. A lot of waste is scattered around - that is the dark side of ukrainian mountains - and we somewhat hesitate to fill our bottles with water from nearby stream. Rita still continues with us to the mountains. Runs around, full of energy, but suddenly stops right before the spot where path leaves meadows and enters a forest. Dog starts heavy barking towards the trees and we stop in a worry. Maybe a bear? It takes several minutes before Rita calms down and we enter the woods. A lot of snow lies there and steps are harder and harder.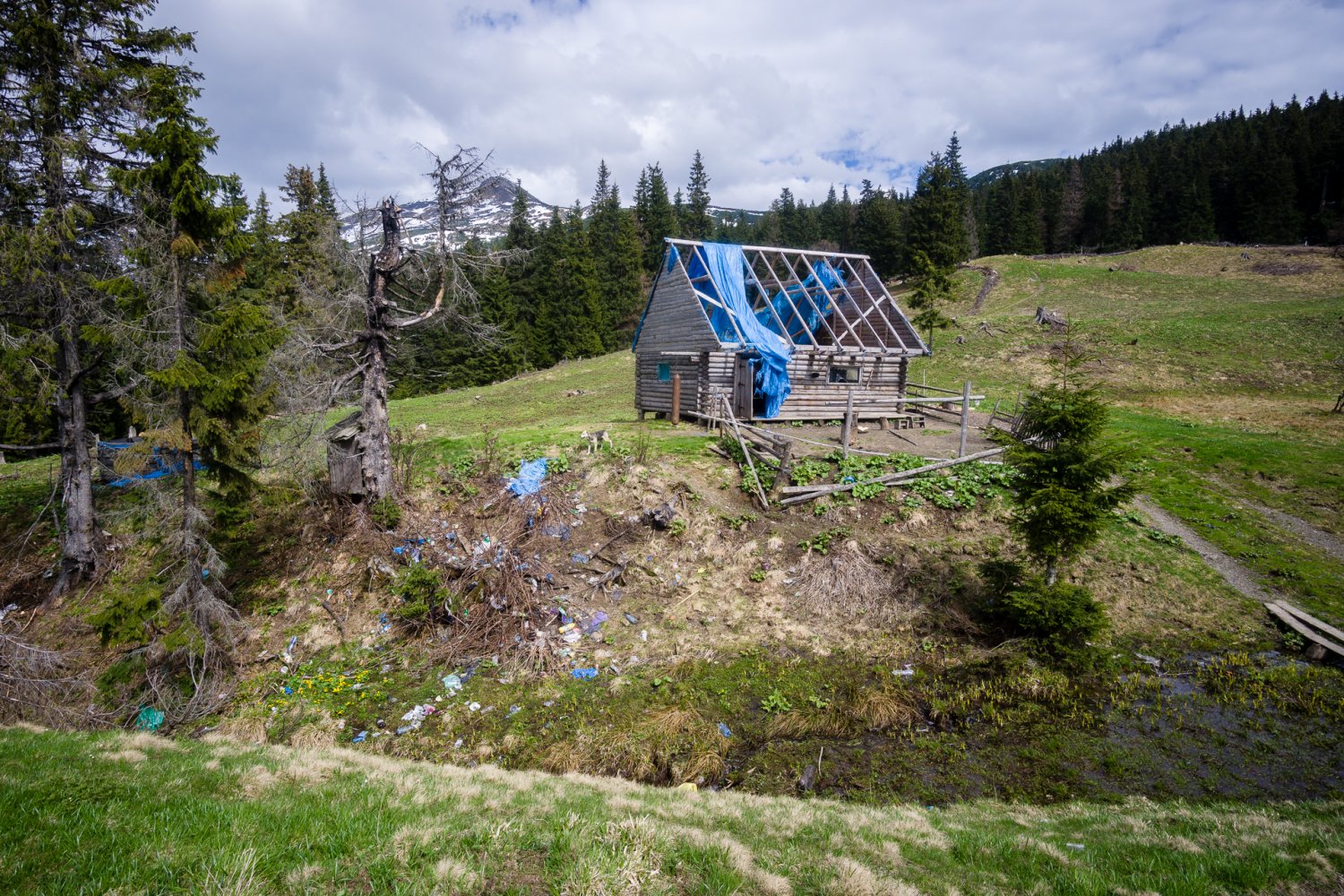 Waste lying around - dark face of ukrainian mountains.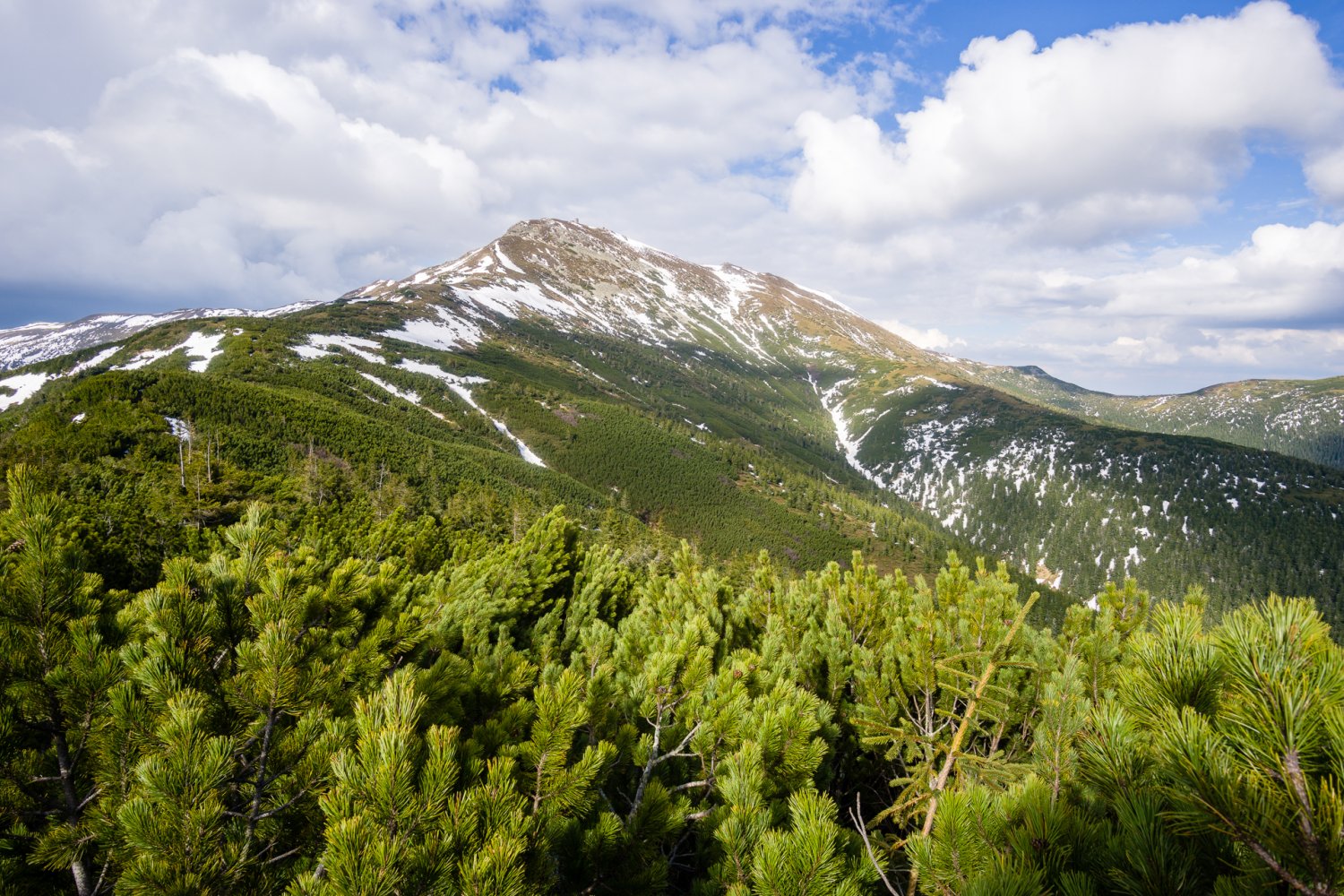 Approaching Pop Ivan Chornogorsky.
After several hours we finally stand at the beginning of the main ridge, on Pop Ivan Chornogorsky, that also served as a last frontier of what used to be my homecountry Czechoslovakia some eighty years ago. Ruins of an observatory, later built by Poles stand there and also serve as an emergency mountains rescue spot. Guys from the service reject any possibility of us staying inside for night and also recommend us to walk around any snow field steeper than 30° we encounter along the ridge (due to avalanches - and I confirm that with knowledge based on my avalanche-themed diploma thesis). We decide to find a spot below summit protected from winds and set up a camp. Heavy clouds come and it is the last time we see the sun for the next few days. I build a tent for myself and Mark while Martin uses his bivouac sac outside.

Next day we continue along the main ridge which seems like an easy path without any significant elevation breaks. Highest points only reach slightly over 2000 meters of height. However, heavy snow is almost everywhere, sometimes we lose the path completely. We meet noone until the very evening below Brebeneskul, second highest mountain of Chornogora and Ukraine. The weather is also hell by then. Wind, rain, fog and cold. We change our plan to camp at Nesamovite lake and stay on the main ridge, somewhere under Rebra. Unable to find a flat spot we set up a tent on the mildest slope we can find in the fog. We also melt snow for water. Rita stays and sleeps in the vestibule. Martin thinks about moving into his bivouac sac but the weather is so harsch that he stays inside the tent in the end. Yep, in tent for two...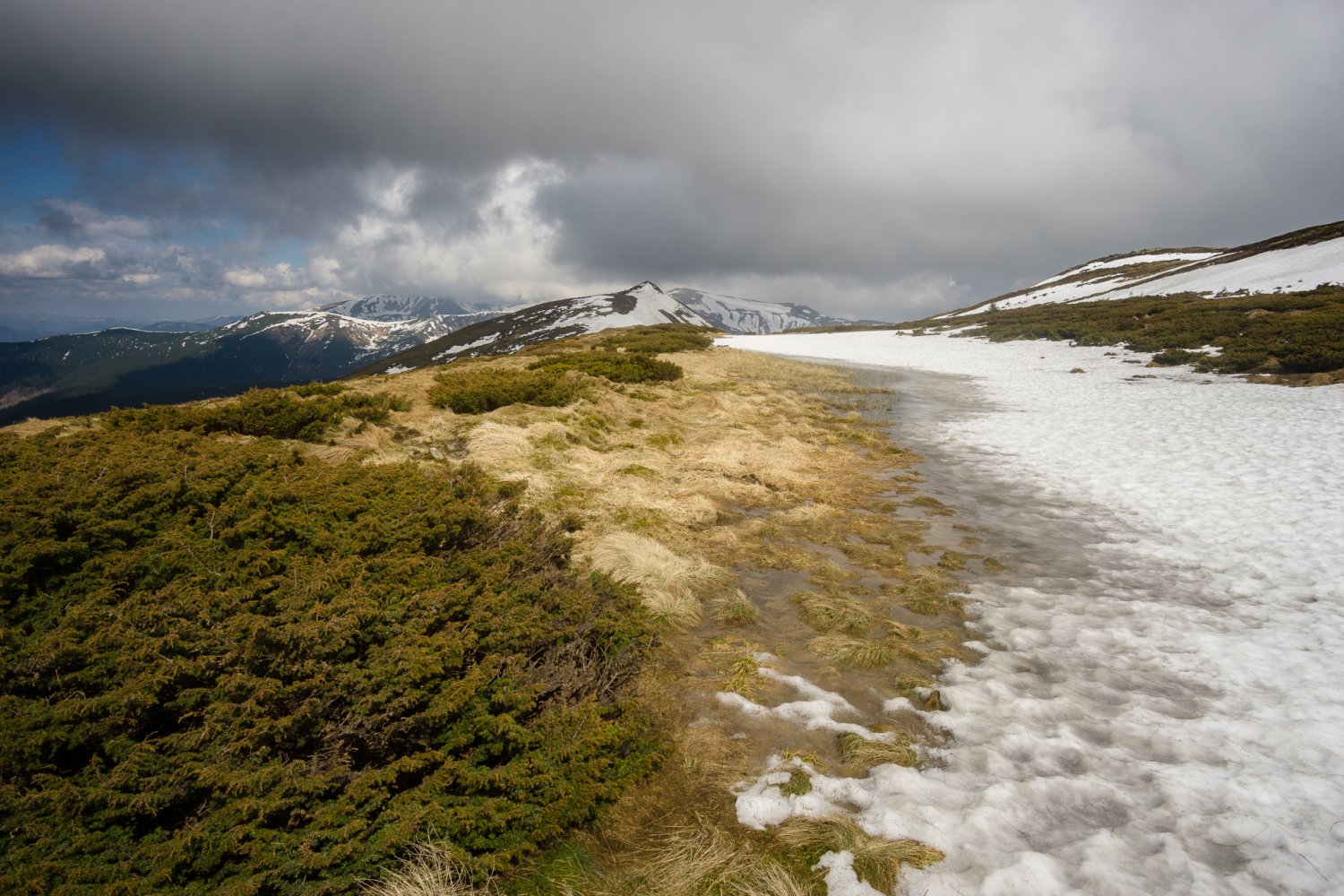 Clouds come.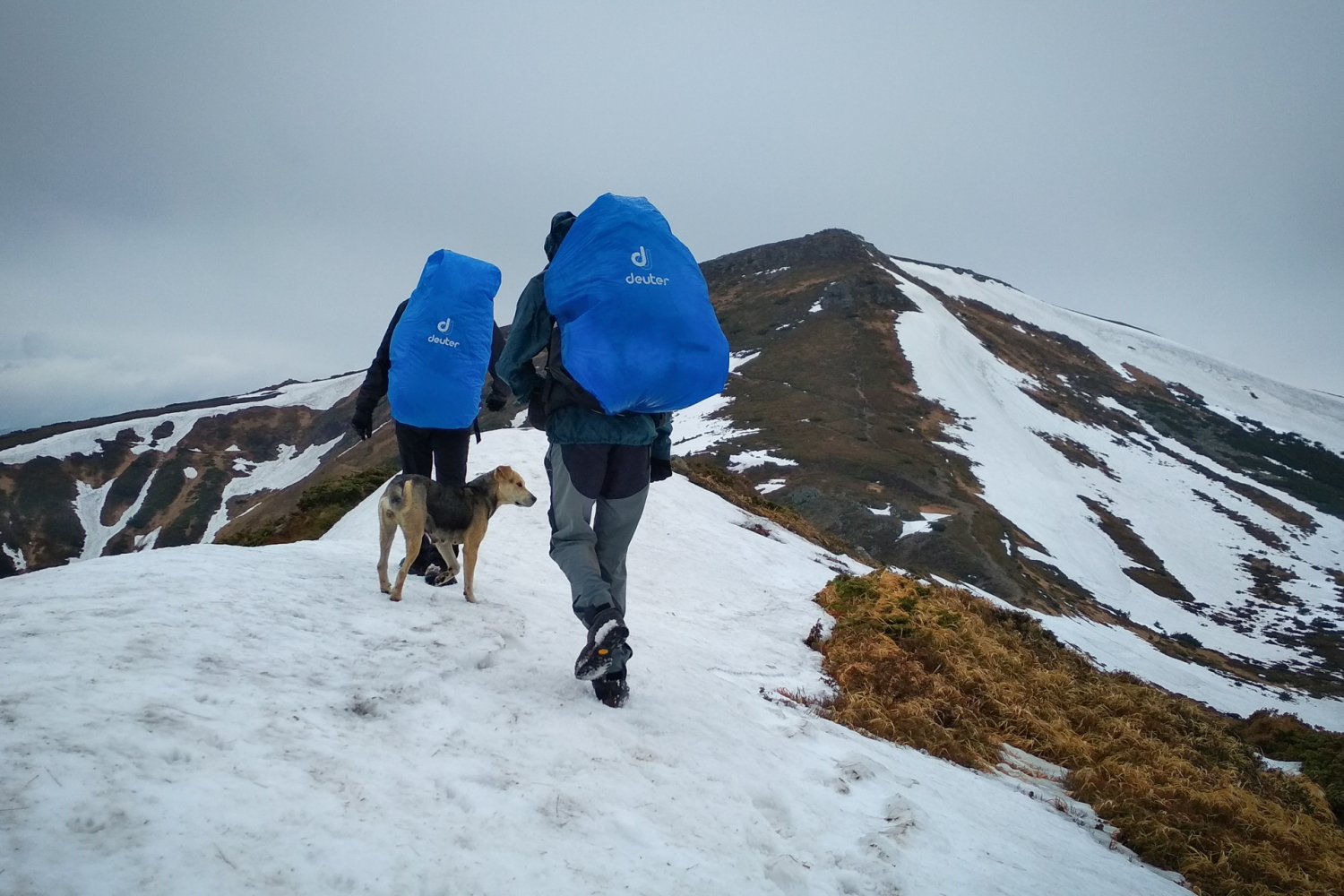 Typical section of the hike. Credits to Mark.
When we open the tent in the morning, only thing we see is a white wall of fog. It rained all night and the rain still continues. Not a good prospects for a day when we have to cross Hoverla, highest mountain of Ukraine. In short period when rain almost completely stops, we pack the wet tent and set off. Luckilly, for a weak one hour fog rises so we can at least see nearby hills and later even Hoverla for a moment. It stands proudly as a pyramid rising from the main ridge and we also see the ascend route covered in snow.
Hoverla - finally we see it! The only shot I managed to get before I had to shelter my camera from the rain again.
When we stand below Hoverla, Rita decides to not go there and leaves us running into the valley. Clever dog, weather changes again into torment of wind and rain and fog covers everything. Even hails fall down the bloody sky. We are well prepared concerning clothes but this is still a test. Wind gets so strong at moments that it can push us sideways which is "unpleasant a little" as Martin describes it in his ironic tone. Steep snowfield turns into a wall of ice and we can not find a way around it, while water continues to fall from above. Conquering the summit, we stay there for a mere minute and even Martin admits it was probably the hardest thing he ever did concerning conditions. I have my camera safely packed in the backpack but there is nothing to capture anyway. Only a pillar in ukrainian national colours, fog and a hole filled with human garbage.
We decide to reach Peremyčka as fast as possible as cabins should be there. It is only few kilometers away. To our surprise the cabins are completely abandoned. Noone to be found there. In on of the cabins Mark finds an old stove and tries to heat up a fire with wet wood we carried from outside. It takes two hours until it is warm enough to dry out our stuff a little. The mood rises with fire and dinner. We stay up late to hold the fire burning until the cabin is filled with smoke and we have to ventilate it out.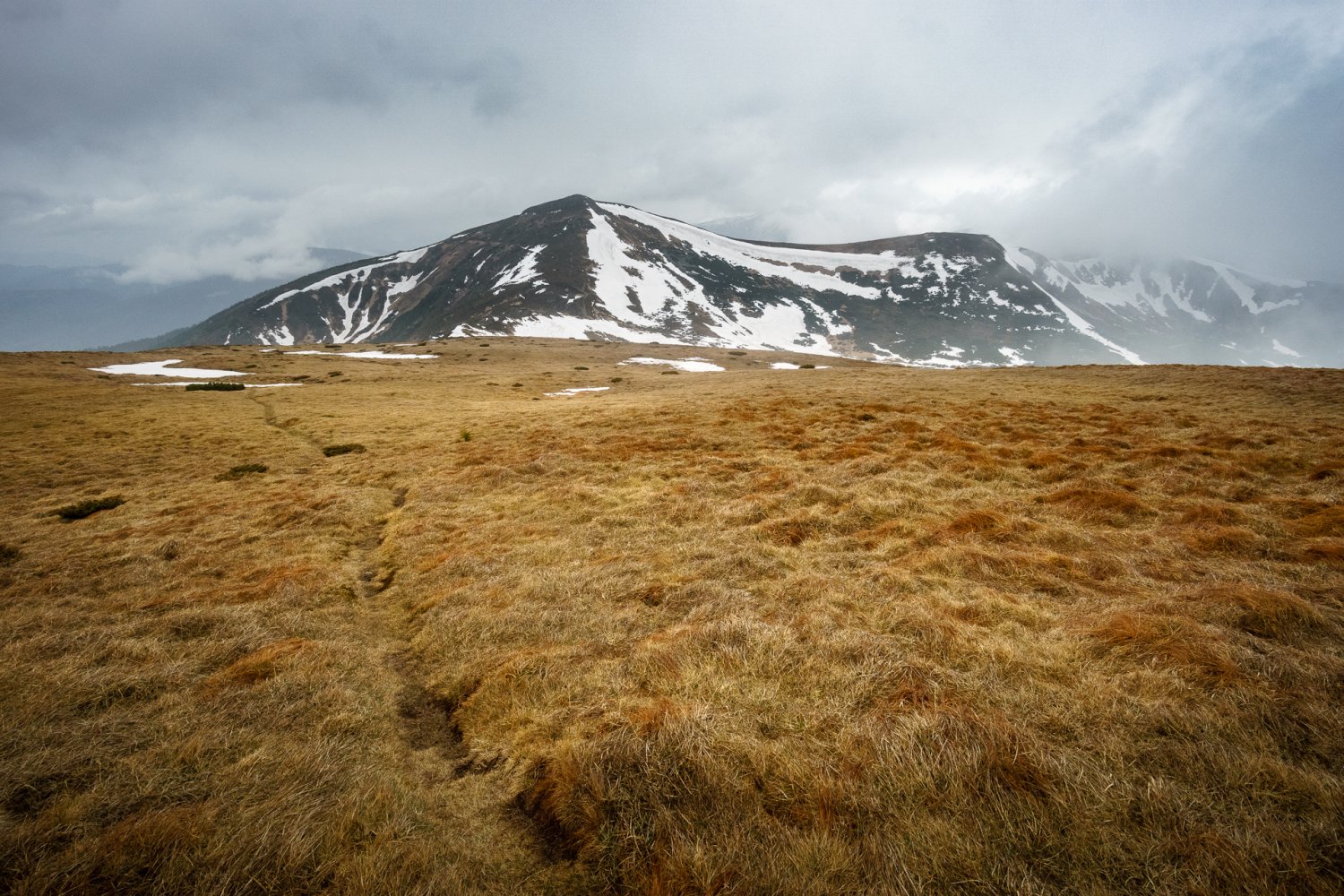 Hole in clouds and mountain of Turkul.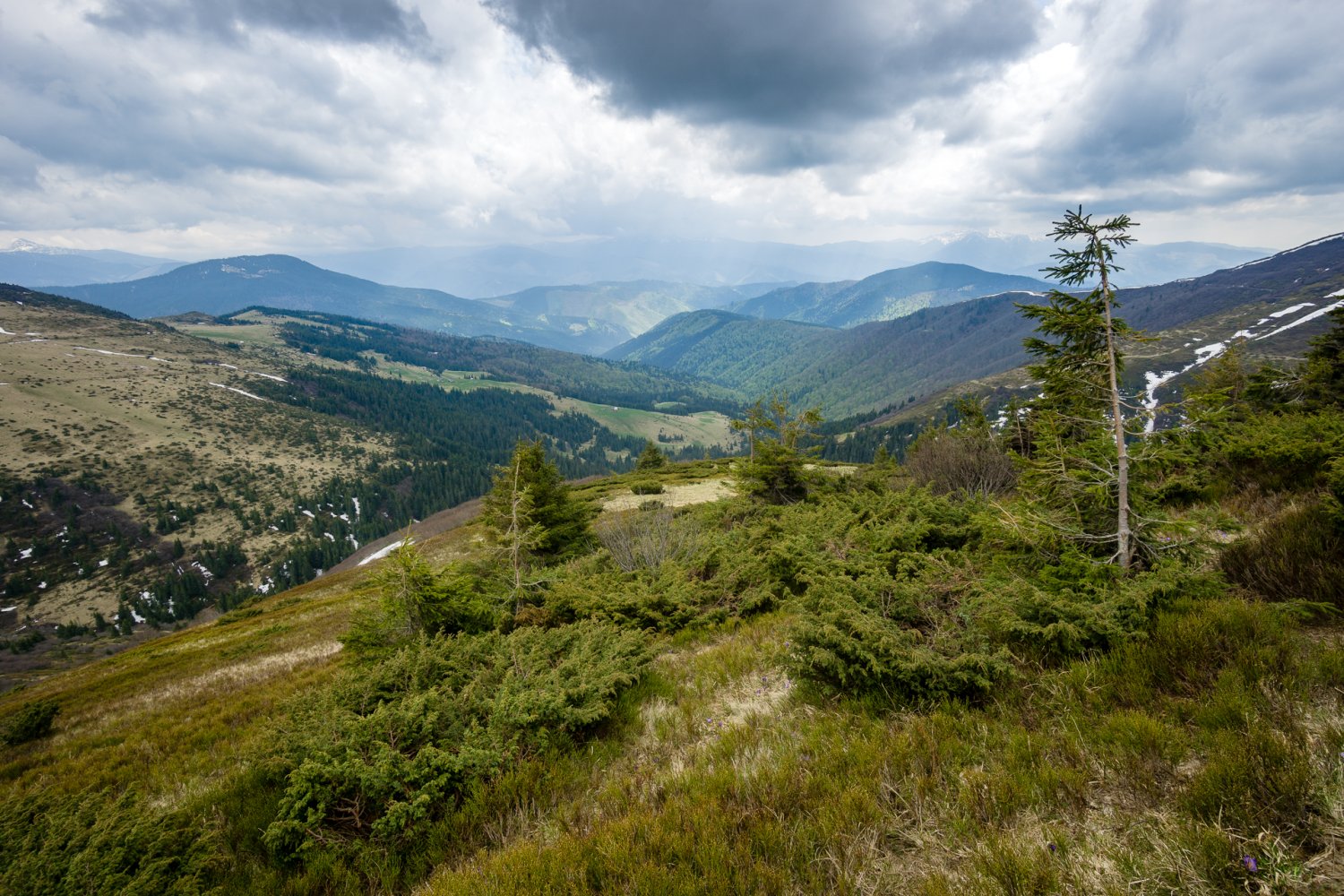 Close to Petros. Not far from here we got caught in strong thunderstorm.
In the morning sun shines through what remains of yesterday's fog. What a nice change! Longest part of route awaits us as we plan to reach the village of Kvasy. We traverse significant mountain Petros and soon the clouds come again. Thunder strikes and we are immediately caught in storm, so fast that we only have time to put on our jackets. Huge amounts of water pour down the skies but it takes only ten minutes before sun shines again and air gets warm. We reach shepherd cabins and green meadows, nice change after days in mountains of brown, white and gray tones. Path goes down quickly and another rainshower catches us luckilly on the spot with small wooden shepherd hut. The roof has holes though and trying to find a spot where it would not pour water on me I hit a beam with my head. Mark laughs: "I can not imagine it any worse."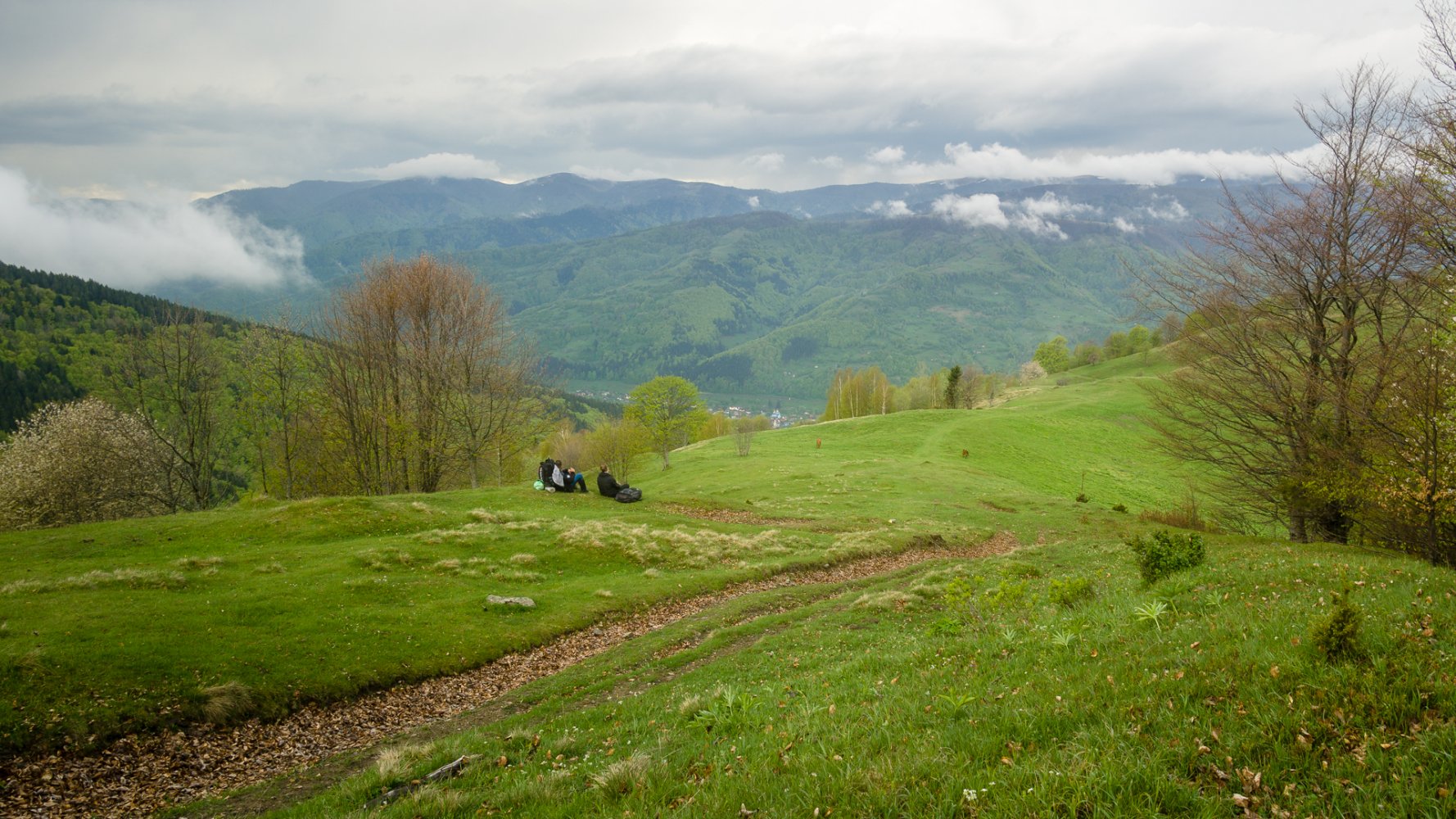 Resting pause with view towards village of Kvasy.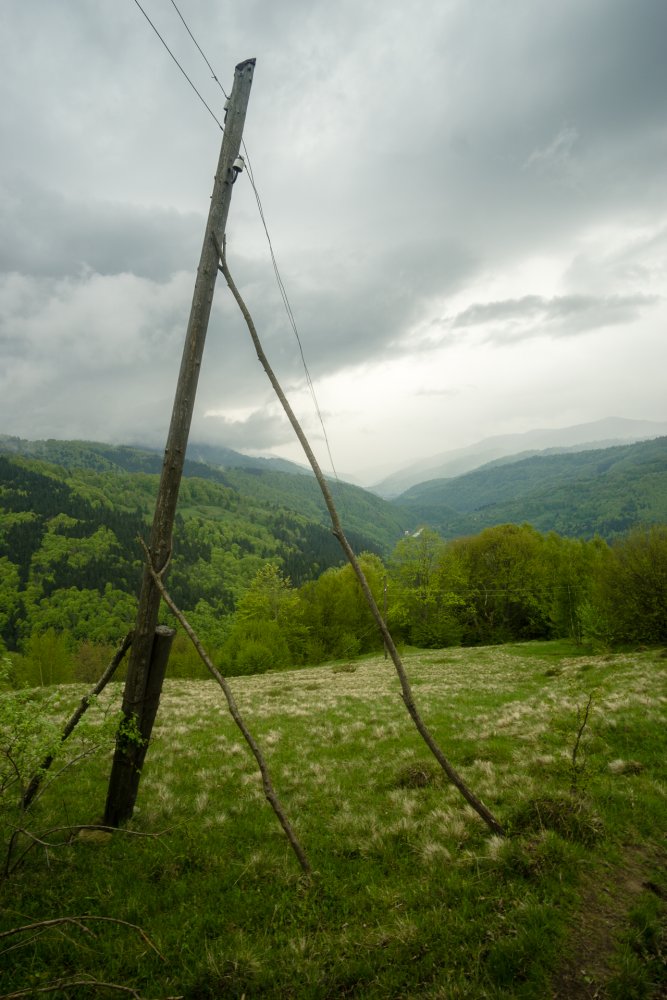 Ukrainian safe solution.
When the rain stops we continue through fresh spring forests full of blooming herbs. Long gone is the land of snow! Now everything seems so fresh and welcoming. When we see Kvasy deep down in the valley for the first time, another storm is forming over distant mountains and heading towards us. With 6 kilometers in front of us we are certain we can not avoid to get caught in rain for the third time that day.

We arrive to Kvasy indeed in cold and rain but there are smiles on our faces. We managed to cross Chornogora in spring. One granny tells us we should have arrived one month later. Well, thanks, but we like it this way, as a test and unforgettable mountain experience. Now, there are a few days before us we plan to spend tasting local food, beer and spirits as well as discovering the typical life in ukrainian villages.